Stary Rynek. Zapraszamy na uroczyste otwarcie!
Gdzie?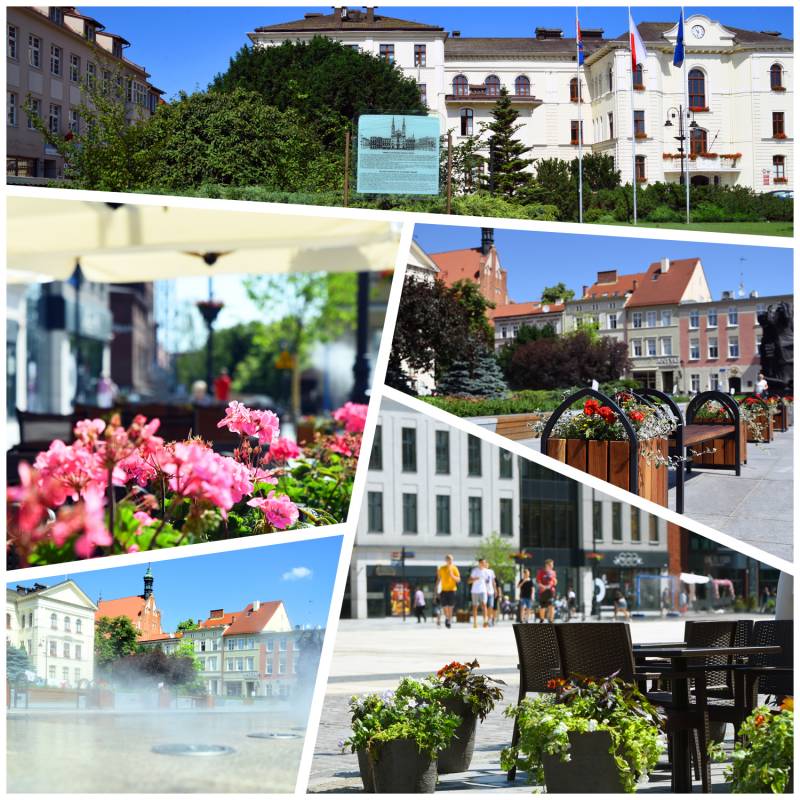 Nadszedł czas, aby pochwalić się nową odsłoną Starego Rynku w Bydgoszczy. Z tej okazji Miasto przygotowało szereg atrakcji.
W piątek, 28 czerwca zapraszamy na wieczorny koncert "PIĘKNIE ŻYĆ" w wykonaniu Orkiestry pod dyrekcją Zbigniewa Górnego z udziałem znanych i lubianych solistów. Koncert rozpocznie się o godzinie 20.00 i będzie miał niezwykle różnorodny repertuar. Usłyszymy między innymi takie hity jak: "Gdzie ci mężczyźni", "Over the rainbow" czy "W domach z betonu", a wszystko w wykonaniu gwiazd polskiej sceny.
W sobotę, z kolei atrakcje będą odbywać się zarówno na scenie, jak i na płycie Starego Rynku. Najmłodszych gości zabierzemy w "bajkową podróż dookoła świata", razem odśpiewamy popularne dziecięce przeboje. Popołudniu natomiast przygotowaliśmy dla wszystkich ogromną dawkę humoru z ulicznym Teatrem na Walizkach i mistrzem kabaretu Piotrem Bałtroczykiem. W ścisłym centrum miasta będzie można posłuchać także muzyków ulicznych, podziwiać pokazy ogromnych baniek mydlanych oraz występy cyrkowców. Jednym słowem: "będzie się działo".
Program godzinowy
PIĄTEK, 28 czerwca 2019r. Stary Rynek
20.00 – 21.30 "PIĘKNIE ŻYĆ" - koncert w wykonaniu orkiestry Zbigniewa Górnego z udziałem: Olgi Bończyk, Katarzyny Jamróz, Katarzyny Pakosińskiej, Hanny Śleszyńskiej, Andrzeja Cierniewskiego, Piotra Gąsowskiego, Władysława Grzywny, Wojciecha Kalety, Roberta Rozmusa, MEZO, Kwartetu RAMPA oraz Kabaretu RAK.
SOBOTA, 29 czerwca 2019r. Stary Rynek
12.00 – 13.30 Centrum Uśmiechu - koncert dla dzieci
Centrum Uśmiechu to niekwestionowane gwiazdy muzyki dla dzieci. Największe hity Zespołu, takie jak: Gruszka czy Olimpiada w Jarzynowie śpiewają dzieci w całym kraju. U podstaw ich filozofii leży to, by o rzeczach ważnych, dotyczących szeroko rozumianego zdrowia oraz aktywności fizycznej, śpiewać w sposób zrozumiały dla najmłodszego pokolenia, przy czym, by ton piosenek nie miał charakteru moralizatorskiego. I to, od ponad 17. lat udaje się Zespołowi, o czym świadczą tysiące zagranych koncertów.
14.00 – 15.30 Bajkowa Podróż Dookoła Świata - program rozrywkowy dla dzieci
BAJKOWE PARTY czyli niesamowita, bajkowa i rewelacyjna imprezka! Różnorodne gry, zabawy, konkursy dla dzieci w każdym wieku (taneczne, sportowe, ruchowe, pojedynki zręcznościowe i wiele innych). Spotkać będzie można postaci bajkowe takie jak: Król Julian, Myszka Minnie, Myszka Miki, Tygrysek, Królik Bugs czy Lew Alex.
16.00 – 17.00 "Beczka Śmiechu" - komediowy spektakl Teatru na Walizkach
Wybuchowa mieszanka komediowych wątków fabularnych. Tytułowa beczka to miejsce, z którego aktorzy wyciągają mnóstwo gagów, niecodziennych rekwizytów, tak że do końca nie wiadomo czym zaskoczą widza. Spektakl ma bardzo przewrotną fabułę: zarówno widzowie stają się aktorami jak i aktorzy - widzami. Beczka Śmiechu, to teatr uliczny, w którym możemy zobaczyć pokaz żonglerki, parodię akrobatyki oraz jazdę na monocyklu! Bezpośredni, zabawny, porywający. Spektakl uliczny, który otrzymał Główną Nagrodę na Festiwalu Teatrów Plenerowych w Białej Podlaskiej w 2006r.
17.00 – 18.00 Piotr Bałtroczyk – program satyryczny
Program kabaretowy jednego z najlepszych w Polsce stand-upowców czyli kabareciarzy tworzących tzw. One Man Show.
Zaprasza Miasto Bydgoszcz
______________________
Kalendarz wydarzeń odbywających się w Bydgoszczy miej zawsze pod ręką dzięki aplikacji mobilnej (Android i iOS).
______________________
Informacje o wydarzeniach przesyłajcie na adres wydarzenia@visitbydgoszcz.pl
______________________
Bydgoskie Centrum Informacji nie ponosi odpowiedzialności za jakiekolwiek zmiany miejsc, godzin i dat wydarzeń.