MEDyczno-MUZyczne Juwenalia 2019
Gdzie?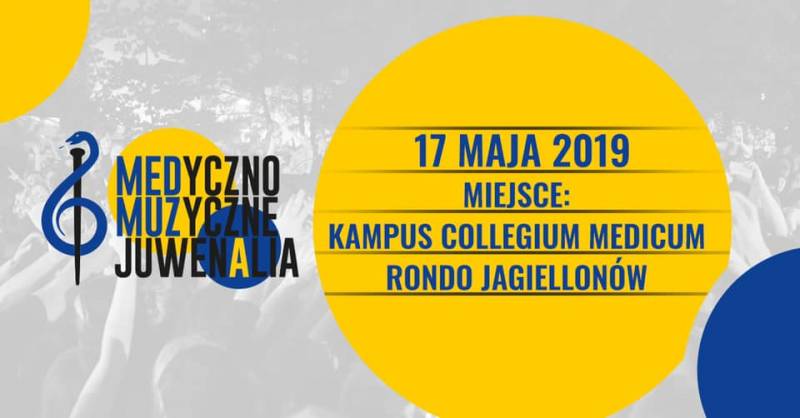 Informacja od Organizatora:
Moment rozwiania kłębiących się w głowach wątpliwości - czy to prawda? Czy enigmatyczne zdjęcia, lakoniczne wypowiedzi i szeptane plotki zostaną potwierdzone? Dziś wreszcie odpowiadamy, nie chcąc trzymać Was dalej w niepewności: TAK. MEDyczno-MUZyczne Juwenalia w Bydgoszczy już 17 maja staną się rzeczywistością!
Collegium Medicum i Akademia Muzyczna - czy to nie brzmi pięknie? To powrót do czasów, gdy wspólnie bawiliśmy się i grillowaliśmy do utraty sił, a teraz szykujemy dla Was jeszcze więcej i to wszystko na Kampusie przy Rondzie Jagiellonów.
Cały dzień będzie wypełniony rozmaitymi atrakcjami - od rana Medyczne Śniadanie, podczas którego przeprowadzone zostaną liczne szkolenia z zakresu bezpieczeństwa, pierwszej pomocy i profilaktyki zdrowia, a także rozmaitości przygotowane przez muzyków.
Ale to tylko początek, bo przecież wszyscy czekamy na koncerty gwiazd polskiej estrady, które odbędą się wieczorem… nie możemy jednak zdradzać od razu wszystkiego! O artystach (których będziecie wspominać przez cały następny rok) opowiemy Wam później, a na razie wpisujcie termin w kalendarze i szykujcie siły, bo będzie się działo!
Lovely students!
The time we have all been waiting for is here!
Haven't you been wondering about that big party that is being organized by the Polish Division Students every year in the Spring? The one with awesome events, concerts and unlimited fun? Well, we are here to tell you that it is not just an extra day off from classes, but an awesome experience you can be a part of ‪on May 17th‬!
The best part is that this is not only being organized by Collegium Medicum BUT together with The Bydgoszcz Academy of Music. So not only do you get to meet and spend time with students from our university but also meet aspiring young musicians!
Where is all of this happening you might ask? Right in the center of it all – at Campus on Rondo Jagiellonow
The whole day will be full of attractions – the morning will start with Medical Breakfast during which there will be workshops in Health and Safety, First Aid and Healthy Lifestyle . But let's not forget about our musical friends who will also have a few cool surprises up their sleeves.
But that's just the beginning the stars will come out at night. LITERALLY! Want to hear the BIGGEST Polish Stars that everyone in Poland listens to? This is your opportunity! Grab it because you will not have many chances to experience something like this!
______________________
Kalendarz wydarzeń odbywających się w Bydgoszczy miej zawsze pod ręką dzięki aplikacji mobilnej (Android i iOS).
______________________
Informacje o wydarzeniach przesyłajcie na adres wydarzenia@visitbydgoszcz.pl
______________________
Bydgoskie Centrum Informacji nie ponosi odpowiedzialności za jakiekolwiek zmiany miejsc, godzin i dat wydarzeń.