Tupot Poetycki 28 - trzecie urodziny
Gdzie?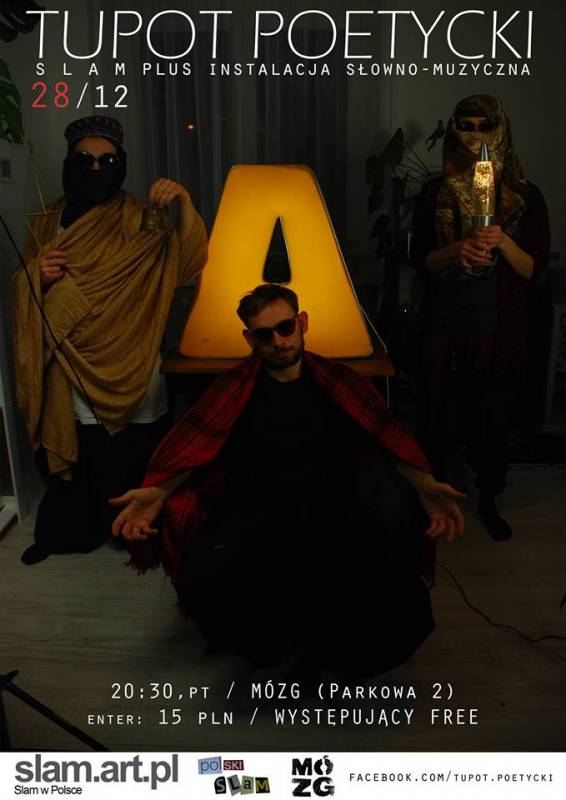 Nie do wiary. Przed Wami dwudziestaósma odsłona jednej z większych imprez cyklicznych w Bydgoszczy. I TO BĘDĄ TRZECIE URODZINY TUPOTU POETYCKIEGO, ponieważ leżał w sianie 19.12.2015. Zapraszam Was najgoręcej! Zgromadźmy się wszyscy w czarnej sali i świętujmy ten czas!
Dwudziesty ósmy SLAM Poetycki i instalacja Mysterious Lateral Movements & Emmanuel Maria Bezd. Szczegóły na dole.
/ SLAM
śmieszy bawi smuci rozmyśla
turniej dla ludzi piszących
w którym liczy się interakcja z publicznością
to ona stanowi jury przez cały wieczór
Każdy może wystąpić! Wystarczy wysłać mail na vive_memor@vp.pl lub zgłosić się w dniu wydarzenia na bramce.
Zasady? Slamer ma trzy minuty, nie używa rekwizytów, ani muzyki, prezentuje swój własny tekst. Dla finalisty nagroda w wysokości 100 PLN.
Prowadzi: Zuzanna Szmidt
Uwaga od września 2018 do turnieju poprzedzającego Trzecie Ogólnopolskie Mistrzostwa PL w SLAMie Poetyckim (maj 2019) punkty dla wszystkich: 1pkt za obecność, 2pkt za półfinał, 4pkt za drugie miejsce i 6pkt za pierwsze.
/ INSTALACJA SŁOWNO - MUZYCZNA
Synestetyczna instalacja przygotowana specjalnie na 28. Tupot Poetycki będzie zorientowana na obcowanie człowieka w jego kosmicznej ojczyźnie. Nikt nie będzie próbował odpowiedzieć na żadne pytanie, ani nawet nie będzie próbował takowego formułować, dlatego bez strachu uczestniczyć może każdy kto nie lubi pytać i być pytanym. Członkowie grupy odczytają przy astralnym akompaniamencie fragmenty powieści ​Imago Wiktora Żwikiewicza w tle projekcji​ La Planeté Sauvage​ René Laloux.
Mysterious Lateral Movements & Emmanuel Maria Bezd to spółka niejawna, której budowa i układ pozostają za każdym razem do samego końca wielką niewiadomą. Czasem jest to pojedynczy atom, czasem rozbudowana, wielocząsteczkowa struktura. Zazwyczaj tworzą ją materialne i humanoidalne istoty prowadzące koczowniczy tryb życia. Ich obecność manifestuje się czasowo nieregularnie na całym świecie, odkąd to pierwszy raz zarejestrowano ją w kaukaskim klasztorze Cminda Sameba pod koniec lat 90.
Od tamtego czasu działają na polu artystyczno-mitycznym i realizują hasło "sztuka za sztukę" (f​r. ​l'art pour l'art).​
Wiktor Żwikiewicz
Urodzony dokładnie w połowie XX wieku w Bydgoszczy, aktywny od lat 70. pisarz ​sci-fi.​ Jeden z absolutnie najważniejszych twórców w historii tego gatunku w Polsce. Wydawany nie tylko nad Wisłą - tłumaczony na niejeden język europejski. Autor kilku tomów opowiadań i powieści, ​vide:​ ​Podpalacze nieba,​ D​ ruga Jesień, Imago, ​Delirium w Tharsys.​
enter: 15 pln / występujący free
______________________
Kalendarz wydarzeń odbywających się w Bydgoszczy miej zawsze pod ręką dzięki aplikacji mobilnej (Android i iOS).
______________________
Informacje o wydarzeniach przesyłajcie na adres wydarzenia@visitbydgoszcz.pl
______________________
Bydgoskie Centrum Informacji nie ponosi odpowiedzialności za jakiekolwiek zmiany miejsc, godzin i dat wydarzeń.