2x2: Nocleg w Apeninach oraz Nowy Don Kiszot czyli Sto Szaleństw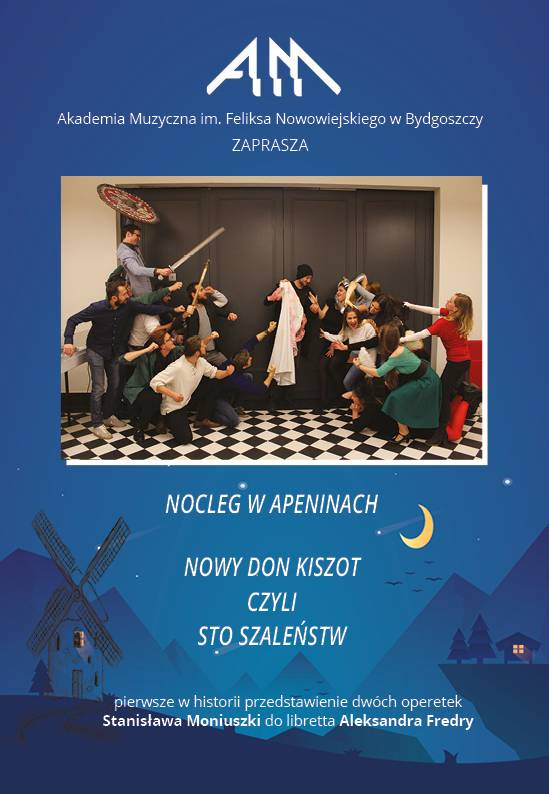 "NOCLEG W APENINACH" oraz "NOWY DON KISZOT czyli STO SZALEŃSTW".
W dniu 16 grudnia o godzinie 12:00 w sali koncertowej Akademii Muzycznej przy ul. Gdańskiej 20, odbędzie się dodatkowe przedstawienie projektu 2×2 czyli:
"Nocleg w Apeninach" oraz " Nowy Don Kiszot czyli Sto Szaleństw".
Wszystkich zainteresowanych serdecznie zapraszamy! Wejściówki do odbioru na portierni już od wtorku, 11-go grudnia. Liczba miejsc ograniczona."
15 i 16 grudnia, o godz. 18- tej, w sali koncertowej Akademii Muzycznej im. Feliksa Nowowiejskiego przy ul. Gdańskiej 20 podczas jednego wieczoru będzie można obejrzeć dwa przedstawienia dwóch operetek. "NOCLEG W APENINACH" oraz "NOWY DON KISZOT czyli STO SZALEŃSTW". To perełki polskiej literatury wokalnej i słowa pisanego. Ich autorami są ojciec opery narodowej, Stanisław Moniuszko oraz mistrz dowcipu Aleksander Fredro.
Po raz pierwszy dziejach Uczelni projekt operowy powstał dzięki wspólnym siłom studentów trzech wydziałów i życzliwości ich Dziekanów: dziekan dr hab. Małgorzaty Greli, prof. uczelnianego (Wydział Wokalno-Aktorski), dziekana ad. dr. Mariusza Klimsiaka (Wydział Instrumentalny) oraz dziekana prof. zw. dr hab. Janusza Staneckiego (Wydział Dyrygentury, Jazzu i Edukacji Muzycznej).
O kształt artystyczny premiery zadbali znakomici realizatorzy. Muzyczne lejce w dyrygenckich dłoniach będzie dzierżył wirtuoz batuty Piotr Wajrak, którego w tym wymagającym zadaniu wesprze znakomity dyrygent i aranżer, Kazimierz Dąbrowski. Ostateczny efekt sceniczny wydobędzie utalentowana reżyserka młodego pokolenia, Małgorzata Warsicka, zaś o wdzięczne i zgrabne ruchy artystów zatroszczy się Marek Zajączkowski. Ich dobrym duchem będzie asystentka Anna Smęda. Znakomity Chór Kameralny Wydziału Uczelni, wsparty siłami studentów Wydziału III-go, przygotuje niezawodny prof. Janusz Stanecki. Artystyczną młodzież ubierze w kostiumy i wkomponuje w scenografię uzdolniona studentka Uniwersytetu Artystycznego w Poznaniu, Alicja Trzcińska. Dyskretnie, acz gustownie wykonawców wymaluje Halina Kośnik, a w ich odzianiu pomogą Krystyna Świetlik i Zofia Kowalczyk. Nad oświetleniem scenicznym zapanuje Tomasz Rybka. Przy pracy nad partiami wokalnymi ciągłą pomocą służą pianiści-korepetytorzy: Dorota Demidowicz, Olga Wołkowa i Artur Pilch.
To nietuzinkowe wydarzenie zaistnieje dzięki wsparciu finansowemu Ministerstwa Kultury i Dziedzictwa Narodowego, a także przychylności Warszawskiego Towarzystwa Muzycznego, dyr. Andrzeja Mrowca i Białostockiego Stowarzyszenia im. Stanisława Moniuszki – prezes Haliny Dębkowskiej, które to udostępniły materiały nutowe.
Szczególne podziękowanie ślemy do dyrektora "Opera Nova" w Bydgoszczy, Macieja Figasa, za kolejną już pomoc w kompletowaniu kostiumów i dekoracji. Licząc na duże zainteresowanie bydgoskich (i nie tylko) melomanów, już od soboty (01.XII.) zaczniemy wydawanie wejściówek w portierni gmachu na ul. Gdańskiej 20.
Gorąco zapraszamy! Tak wyjątkowe zdarzenie prędko się nie powtórzy!
______________________
Kalendarz wydarzeń odbywających się w Bydgoszczy miej zawsze pod ręką dzięki aplikacji mobilnej (Android i iOS).
______________________
Informacje o wydarzeniach przesyłajcie na adres wydarzenia@visitbydgoszcz.pl
______________________
Bydgoskie Centrum Informacji nie ponosi odpowiedzialności za jakiekolwiek zmiany miejsc, godzin i dat wydarzeń.