Mikołajkowa Szlachetna Paczka z Czytaniem i Działaniem
Gdzie?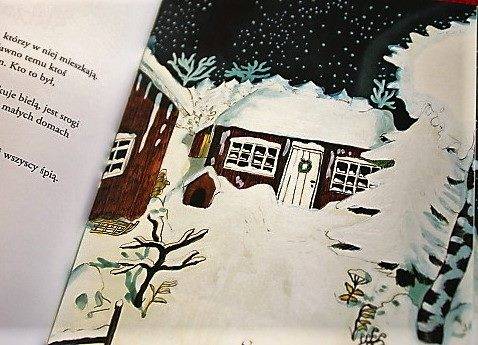 Zapraszamy na spotkanie z książką o Bożym Narodzeniu i o otwarciu na drugiego człowieka.
TO SPOTKANIE BĘDZIE WYJĄTKOWE. BĘDZIEMY NA NIM ZBIERAĆ DARY DO PACZKI DLA POTRZEBUJĄCEJ STARSZEJ PANI (Szlachetna PACZKA), stworzymy też własnoręcznie podziękowania dla innych darczyńców, a WY i WASZE DZIECI BĘDZIECIE MIEĆ SZANSĘ WYGRAĆ WARTOŚCIOWE KSIĄŻKI DLA WASZYCH DZIECI.
Zapraszamy, rodziców z dziećmi powyżej 3. r. ż.
WSTĘP WOLNY, jednak LICZBA MIEJSC JEST OGRANICZONA, KONECZNE SĄ ZAPISY: tuczytam@op.pl, w temacie wpisujcie "mikołajki"
Dary zgłaszać mogą wszyscy,
Historia osoby, której chcemy pomóc:
"74-letnia pani Lidia mieszka samotnie w małym, nadającym się do kapitalnego remontu domku na przedmieściach.
Życie od najmłodszych lat nie szczędziło pani Lidii trudów. Po śmierci ojca jej matka związała się z nowym partnerem, a mała Lidka trafiła pod opiekę babci. Ta otoczyła ją najlepszą opieką, jaką potrafiła. Pani Lidia młodo wyszła za mąż i urodziła pierwsze dziecko. Kobieta zajmowała się domem i powiększającą się rodziną. Na krótko podjęła pracę, która sprawiała jej wiele radości: była statystką w teatrze. Jednak musiała zrezygnować z etatu, by wychować siedmioro dzieci. Choć warunki były trudne: cała liczna rodzina mieszkała w dwupokojowym, małym domku, to kobieta starała się sprostać roli matki. Kilkanaście lat temu zmarł mąż pani Lidii, a jej stan zdrowia znacznie się pogorszył. Nękana wieloma schorzeniami mnóstwo czasu spędziła w szpitalach, poddając się licznym operacjom i zabiegom. Mimo wszystkich trudności, które dotknęły panią Lidię, mimo życia z permanentnym bólem fizycznym, największym ciężarem dla kobiety jest to, że będąc matką 7 dzieci nie może liczyć na ich pomoc. Tylko dwie córki utrzymują z matką ciepłe relacje, jednak same mają niełatwe życie i w niewielkim stopniu mogą wspomóc mamę. Pani Lidia utrzymuje się z renty i dodatku pielęgnacyjnego (1603 zł), po wykupieniu wszystkich niezbędnych leków i opłaceniu kosztów związanych z domkiem, pozostaje jej ok 540 zł na życie.
Wchodząc przez furtkę do domu pani Lidii spotkać można kilka kotów i psa, którymi opiekuje się kobieta. Zwierzęta znalazły na jej podwórku schronienie i są dla niej przyjaciółmi. Mimo iż pani Lidia bardzo lubi kontakt z ludźmi rzadko ma okazję kogoś spotkać. Jakiś czas temu z wielką radością uczestniczyła w zajęciach domu dziennej opieki dla seniorów, jednak ze względu na zły stan zdrowia nie ma możliwości samodzielnie do niego dojeżdżać. Powrót na te zajęcia to jedno z największych marzeń kobiety. Inne marzenie to mieć zaszczyt uczestniczyć w komunii prawnuczki za dwa lata.
Pani Lidia nie chciała rozmawiać o swoich potrzebach. Spragniona kontaktu z drugim człowiekiem wolała po prostu rozmawiać. Jednak w trakcie spotkania wskazała na kilka rzeczy, które byłyby dla niej przydatne. Zapas długoterminowej żywności i środków czystości wspomoże domowy budżet, a choćby niewielka ilość opału pozwoli w cieple spędzić zimowe dni."
______________________
Kalendarz wydarzeń odbywających się w Bydgoszczy miej zawsze pod ręką dzięki aplikacji mobilnej (Android i iOS).
______________________
Informacje o wydarzeniach przesyłajcie na adres wydarzenia@visitbydgoszcz.pl
______________________
Bydgoskie Centrum Informacji nie ponosi odpowiedzialności za jakiekolwiek zmiany miejsc, godzin i dat wydarzeń.