Spotkanie z Agnieszką Cegielską
Gdzie?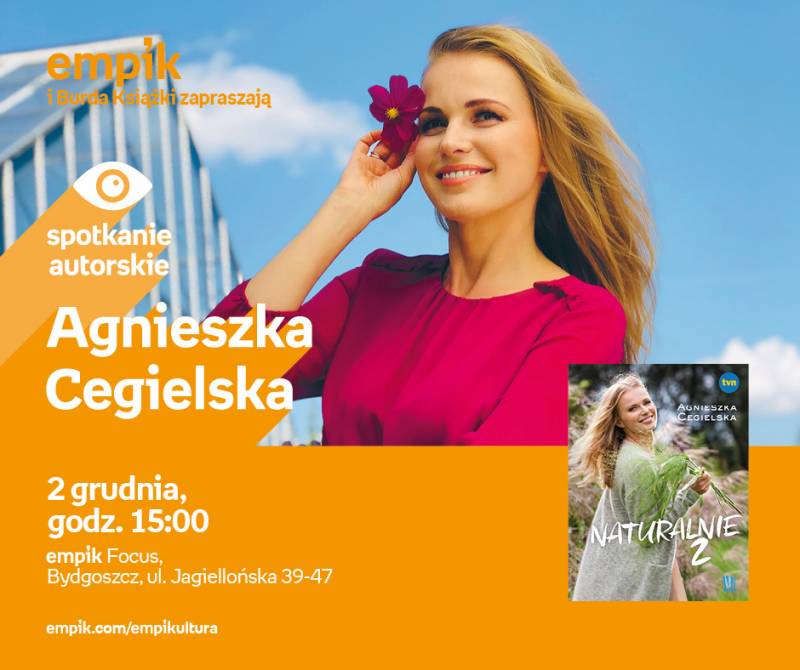 Jak szybko i skutecznie zwalczyć przeziębienie naturalnymi metodami? Co pomaga się zrelaksować? Które owoce i warzywa będą źródłem cennych dla organizmu witamin, mikroelementów? Na te oraz na inne pytania znajdzie odpowiedź każdy, kto sięgnie po najnowszą książkę Agnieszki Cegielskiej "Naturalnie 2" (Burda Książki). Już 2 grudnia autorka spotka się z czytelnikami w salonie Empik Focus. Wydarzenie będzie doskonałym pretekstem, aby zapytać ją o sposoby na zdrowie i piękny wygląd.
Już w pierwszej części książki – "Naturalnie" – Cegielska dzieliła się z czytelnikami swoją wiedzą o tym, jak jeść zdrowo, które produkty wybierać, kierując się ich wartością odżywczą, pisała dlaczego należy unikać tych wysoko przetworzonych. W czasach kiedy agresywne kampanie reklamowe promują żywność, która wcale nam nie służy, powrót do podstaw i pełnowartościowej, zbilansowanej diety wydaje się wręcz nieodzowny. Jedzenie ma być nie tylko pożywne, ale przede wszystkim zdrowe i pyszne. Pytanie tylko, jak to osiągnąć?
Z pomocą przychodzi Agnieszka Cegielska. Prezenterka od lat propaguje zdrowy tryb życia i zaraża czytelników oraz widzów swoją pasją do natury. Autorka "Naturalnie 2" udowadnia, że to co zjadamy, może być także lekarstwem. Podczas spotkania poświęconego najnowszej książce na pewno uda jej się przekonać uczestników, że zarówno zdrowie fizyczne, jak i psychiczne w dużej mierze zależą od tego, jakie produkty włączamy do codziennej diety.
Agnieszka Cegielska – prezenterka telewizyjna, popularna Pogodynka nagradzana Telekamerami. Autorka książki pt. "Naturalnie", która powstała na bazie cyklu prowadzonego w programie Dzień Dobry TVN.
Empik Focus
Bydgoszcz, ul. Jagiellońska 39-47
______________________
Kalendarz wydarzeń odbywających się w Bydgoszczy miej zawsze pod ręką dzięki aplikacji mobilnej (Android i iOS).
______________________
Informacje o wydarzeniach przesyłajcie na adres wydarzenia@visitbydgoszcz.pl
______________________
Bydgoskie Centrum Informacji nie ponosi odpowiedzialności za jakiekolwiek zmiany miejsc, godzin i dat wydarzeń.