Sławek Uniatowski z zespołem
Gdzie?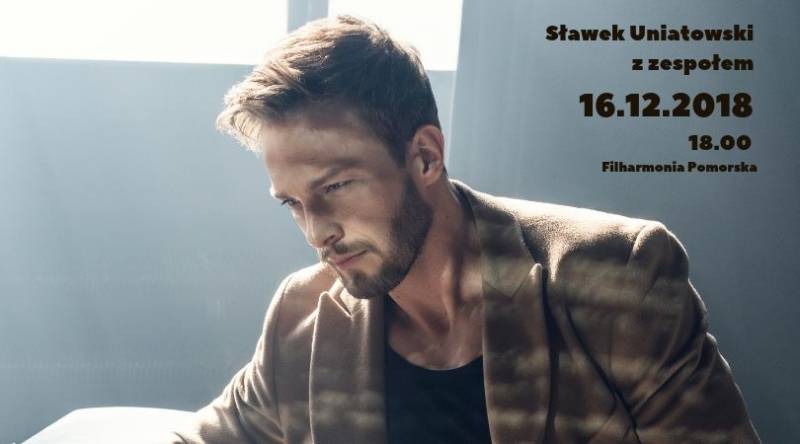 wokalista, kompozytor, autor tekstów, multiinstrumentalista.
Jako pięciolatek rozpoczął samodzielną naukę gry na instrumentach klawiszowych. Szybko zainteresował się jazzem, co zapoczątkowało jego karierę wokalną. Współtworzył toruński zespół Kije. W 2005 roku został finalistą talent show "Idol". W tym samym roku nagrał z Marylą Rodowicz utwór "Będzie to co musi być". Rok później nagrał piosenkę "Kocham cię", która trafiła na ścieżkę dźwiękową filmu "Ja wam pokażę". Wystąpił z Zbigniewem Wodeckim oraz Janem Kantym Pawluśkiewiczem podczas XLIII KFPP w Opolu. Pod koniec 2008 roku założył zespół Uniatowski Project. W 2010 roku zajął pierwsze miejsce na Festiwalu Piosenki i Ballady Filmowej w Toruniu. W 2014 roku podczas koncertu "Grzegorz z Ciechowski. Spotkanie z legendą" zaśpiewał utwór "Tak… Tak… To ja" z repertuaru Obywatela G.C. W międzyczasie koncertował z big bandami wykonując repertuar Franka Sinatry, Tony'ego Bennetta, Nat "King" Cole'a, Cheta Bakera czy Ellie Fitzgerald. W 2016 roku zaśpiewał na koncercie z okazji 100 rocznicy urodzin Franka Sinatry w radiowej Trójce. Koncert wydano na albumie "Koncerty w Trójce vol. 20 - Frank Sinatra 100-lecie urodzin". W 2016 roku wystąpił w Warszawie z Davidem Fosterem podczas koncertu z okazji obchodów 71. rocznicy uzyskania niepodległości przez Indonezję. Premiera debiutanckiej płyty Sławka Uniatowskiego odbyła się 25 kwietnia 2018 roku. Uniatowski "Metamorphosis" to zbiór 13 kompozycji Uniatowskiego, do których teksty napisał artysta oraz zaproszeni do współpracy: Tomasz Organek, Janusz Onufrowicz oraz Michał Zabłocki. W maju 2018 roku ukazał się album "Dobrze, że jesteś" Zbigniewa Wodeckiego, na którym Uniatowski śpiewa utwór "Nie ma jak Bacharach" .W czerwcu 2018 roku wziął udział w Konkursie Premiery na 55. KFPP w Opolu. Sławek Uniatowski śpiewa barytonem.
Na koncercie w Filharmonii Pomorskiej w Bydgoszczy artysta wykona utwory ze swojego nowego albumu oraz z repertuaru Zbigniewa Wodeckiego.
Ceny biletów:
miejsca Golden Circle – 130 PLN (przedsprzedaż), 150 PLN (w dniu koncertu)
miejsca VIP – 110 PLN (przedsprzedaż), 130 PLN (w dniu koncertu)
1 miejsca – 90 PLN (przedsprzedaż), 110 PLN (w dniu koncertu)
2 miejsca – 70 PLN (przedsprzedaż), 90 PLN (w dniu koncertu)
do nabycia na stronach: www.eventim.pl i https://www.ticketmaster.pl/ oraz w Klubie Kuźnia Bydgoszcz
______________________
Kalendarz wydarzeń odbywających się w Bydgoszczy miej zawsze pod ręką dzięki aplikacji mobilnej (Android i iOS).
______________________
Informacje o wydarzeniach przesyłajcie na adres wydarzenia@visitbydgoszcz.pl
______________________
Bydgoskie Centrum Informacji nie ponosi odpowiedzialności za jakiekolwiek zmiany miejsc, godzin i dat wydarzeń.