Karolina Czarnecka Solarium 2.0 18
Gdzie?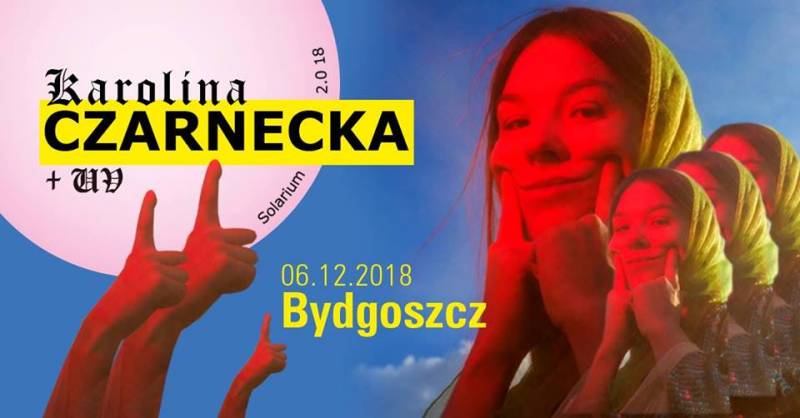 Rebel Music BDG zaprasza na Muzyczne Smaki vol 34 w Mózgu
BILETY
25zł do 31.10
30zł do 5.12
35zł w dniu koncertu
KOLEKCJONERSKIE
Sklep Muzyka ul.Sniadeckich 50
Ticketmaster - Empik ,Saturn , MediaMarkt i inne (NA TERENIR CAŁEGO KRAJU )
https://www.ticketmaster.pl/event/karolina-czarnecka-solarium-20-18-bilety/8615
Karolina Czarnecka to artystka interdyscyplinarna. W swojej twórczości łączy różne dziedziny sztuki i bada ich granice. Zasłynęła piosenką "Hera koka hasz LSD", którą wykonała na Przeglądzie Piosenki Aktorskiej we Wrocławiu. Swoim występem podbiła serca internautów. Jest absolwentką warszawskiej Akademii Teatralnej, współtworzy grupę teatralno-kabaretową Pożar w Burdelu i jest członkinią Gangu Śródmieście. W 2014 roku artystka wydała EP-kę "Córka", która została ciepło przyjęta przez słuchaczy. W kwietniu 2018 r. miał swoją premierę album "Solarium 2.0" – promowany singlem "Anaruk" – będący swoistą kontynuacją opowieści rozpoczętej przez artystkę na debiutanckim krążku.
Na "Solarium 2.0" znów spotykamy bohaterkę Tinę, która wyjechała do stolicy, by śnić swój wielkomiejski sen. Longplay to zaproszenie do jej niepokoju, gdzie można wypić herbatę i zjeść ciastko, usiąść na materacu i posłuchać relacji z wycieczki. Dziewczyna wróciła właśnie z planety Solarium. Nie pojechała tam metrem, ani nie odleciała statkiem kosmicznym, nie ruszyła się nawet z miejsca. Zbyt podlaska i zbyt samotna była, by nie wpaść w Króliczą Norę. Poobijana, z ręką na temblaku, w końcu wróciła. Przywiozła ze sobą rozmaite pamiątki: książeczkę z pierwszej komunii, zbitą lufkę, gitarę elektryczną, pastelowo-różowe majtki i kosmiczny pył.
Album to coś więcej niż zwykła płyta CD, to rejestracja z niepokoju dziewczyny, która urodzona w roku 89. próbuje nie dać się porwać zdradliwym falom kapitalistycznej rzeczywistości. Za muzykę na płycie odpowiedzialny jest skład UV: Michał Górczyński i Jacek Kita, a za teksty Karolina Czarnecka i Michał Walczak. Nad stroną wizualną czuwa Dominika Grzybek.
Jesienią Czarnecka przemienia sie w bajarkę, żeby podczas wędrówki pod hasłem "Solarium 2.0 18" opowiadać o swojej Tinie.
______________________
Kalendarz wydarzeń odbywających się w Bydgoszczy miej zawsze pod ręką dzięki aplikacji mobilnej (Android i iOS).
______________________
Informacje o wydarzeniach przesyłajcie na adres wydarzenia@visitbydgoszcz.pl
______________________
Bydgoskie Centrum Informacji nie ponosi odpowiedzialności za jakiekolwiek zmiany miejsc, godzin i dat wydarzeń.