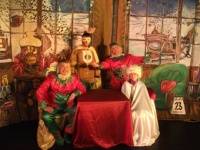 Rezerwacje biletów: tel: 52 371 27 39 ;tel: 606-200-660
Bilety do nabycia:
- Kasa Kina pok. 3 (parter) tel. 52 371 27 39 pon-piąt 9.00-17.00
- http://www.kupbilecik.pl/impreza-29185-mikolaj.spelnia.sny.bydgoszcz.html
Cena biletu: 30 zł
Mamy zaszczyt zaprosić na spotkanie z Mikołajem oraz na baśń muzyczną pt. "MIKOŁAJ SPEŁNIA SNY"
"Mikołaj spełnia sny" to godzinna baśń muzyczna o tematyce świątecznej.
Przepiękna, humorystyczna, a zarazem wzruszająca baśń o ponadczasowych wartościach takich jak: wiara w Św. Mikołaja, dobro zawsze zwycięża zło.
W Krainie Św. Mikołaja figlarne skrzaty Maniek i Gutek pakują prezenty.
Nad wszystkim czuwa groźna Pani Inspektorka Kontrolka.
Prezenty gotowe, czas wyruszać w drogę, lecz.....Św. Mikołaj zniknął!!! Co tu robić???
Superman Rudolf wyrusza czym prędzej do Krainy Zaczarowanego Dzwoneczka.
Wszystko teraz zależy od dzieci, jeśli wierzycie w Św. Mikołaja to on na pewno do was przyjdzie.
Bo... Św. Mikołaj naprawdę istnieje!!!
Dzieci biorą czynny udział w spektaklu i śpiewaniu piosenek.
Występują: Skrzaty Maniek i Gutek, Inspektorka Kontrolka, Superman Rudolf, Zaczarowany Dzwoneczek, Św. Mikołaj.
Bogata scenografia, kolorowe kostiumy, świąteczna muzyka, niespotykane efekty świetlne, sprawiają, że spektakl pozostawia niezapomniane wrażenia.
______________________
Kalendarz wydarzeń odbywających się w Bydgoszczy miej zawsze pod ręką dzięki aplikacji mobilnej (Android i iOS).
______________________
Informacje o wydarzeniach przesyłajcie na adres wydarzenia@visitbydgoszcz.pl
______________________
Bydgoskie Centrum Informacji nie ponosi odpowiedzialności za jakiekolwiek zmiany miejsc, godzin i dat wydarzeń.