Klub kawalerów - pokaz sylwestrowy
Gdzie?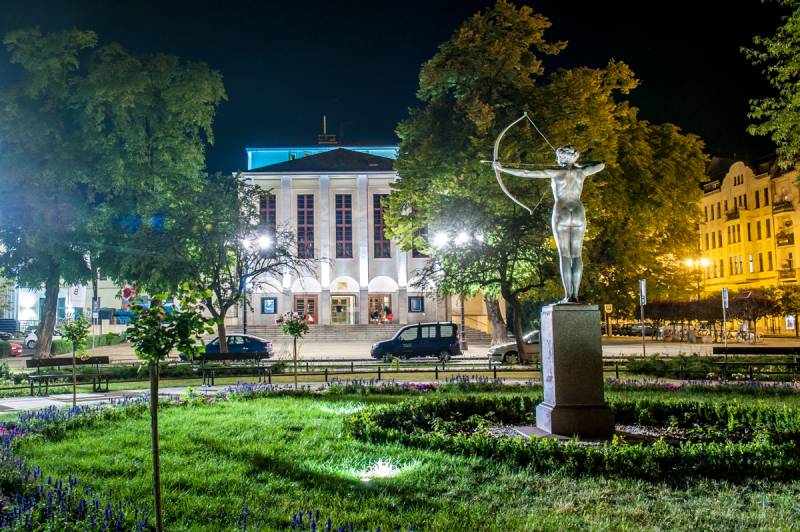 duża scena
czas trwania: 110 minut, jedna przerwa

Michał Bałucki
reżyseria Łukasz Gajdzis
scenografia Mirek Kaczmarek
reżyseria światła Robert Łosicki
akordeon Kacper Chabrowski
opracowanie muzyczne Maciej Szymborski
występują Karolina Adamczyk (Jadwiga Ochotnicka), Michał Czachor (Pan Motyliński), Paweł L.Gilewski (Władysław Topolnicki), Marian Jaskulski (Prezes Sobieniewski), Magdalena Łaska (Marynia Mirska), Roland Nowak (Jan Piorunowicz), Jerzy Pożarowski (Hieronim Wygodnicki), Małgorzata Trofimiuk (Eleonora Mirska), Małgorzata Witkowska (Pelagia Dziurdziulińska), Marcin Zawodziński (Pan Nieśmiałowski)

Jesteśmy na wczasach w tych góralskich lasach w promieniach słonecznych opalamy się
orkiestra przygrywa skocznego begina
to nie twoja wina, że podrywam cię
A panna Krysia, panna Krysia
królowała na turnusach nie od dzisiaj,
a każdego roku właśnie o tej porze
przyjeżdżała tu, do pensjonatu "Orzeł".
Kuracjuszy rozmarzony wzrok
śledził wciąż jej każdy gest i krok
Wojciech Młynarski "Jesteśmy na wczasach"

Wojna trwa…
Odwieczna walka płci pięknej z tą "drugą" o dominację i panowanie nad światem przybiera różne formy i posługuje się wymyślnymi narzędziami. Istnieje jednak wiele historii o tych, którzy tej walki nie chcieli toczyć. Klub Kawalerów z napisanej w XIX wieku komedii M. Bałuckiego zrzesza liber baronów, wyznawców wolności i kawalerskich swawoli. Nieustannie podsycają przekonanie o elitarności i awangardzie życia bez kobiet. Coś musi się jednak stać, by "kluby kawalerskie w puch rozbite" były.
WŁADYSŁAW Więc to tutaj jest ten wasz klub kawalerski?
WYGODNICKI Tak. W tamtym pokoju. Gospodarz oddał nam go do wyłącznego użytku,Jako stałym gościom – bo trzeba ci wiedzieć, że jeden z naszych członków będzie niezadługo obchodził dwudziestopięcioletni jubileusz stołowania się w tej restauracji. Uważasz, 25 lat i nie dostał jeszcze kataru żołądka. Co to za reklama dla zakładu. Otóż z tego powodu mamy tutaj pewne prerogatywy, najlepsze potrawy, najniższe ceny i najszybszą obsługę. Michał Bałucki, Sąsiedzi : Klub kawalerów
Laur Grzymały 2011 dla Rolanda Nowaka za rolę Piorunowicza w spektaklu Klub kawalerów w reż. Łukasza Gajdzisa
Grand Prix XVI Ogólnopolskiego Festiwalu Komedii Talia 2012 dla spektaklu Klub kawalerów w reż. Łukasza Gajdzisa
______________________
Kalendarz wydarzeń odbywających się w Bydgoszczy miej zawsze pod ręką dzięki aplikacji mobilnej (Android i iOS).
______________________
Informacje o wydarzeniach przesyłajcie na adres wydarzenia@visitbydgoszcz.pl
______________________
Bydgoskie Centrum Informacji nie ponosi odpowiedzialności za jakiekolwiek zmiany miejsc, godzin i dat wydarzeń.