Bydgoszcz JUG - meetup 23
Gdzie?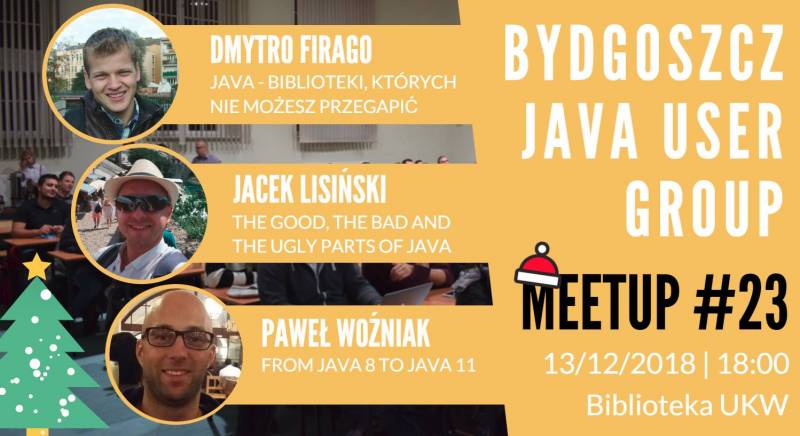 Zapraszamy na kolejne spotkanie bydgoskiego Java User Group, które odbędzie się w czwartek, 13 grudnia 2018 o godzinie 18:00 w Bibliotece UKW. Tym razem spotkanie odbedzie się w formacie "JUG Light" - 3 prezentacji po 30 minut. Nasi prelegenci przybliżą nam następujące tematy:
Jacek Lisiński. Inżynier oprogramowania, web developer, SCRUM Master. Przygodę z kodem rozpoczął w wieku 15 lat pisząc gry konsolowe w Borland Pascal. W swojej karierze brał udział w wielu różnorodnych projektach: od tworzenia aplikacji webowych po implementowanie sterowników kart sieciowych. Miłośnik minimalizmu, czystego kodu i prostej architektury. Wielki fan i propagator metodyk TDD.
Temat prezentacji Jacka: The Good, the Bad and the Ugly parts of Java
Jacek postara się podzielić z Wami swoimi przemyśleniami na temat tego, co twórcom Javy się udało, a co nie do końca. Będzie to subiektywna opinia programisty z doświadczeniem w wielu technologiach. Dodatkowo otrzymacie kilka wskazówek jak poradzić sobie z niektórymi niedoskonałościami tego popularnego języka.
Dmytro Firago - Software Engineer, współzałożyciel Bydgoszcz Java User Group. Obecnie pracuje w bydgoskim oddziale firmy Sii, gdzie tworzy oprogramowanie dla instytucji finansowych. Uważa lenistwo za swoją najmocniejszą stronę, która motywuje go do automatyzacji codziennych czynności.
Temat prezentacji Dimy: Java - biblioteki, których nie możesz przegapić
W codziennej pracy programista spędza tylko 20% czasu na pisaniu kodu, ale nie zawsze ten czas jest wykorzystywany efektywnie. Powszechnie spotykany scenariusz - komunikacja pomiędzy serwisami, prawie zawsze obarczony jest pisaniem boilerplate kodu. Utworzenie kolejnego klienta HTTP, zaimplementowanie mechanizmów ponawiania oraz przetestowanie tego nieraz zajmuje więcej czasu, niż dodanie faktycznej wartości biznesowej. Natomiast większość tych zadań wcale nie wymaga dużego wysiłku - wystarczy użyć odpowiednich narzędzi. W tej prezentacji przedstawionych zostanie kilka takich narzędzi wraz z ich możliwościami.
Paweł Woźniak - współzałożyciel Bydgoszcz Java User Group. Więcej o Pawle dowiecie się już niebawem :)
Temat prezentacji Pawła: From Java 8 to Java 11
Wstęp na spotkanie jest wolny. Rejestracja odbywa się przez portal Meetup. Po spotkaniu zapraszamy na after-party do pubu Kraftodajnia, na którym będziemy mogli się poznać i podyskutować w luźnej atmosferze ;) Pub znajduje się pod adresem: Plac Kościeleckich 5 (https://goo.gl/tGdA7m). Widzimy się tam od godziny 21:00.
Wstęp będzie możliwy już od 17:30.
______________________
Kalendarz wydarzeń odbywających się w Bydgoszczy miej zawsze pod ręką dzięki aplikacji mobilnej (Android i iOS).
______________________
Informacje o wydarzeniach przesyłajcie na adres wydarzenia@visitbydgoszcz.pl
______________________
Bydgoskie Centrum Informacji nie ponosi odpowiedzialności za jakiekolwiek zmiany miejsc, godzin i dat wydarzeń.