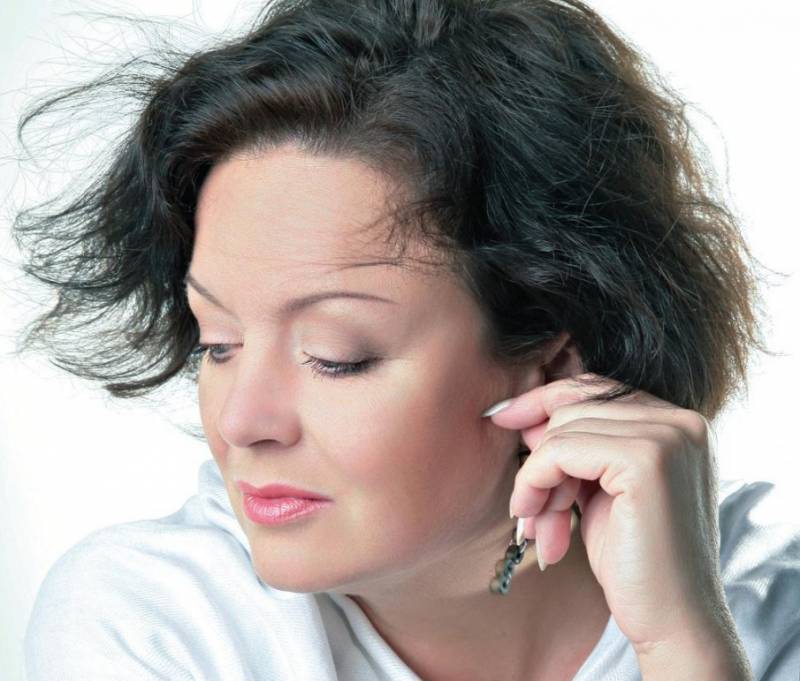 Hanna Banaszak- jest z nami od końca lat 1970 i dzięki wiarygodności, wrażliwości i różnorodności jest z nami po dziś dzień. Jedna z największych gwiazd polskiej estrady. Z jednakową perfekcją i uczuciem śpiewa Przyborę, Koftę, Młynarskiego, Preisnera, Stabat Mater czy Dzieci Sancheza. Jest ceniona za kunszt, niebywały smak, kulturę. Z równą dezynwolturą interpretuje poezję Jana Kochanowskiego, J. Brodskiego, W. Szymborskiej, J. Kaczmarskiego, mierzy się z muzyką M. Daviesa, Vivaldiego, Mozarta, Metheny-ego, Gershwina, Ellingtona. Wydała tomik wierszy, fotografuje. Minister Kultury i Sztuki uhonorował ją medalem Gloria Artis. Jest posiadaczką statuetek: Victora, Kreatora, Bursztynowego Słowika, Prometeusza etc.
"(...) wprost z zakamarków mojego wnętrza wyznaję, że jestem typem samotnika, ale też nie wyobrażam sobie żyć bez innych. Samotność jest mi potrzebna do skupienia, tworzenia i odpoczynku od hałasu świata. Jednak prędzej, czy później gna mnie do ludzi. Mam szczęście, że oni wciąż przy mnie trwają. Kocham teatr, kino i naturę. Od dziecka, intensywnie jeżdżę na rowerze. Mam dwa domy. Jeden mały , statyczny ? to ten, w którym jestem zameldowana, drugi ruchomy, ciekawy świata - to samochód. Spędzam w nim tyle czasu, że coraz częściej się zastanawiam, nad zainstalowaniem tam kuchni i łazienki. Posiadam wspaniałą córkę. Jest moją wielką radością i dumą. Nie znoszę, gdy mówi się o mnie ?gwiazda? ! Muszę policzyć w myślach do dziesięciu, aby na taki (tytuł) nie zareagować. Uważam, że mój zawód jest jednym z wielu innych, równie ciekawych zawodów świata. Najważniejsze, aby uprawiać go rzetelnie. Lubię ludzi, którzy w życiu pracują, walczą, nie poddają się i nie zawisają swym wygodnictwem na plecach innych. Nie chcę przejmować się krytyką . Raczej ćwiczę samoakceptację i to mi pozwala nie zwracać uwagi na negatywne opinie. Gdy się zdarzają, tylko przez chwilę im się przyglądam. Po to, by czegoś okropnego w sobie nie przeoczyć. Staram się rozróżniać dobro od zła i próbuję być coraz lepszym człowiekiem, ze skutkiem wciąż jednak marnym, a kiedyś podobno nawet śmiertelnym. Pozdrawiam moją wspaniałą Publiczność i do zobaczenia na koncertach".
Ceny biletów: od 80 do 120 PLN
Bilety dostępne na:
https://www.kupbilecik.pl/impreza-31912-hanna.banaszak.bydgoszcz.html
https://www.eventim.pl/hanna-banaszak-bydgoszcz-bilety.html?affiliate=PLE&doc=artistPages%2Ftickets&fun=artist&action=tickets&key=2102642%2411761594&jumpIn=yTix&kuid=548970&from=erdetaila
https://www.ebilet.pl/muzyka/piosenka/hanna-banaszak/
Sprzedaż stacjonarna w salonach Empik w całej Polsce.
______________________
Kalendarz wydarzeń odbywających się w Bydgoszczy miej zawsze pod ręką dzięki aplikacji mobilnej (Android i iOS).
______________________
Informacje o wydarzeniach przesyłajcie na adres wydarzenia@visitbydgoszcz.pl
______________________
Bydgoskie Centrum Informacji nie ponosi odpowiedzialności za jakiekolwiek zmiany miejsc, godzin i dat wydarzeń.