Summer Cinema - Collateral Beauty
Gdzie?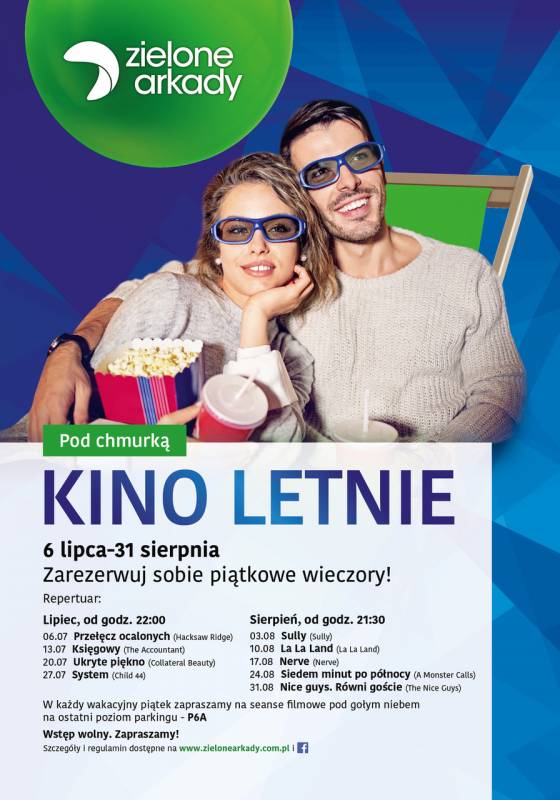 6.07-31.08.2018 Kino pod chmurką w Zielonych Arkadach
Najlepsze tytuły filmowe, duży ekran i wygodne leżaki – to wszystko oznacza, że zbliża się kolejna edycja kina letniego w Zielonych Arkadach! W każdy piątkowy wieczór od 6 lipca aż do 31 sierpnia będziecie mogli bezpłatnie oglądać filmy pod gołym niebem. W repertuarze znajdzie się aż 9 kultowych tytułów, a wśród nich "La La Land", "Ukryte piękno" czy "Przełęcz ocalonych".
Kino plenerowe powstanie na ostatnim poziomie parkingu – P6A. Pokazy rozpoczynać się będą po zachodzie słońca – w lipcu o godzinie 22.00, natomiast w sierpniu o godzinie 21.30. Wstęp na filmowe projekcje jest bezpłatny.
To będą dwa miesiące pełne gwiazd – tych na niebie i na wielkim ekranie!
Repertuar:
Lipiec
06.07, godz. 22:00 – Przełęcz ocalonych (Hacksaw Ridge)
13.07, godz. 22:00 – Księgowy (The Accountant)
20.07, godz. 22:00 – Ukryte piękno (Collateral Beauty)
27.07, godz. 22:00 – System (Child 44)
Sierpień
03.08, godz. 21:30 – Sully (Sully)
10.08, godz. 21:30 – La La Land (La La Land)
17.08, godz. 21:30 – Nerve (Nerve)
24.08, godz. 21:30 – Siedem minut po północy (A Monster Calls)
31.08, godz. 21:30 – Nice guys. Równi goście (The Nice Guys)
JAK DOTRZEĆ:
Pieszych zapraszamy wejściem Kryształowym, od ulicy Karpackiej. Stamtąd należy kierować się do wyjścia na parking, znajdującego się przy sklepie Smyk, a następnie wjechać windą na poziom P6A.
W dniach projekcji nastąpi zmiana w ruchu kołowym na parkingu: poziomy P5A oraz P5B będą z niego wyłączone od godziny 18:00, natomiast poziomy P6A i P6B, na których powstanie strefa kina letniego – przez cały dzień.