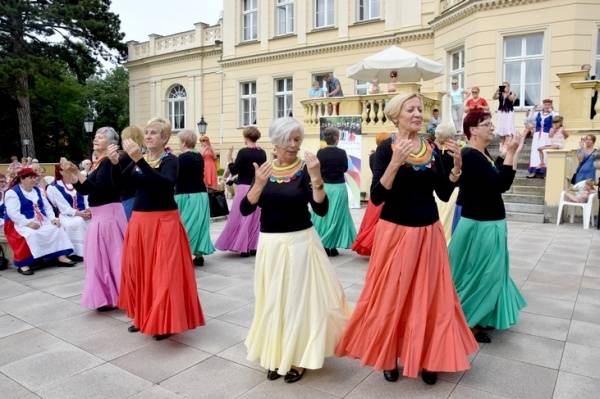 TANECZNE FOLKOWISKO – MIĘDZYPOKOLENIOWY VIII FESTIWAL TAŃCÓW W KRĘGU
12-14 Warsztaty taneczne
16-18 Zespół Ukraiński "Czeromosz", pokaz tańców greckich, taniec bollywood, wielki taneczny krąg
18-20 Koncert orkiestry dętej M.Band oraz orkiestry z Perth - partnerskiego miasta Bydgoszczy.
Orkiestra Muzyków Bydgoskich EMBAND przy I Liceum Ogólnokształcącym w Bydgoszczy Kapelmistrz Ewa Makula. Orkiestra istnieje od 1995 roku. Swoją działalność rozpoczynała od uroczystości kościelnych, jak: procesje Bożego Ciała, Św. Wojciecha w Gnieźnie, Ogólnopolskich Festiwali Muzyki Religijnej w Rumi (laureaci-1997, 1998, 2001), a w 1999 r. przygotowała oprawę muzyczną do Mszy Św. z papieżem Janem Pawłem II w Bydgoszczy. Ważnymi osiągnięciami orkiestry były Ogólnopolskie Konkursy i Festiwale Orkiestr Dętych, na których przyznawano jej pierwsze miejsca, Grand Prix i Złote Medale dla kapelmistrza. Były to: Szamocin 2001 i 2004 oraz Rowy 2009, 2010, 2011. Również w macierzystym województwie uczestniczyła w konkursach o Puchar Marszałka Województwa Kujawsko-Pomorskiego, zdobywając czołowe miejsca.
W 2002 roku na Litwie i Łotwie orkiestra wielokrotnie uświetniała uroczystości z okazji Dni Kultury Polskiej, Święta Konstytucji 3 Maja i Święta Niepodległości Polski. Na Międzynarodowym Festiwalu i Konkursie Orkiestr Dętych w Angermünde w Niemczech w 2007 roku, zajęła 3 miejsce na siedemnaście orkiestr. W Pradze w 2011 roku na Międzynarodowym Festiwalu i Konkursie Orkiestr Dętych, gdzie przybyły orkiestry z całej Europy, EMBAND jako jedyna orkiestra reprezentowała Polskę i zdobyła srebro. W 2012 roku orkiestra koncertowała w Paryżu, a w roku 2013 w Wilnie. W 2014 roku odbyła tournée Bruksela-Paryż, gdzie spotkała się z wielkim uznaniem wśród słuchaczy.
Perthshire Brass Band to jedna z bardziej utytułowanych orkiestr, obecnie zajmuje najwyższe w swojej historii miejsce w rankingu orkiestr dętych.
Założycielem orkiestry był w 1978 r. George Annan, nauczyciel muzyki i były profesjonalny muzyk z Perth. Obecnie orkiestrą dyryguje syn założyciela, także George, wespół z dyrygentem towarzyszącym, Jasonem Blythem. Niemniej Annan senior nadal związany jest z Perthshire Brass m.in. jako saksofonista tenorowy. Orkiestra to duży, liczący 30 muzyków zespół o zróżnicowanym wieku i zdolnościach. Najmłodszy członek zespołu ma 5 lat, a najstarszy – 72. W repertuarze mają zarówno muzykę filmową, piosenki pop, ale też dzieła wielkich klasyków oraz tradycyjne utwory szkockie
Stowarzyszenie Ajde Jano zapraszają wszystkich miłośników tańców w kręgu, tańców etnicznych na kolejną VIII edycję Festiwalu w pięknym zakątku w kompleksie Pałacowo-parkowym w Ostromecku. Głównym celem Festiwalu jest ukazywanie bogactwa kultur narodowych i etnicznych, integracja społeczności lokalnych z różnych grup wiekowych oraz proponowanie tańców etnicznych jako ciekawy sposób spędzania czasu.
Informacje: www.ajde-jano.pl
Wstęp wolny
______________________
Kalendarz wydarzeń odbywających się w Bydgoszczy miej zawsze pod ręką dzięki aplikacji mobilnej (Android i iOS).
______________________
Informacje o wydarzeniach przesyłajcie na adres wydarzenia@visitbydgoszcz.pl
______________________
Bydgoskie Centrum Informacji nie ponosi odpowiedzialności za jakiekolwiek zmiany miejsc, godzin i dat wydarzeń.