Mężczyźni są z Marsa, Kobiety z Wenus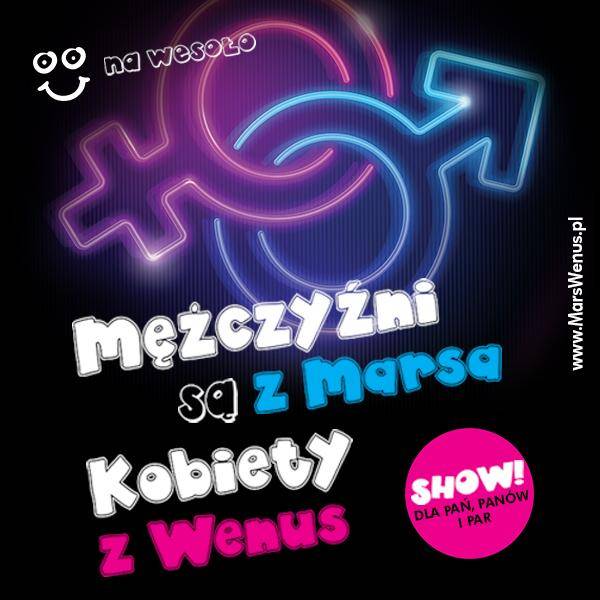 Ceny biletów: 67 PLN
Po sukcesie seansów: "Zaklinacz Kobiet" i "Jak rozmawiać z Chłopem? Jełopem?" i "Master of Sex", na których już było ponad 100 000 osób w podobnym, pełnym humoru, stylu zaprojektowaliśmy seans edukacyjny "Mężczyźni są z Marsa, Kobiety z Wenus". Zabawna forma bardziej przemawia do par, ale przede wszystkim jest wyjątkowo dobrze przyjmowana przez mężczyzn. Śmiech i wspólna zabawa tworzy atmosferę niezagrażającą mężczyznom, dzięki czemu są otwarci na naukę i zrozumienie.
Dlaczego podejście "na wesoło"? Z jednej prostej przyczyny: do przezwyciężenia męskich zastrzeżeń do seansu. Bądźmy szczerzy, seminaria czy szkolenia na temat związku nie są pierwszą rzeczą, o której myśli facet kiedy zastanawia się nad miłym i zabawnym spędzeniem wieczoru. Wiemy, że to kobiety są zazwyczaj o wiele bardziej otwarte na przedyskutowanie problemów małżeńskich niż ich małżonkowie. Po seansie mężczyzna i kobieta mają odczucie wspaniałej zabawy, wiele refleksji na temat ich relacji, ale przede wszystkim zestaw gotowych przepisów, by tchnąć świeżość w ich związek. O ile jednak seans jest doskonałą zabawą, to przede wszystkim potężną dawką wiedzy podaną w prosty "samo przyswajalny" sposób. Takie właśnie podejście sprawia, że skuteczność seansów jest taka duża. W przeciwieństwie do wielu tradycyjnych seminariów czy warsztatów na temat małżeństwa i związków, które wydają się być zbyt poważne, techniczne i emocjonalnie trudne do opanowania, seans "Mężczyźni są z Marsa, Kobiety z Wenus" jest inny, ponieważ pomaga parom odnaleźć się trudnych sytuacjach w sposób, który jest zabawny , nieinwazyjny i bezpieczny. W trakcie trwania seansu pary będą się śmiać, odkrywać siebie na nowo oraz uczyć jak dokonać prawdziwych, pozytywnych zmian w ich związku.
Seans zaczyna się mnóstwem śmiechu, gdy Grzegorz bada różnice między mężczyznami i kobietami. Pokazuje parom, w jaki sposób ich problemy mogą wyniknąć z tego, jak różnie mężczyźni i kobiety myślą o życiu. Wyjaśnia, jak wiele walk w związku jest wynikiem problemu z głową, nie problemu z sercem. Następnie odkrywa przed parami prawdziwe powody dlaczego ich małżonek robi to, a nie robi tego. Ponadto, że sesja jest potężnym reduktorem stresu, uczestnicy poznają proste narzędzia, które sprawią że Twój partner będzie robił to co powinien.
"Oh, gdyby ktoś mi to wyjaśnił wcześniej?". "Tego powinno się nauczać w szkole", "Takie staże powinny być finansowane z ubezpieczenia socjalnego", "Powinno się robić obowiązkowe kursy tego typu przed zawarciem małżeństwa", "Znam już sposób na mojego faceta" tego typu komentarze pojawiają wśród widzów po seansie.
____________________
Kalendarz wydarzeń odbywających się w Bydgoszczy miej zawsze pod ręką dzięki aplikacji mobilnej (Android i iOS).
______________________
Informacje o wydarzeniach przesyłajcie na adres wydarzenia@visitbydgoszcz.pl
______________________
Bydgoskie Centrum Informacji nie ponosi odpowiedzialności za jakiekolwiek zmiany miejsc, godzin i dat wydarzeń.