Spotkanie autorskie z Katarzyną Barbarą Rodziewicz
Gdzie?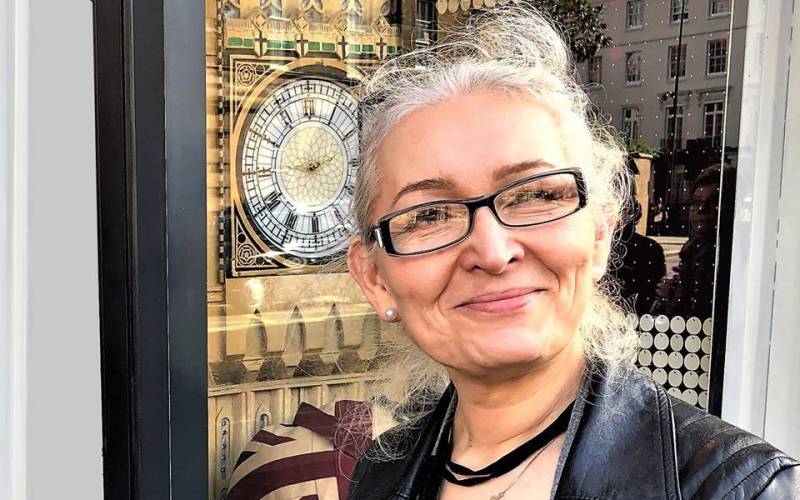 21 czerwca (czwartek) o godz. 17:00, KPCK zaprasza do Salonu Hoffman KPCK na spotkanie autorskie z Katarzyną Barbara Rodziewicz – artystką, pedagożką, nauczycielką zawodu: kierowca, animatorką kultury, restauratorką, architektem krajobrazu, florystką, traktorzystką, kierowcą, rolnikiem, hodowcą kóz, budowlańcem i…
Katarzyna Barbara Rodziewicz ur. 1964 - artystka, pedagożka, nauczycielka zawodu kierowca, animatorka kultury, restauratorka, architekt krajobrazu, florystka, traktorzystka, kierowca, rolnik, hodowca kóz, budowlaniec i… Urodziła się i wychowała w Bydgoszczy. Obecnie mieszka w Sielcu koło Żnina. Jej "Alma Mater" to Wyższa Szkoła Pedagogiczna w Bydgoszczy - kierunek pedagogika kulturalno-oświatowa. W latach 1992-2003 dziennikarka i reportażystka Polskiego Radia Pomorza i Kujaw w Bydgoszczy. Autorka 450 audycji o charakterze satyrycznym pt. "P.O.P."; ok. 100 reportaży. Laureatka konkursów radiowych dla reportażystów, m.in. wyróżnienia na "Polska i Świat" w 1995 r. za reportaże: "Opowieść dla dziewczyny" (1995) oraz "Spadła na mnie misja" (1998), a także w konkursie radiowym "Bałtyk 2000" "Raport z pokładu m/s Mariola" (2000). W latach 2008 - 2016 członkini Rady Programowej Polskiego Radia PiK.
Współpracowała również z Bydgoskim Informatorem Kulturalnym (lata 1994-98). Ma na koncie wywiady m.in. z K.Zanussim, M. Markiewiczem, A. Duczmal, A. Witem, H. Debichem, Eugen'em Indič'em, Verą Nossiną, Takayouki Hirata. Pisze od lat dziewięćdziesiątych. Powstały tomiki "Historia bytu codzienna" (1996), "Pisane sobą" (2010), "Swojskie widzenie" (2011), "Stany podgorączkowe" (2017). Zrodziły się też eseje historyczne "Dwór Marzeń – czyli życie dworskie w XX i XXI wieku" i "Ich mościowie dziedzice – czyli spojrzenie na Unrugów", zamieszczonych w "Materiałach do badań dziejów woj. kujawsko-pomorskiego", artykuły prasowe traktujące o admirale Józefie Unrugu, współtworzyła również o nim publikację w encyklopedii "Wielcy Polacy z Królestwa Kongresowego i Zaboru Pruskiego" pod red. prof. Janiny Marciak-Kozłowskiej. Jest autorką tekstów pastorałek i piosenek charakterystycznych. Dorobek twórczy to także hymny – dla Stowarzyszenia Rodu Rodziewiczów (członkini Zarządu od 1999 r.). Katarzyna Rodziewicz obecnie jest kustoszką i posesjonatką Dworu Marzeń na Pałukach, w tym założonej Izby Admiralskiej Józefa Unruga (twórca Marynarki Wojennej w II RP - legendarny dowódca, obrońca Helu w 1939 r.). Powołała do życia i od kilku lat prowadzi Ogólnopolski Konkurs Pamięci Admirała Józefa Unruga "Admiralski Rejs". Od 2003 r. w Dworze Marzeń prowadzi warsztaty dziennikarskie, plastyczne, savoir-vivre'u, historyczne i etnograficzno-przyrodnicze. Uhonorowana m.in. Złotym Laurem Żnińskiego Towarzystwa Kultury, Medalem 90-lecia Marynarki Wojennej, wyróżnieniem Marszałka Senatu RP Custos Monumentorum Rei Publicae - Strażnik Dziedzictwa Rzeczypospolitej, Medalem Marszałka Województwa Kujawsko-Pomorskiego Hereditas Saeculorum – Dziedzictwo Wieków, Honorowym Medalem Burmistrza Żnina, Medalem Starosty Bydgoskiego.
______________________
Kalendarz wydarzeń odbywających się w Bydgoszczy miej zawsze pod ręką dzięki aplikacji mobilnej (Android i iOS).
______________________
Informacje o wydarzeniach przesyłajcie na adres wydarzenia@visitbydgoszcz.pl
______________________
Bydgoskie Centrum Informacji nie ponosi odpowiedzialności za jakiekolwiek zmiany miejsc, godzin i dat wydarzeń.