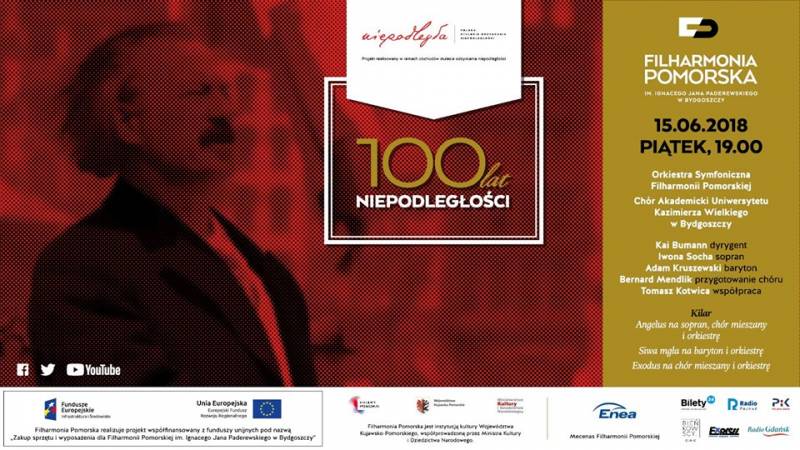 Orkiestra Symfoniczna Filharmonii Pomorskiej
Chór Akademicki Uniwersytetu Kazimierza Wielkiego w Bydgoszczy
Kai Bumann dyrygent
Iwona Socha sopran
Adam Kruszewski baryton
Bernard Mendlik przygotowanie chóru
Tomasz Kotwica współpraca
Bilety do nabycia na www.bilety24.pl w kasie biletowej FP
oraz w Biurze Podróży "Wakacyjny świat" ul. Magnuszewska 8, Bydgoszcz tel. 52 320 52 29
Następna odsłona koncertu z okazji Stulecia Niepodległości nastąpi wyłącznie z dziełami wokalno-instrumentalnymi Wojciecha Kilara.
Angelus z 1984, umuzyczniona wersja Pozdrowienia Anielskiego, napisany został z myślą o klasztorze Jasnogórskim i uroczystości otwarcia po konserwacji tamtejszego Ołtarza. Kompozytor uważał Angelus za pierwszy i najważniejszy ze swych utworów religijnych.
Następnie Siwa mgła – dedykowana Andrzejowi Bachledzie. Inspiracją dla Kilara do stworzenia tego poematu wokalno-symfonicznego stała się podhalańska "nuta wierchowa", jedna z dawnych, rzadkich i niezwykłych konstrukcji melodii ludowych. Warto zaznaczyć, że prawykonanie utworu miało miejsce w Filharmonii Pomorskiej 14 X 1979 (Orkiestra Symfoniczna Państwowej Filharmonii w Krakowie, Andrzej Bachleda – baryton, Jerzy Katlewicz – dyrygent).
Wieczór zakończy Exodus, który miał swoją premierę w 1981 podczas Warszawskiej Jesieni i wówczas zaskoczona publiczność powitała nowe dzieło mistrza jednocześnie gwizdami i entuzjastyczną owacją. Kompozytor jako motto utworu użył słów pieśni z biblijnej Księgi Wyjścia, które lud Izraela zaintonował przy dźwiękach bębnów i tańcach niewiast po przejściu przez Morze Czerwone: "Śpiewajmy pieśń chwały na cześć Jahwe, bo swą potęgę okazał…". Exodus, nazywany polskim Bolerem, długo budził kontrowersje i sprzeczne emocje, które w końcu uciął sam autor: "No więc sięgnąłem po formę stworzoną przez Ravela, bo czułem, że to jest moje, że muszę to zrobić. Napisałem Exodus i opowiedziałem w nim moją historię. Co kto o tym pomyśli, to naprawdę mało ważne". (Cyt. za ninateka.pl). 4 stycznia 2014 w katowickiej archikatedrze pw. Chrystusa Króla odbyła się msza pogrzebowa Wojciecha Kilara. Muzyczną klamrą uroczystości były właśnie dwa dzieła zmarłego kompozytora: Angelus oraz Exodus.
Partie solowe w Angelusie zaśpiewa uznana solistka Opery Krakowskiej – Iwona Socha. Sopranistka jest finalistką i zwyciężczynią krajowych oraz międzynarodowych konkursów. W 2013 zdobyła prestiżowy laur Najlepszej Śpiewaczki Operowej w ramach ogólnopolskiej Teatralnej Nagrody Muzycznej im. Jana Kiepury. W 2016 otrzymała Nagrodę Wydawców Katolickich Feniks za płytę z mszą Józefa Zeidlera Missa Pastorita (z Sinfonią Iuventus pod dyrekcją Pawła Przytockiego). Artystka współpracuje z wiodącymi filharmoniami, ośrodkami operowymi i operetkowymi w kraju i za granicą.
Partię barytonu w Siwej mgle realizować będzie Adam Kruszewski. Absolwent stołecznej Akademii Muzycznej jest laureatem, zaliczanego do najbardziej prestiżowych w świecie, Międzynarodowego Konkursu Wokalnego w 's-Hertogenbosch (Holandia), Konkursu im. Kiepury w Krynicy oraz międzynarodowych konkursów w Rio de Janeiro (Brazylia) i Nantes (Francja). Od wielu lat współpracuje z Operą Narodową i Teatrem Wielkim w Warszawie, na scenach których wykreował wiele znamienitych ról. Koncert poprowadzi maestro Kai Bumann, szef artystyczny FP.
_______________
Kalendarz wydarzeń odbywających się w Bydgoszczy miej zawsze pod ręką dzięki aplikacji mobilnej (Android i iOS).
______________________
Informacje o wydarzeniach przesyłajcie na adres wydarzenia@visitbydgoszcz.pl
______________________
Bydgoskie Centrum Informacji nie ponosi odpowiedzialności za jakiekolwiek zmiany miejsc, godzin i dat wydarzeń.