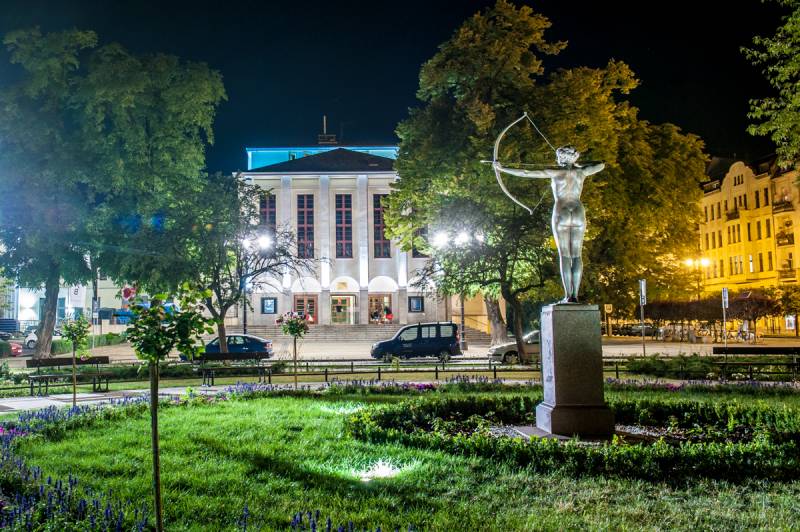 Rabih Mroué przygotowuje w Teatrze Polskim w Bydgoszczy spektakl o Andrzeju Lepperze – jednej z najbardziej kontrowersyjnych postaci polskiej sceny politycznej ostatnich dwudziestu lat.
Przewodniczący partii "Samoobrona" był politykiem wyjątkowo często obecnym w mediach, budzącym zazwyczaj bardzo silne emocje, zarazem jednak uparcie poddawany był łatwym i nieraz stereotypowym ocenom. Trochę tak, jakby rozmaite grupy społeczne projektowały na Leppera własne lęki, potrzeby i obsesje.
Znakomity libański artysta wspólnie z aktorami bydgoskiego teatru będzie przyglądał się postaci Leppera, jednocześnie odsłaniając nieoczywiste perspektywy polskiej transformacji. Przy pracy nad scenariuszem z Mroué współpracują Marta Keil, która jest również kuratorką projektu oraz Piotr Grzymisławski. Jest to pierwsza polska produkcja teatralna Mroué.
Rabih Mroué mieszka i pracuje w Bejrucie oraz w Berlinie. Zafascynowany przenikaniem się fikcji i realności, w swojej praktyce artystycznej, wywodzącej się z teatru, swobodnie sięga do rozmaitych dyscyplin, pracując pomiędzy sceną, performansem i sztukami wizualnymi.
Jest współzałożycielem Beirut Art Center, współwydawcą TDR: The Drama Review (Nowy Jork) oraz stałym reżyserem w monachijskiej Kammerspiele. Jego najnowsze spektakle to Ode to Joy (2015), Riding on a cloud (2013) oraz 33 RPM and a Few Seconds (2012), zrealizowane wspólnie z Liną Majdalanie, natomiast ostatnie wystawy miały miejsce m.in. w nowojorskiej MOMIE (2015), Mesnta Gallerija (Lublana, 2014), SALT (Stambuł, 2014), CA2M (Madryt, 2013) oraz DOCUMENTA 13 (Kassel, 2012). W marcu 2016 roku Hebbel am Ufer w Berlinie zorganizowało poświęcony mu festiwal: retrospektywę prac stworzonych wspólnie z Liną Majdalanie. Podczas Festiwalu Prapremier w 2015 roku bydgoscy widzowie mieli okazję obejrzeć jeden z jego najgłośniejszych spektakli: Riding on a Cloud.