Gwiazdy Światowej Iluzji na żywo
Gdzie?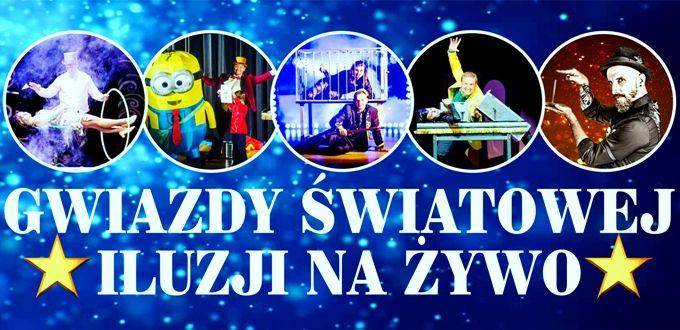 Po premierze obydwu części filmu Iluzja i programach typu "Mam Talent" występy iluzjonistów stały się jedną z najpopularniejszych w ostatnim czasie form rozrywki. Odwiedzają nasz kraj największe Gwiazdy Światowej Iluzji, a bilety na te spektakle rozchodzą się jak przysłowiowe świeże bułeczki. W związku z tym w 2015 roku powstał niesamowity projekt zatytułowany: Champions of Illusion. Jest to międzynarodowa grupa iluzjonistów zrzeszająca kilkudziesięciu artystów z całego świata, prezentująca dwugodzinne interaktywne show, gdzie triki i sztuczki znane dotąd tylko z ekranu telewizora są dosłownie na wyciągnięcie ręki, a wspaniała muzyka i niesamowite oświetlenie dodają "magiczności" całemu przedsięwzięciu. Jej występy miała już okazję podziwiać publiczność zarówno z wielu polskich miast, jak i europejskich stolic. We wrześniu 2019 r nasze Gwiazdy zachwyciły swoimi występami także amerykańską widownię w Chicago, Hoffman Estates, St. Louis i Phoenix. Artyści ci, prezentują przeróżne formy iluzji, od popularnych zwłaszcza wśród dzieci sztuczek karcianych, przez pokazy z gołębiami i sztuczki mentalne, po wielkie iluzje z dużymi rekwizytami, lewitacją i niesamowitymi ucieczkami z zamkniętych skrzyń czy klatek. Każdy iluzjonista jest inny i czym innym zachwyca publiczność. Spektakl ten jest skierowany do całej rodziny i bez względu na wiek, każdy znajdzie tu coś dla siebie. Na scenie oprócz artystów zawsze czynnie uczestniczy publiczność. Bawią się wszyscy od lat 3 do 103 !!! Tym razem, podczas europejskiego tournee, także bydgoska publiczność będzie miała okazję zobaczyć to niesamowite show !!! A może to właśnie Ty wyciągniesz królika z kapelusza i jak bajkowa Alicja, przeniesiesz się do niesamowitej Krainy Czarów ! Trzeba to zobaczyć na własne oczy i przekonać się, że magia istnieje naprawdę !!!
Czytaj więcej na: https://www.kupbilecik.pl/imprezy/51525/Bydgoszcz/Gwiazdy+%C5%9Awiatowej+Iluzji+na+%C5%BCywo/
____________________
Kalendarz wydarzeń odbywających się w Bydgoszczy miej zawsze pod ręką dzięki aplikacji mobilnej (Android i iOS).
______________________
Informacje o wydarzeniach przesyłajcie na adres wydarzenia@visitbydgoszcz.pl
______________________
Bydgoskie Centrum Informacji nie ponosi odpowiedzialności za jakiekolwiek zmiany miejsc, godzin i dat wydarzeń.