CZYTAJMY SIĘ!: Samotny bez lęku - dwugłos poetycki Aliny Rzepeckiej i Bartłomieja Siwca
Gdzie?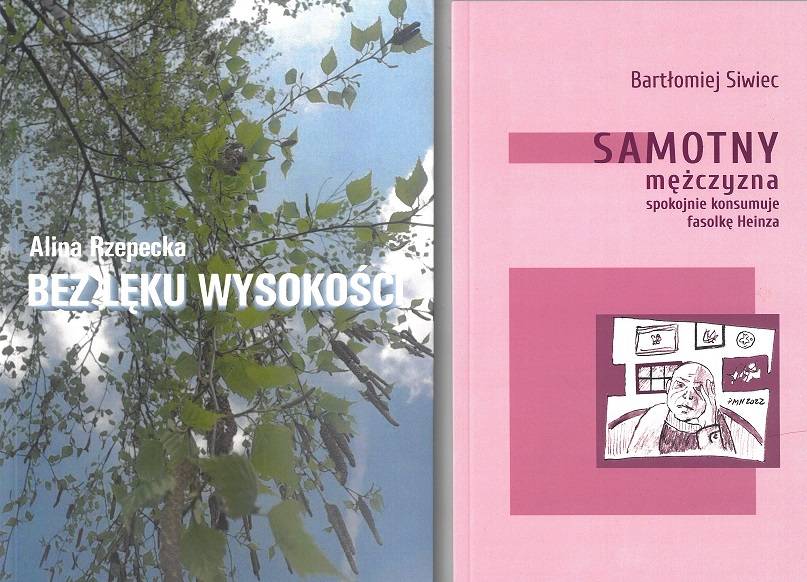 Informacje od Organizatora:
Prowadzenie: Alicja Dużyk
Książki Bez lęku wysokości i Samotny mężczyzna spokojnie konsumuje fasolkę Heinza – to ostatnie tomy znanych w Bydgoszczy autorów. Publikacja Aliny Rzepeckiej to nagroda za zwycięstwo w Konkursie Głównym 28. Głogowskich Konfrontacji Literackich. Tom poetycki intrygujący kulinarnym upodobaniem do fasolki Heinza stanowi Kolekcję Literacką Stowarzyszenia Pisarzy Polskich Oddział Warszawa.
"Samotni mężczyźni są pełni brudnych, nieogolonych myśli" – czytamy w tomiku Bartłomieja Siwca. "Jedynym pragnieniem jest usłyszeć jak wypowiadasz głośno moje imię" – to wiersz Samotność Aliny Rzepeckiej. "Jeśli jest coś, czego jeszcze nie powiedziałeś, nie mów" – szepcze Samotny. "Każda z nas ma swoje tajemnice" – podkreśla kobieta. "Tylko w snach pijackich, poetyckich zwidach fruniemy ku górze niczym wielki balon" – taką myślą dzieli się spokojnie konsumujący. "Kiedy śnię mam odwagę być sobą na tysiąc sposobów" – wyznaje ta, która się niby nie boi. Kto z nas gra, udaje pionka, ucieka w sny, cierpi i się uśmiecha? Zapraszamy na spotkanie, które zapowiada się naprawdę intrygująco.
Alina Rzepecka – urodzona w Lipnicy na Kaszubach, mieszka w Bydgoszczy; matematyczka. Autorka czterech książek poetyckich: Bezsenność (2005), Oswajanie snów (2014), Punkty styczności (2018), Bez lęku wysokości (2023) i tekstów piosenek na trzech płytach: Wigilianki, To ja kobieta, Niebo nad jeziorem. Członek Stowarzyszenia Pisarzy Polskich, Robotniczego Stowarzyszenia Twórców Kultury, Gdańskiego Klubu Poetów, Grupy Literackiej Dysonans we Wrocławiu i Międzynarodowej Grupy Literackiej Kwadrat. Laureatka wielu konkursów poetyckich. Otrzymała odznaczenie "Zasłużony dla Kultury Polskiej" i medal Jakuba Wojciechowskiego.
Bartłomiej Siwiec – urodzony w Bydgoszczy prozaik, poeta, krytyk literacki. Autor m.in. czterech powieści: Zbrodnia, miłość, przeznaczenie (2010), Autodestrukcja (2014), Przypadek Pana Paradoksa (2016), 16 schodów (2018), zbioru opowiadań Wszyscy byli umoczeni (2015) i sześciu zbiorów wierszy: Instrukcja zabicia ptaka (2016), Matka i róża (2017), Przepompownia (2019), Starsza pani poezja (2020), Domysły na temat Ruxa (2021), Samotny mężczyzna spokojnie konsumuje fasolkę Heinza (2022). Jego wiersze, szkice i recenzje były drukowane na łamach "Toposu", "Tekstualiów", "Frazy", "Elewatora", "Epei", "Nowego Napisu Co Tydzień", "Okolicy Poetów", "Akantu", "Gazety Kulturalnej". Od 2023 roku sprawuje funkcję prezesa bydgoskiego Oddziału Stowarzyszenia Pisarzy Polskich.
Wstęp wolny
______________________
Kalendarz wydarzeń odbywających się w Bydgoszczy miej zawsze pod ręką dzięki aplikacji mobilnej (Android i iOS).
______________________
Informacje o wydarzeniach przesyłajcie na adres wydarzenia@visitbydgoszcz.pl
______________________
Bydgoskie Centrum Informacji nie ponosi odpowiedzialności za jakiekolwiek zmiany miejsc, godzin i dat wydarzeń.