Aleja Rocka Symfonicznie
Gdzie?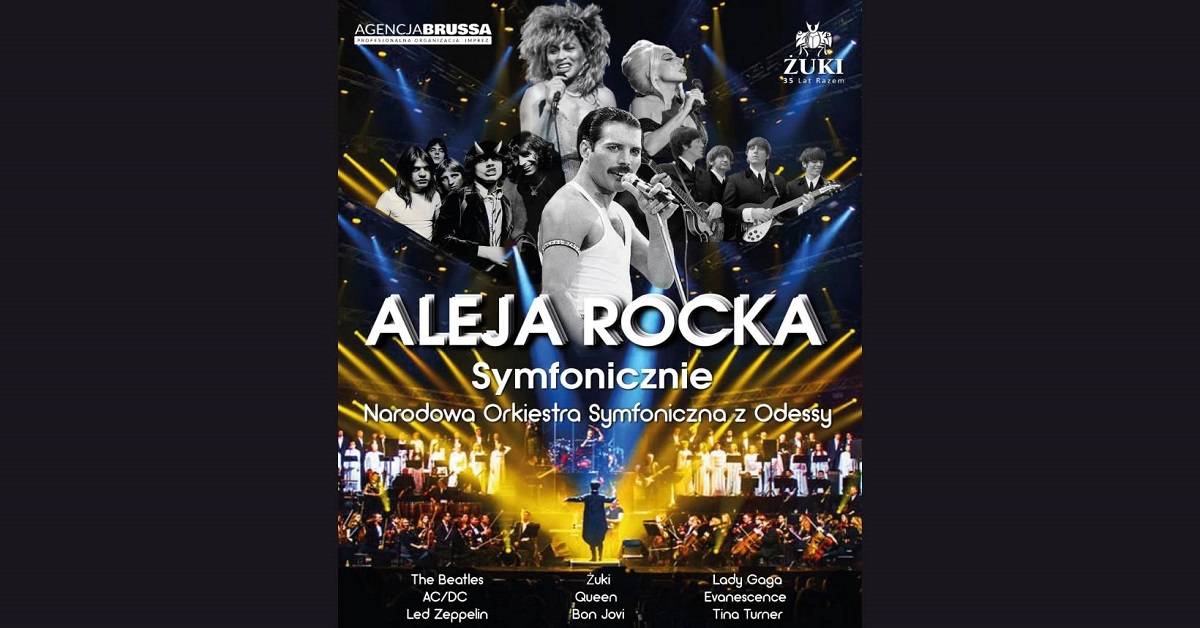 Informacje od Organizatora:
ALEJA ROCKA – to wspaniałe przedstawienie, które zgromadziło na jednej scenie orkiestrę symfoniczną, chór i zespół rockowy, solistów i tancerzy. Oto muzyka – aleja największych rockowych przebojów – nie tylko zabrzmi, ale przemieni się w spektakl do oglądania.
Każdy z widzów będzie miał możliwość włączenia się w ten niezwykły performance – unosząc się na rockowej fali świetlnej i dźwiękowej, zanurzy się w oceanie muzyki.. Tak jak szybko zmieniają się światła na scenie, tak będą przed nami migotać, błyszczeć i rozświetlać się emocje, wrażenia, uczucia. Wszyscy widzowie staną się uczestnikami niesamowitego show z nowoczesnymi wizualnymi i świetlnymi efektami specjalnymi. A zatem start, odpalamy reflektory i włączamy mikrofony – czas na naładowanie energią!
Repertuar:
1. Come Together – The Beatles
2. Sgt. Pepper's Lonely Hearts Club Band – The Beatles
3. Lady Madonna – The Beatles
4. Hey Jude – The Beatles
5. Oh Darling – The Beatles
6. Proud Marry - Tina Turner
7. The best - Tina Turner
8. Rock&Roll - Led Zeppelin
9. Whole Lotta Love - Led Zeppelin
10. Stairway To Heaven - Led Zeppelin
11. Knonkin' on heaven's door - Bob Dylan
12. Another Brick In The Wall - Pink Floyd
13. A Whiter shade of pale - Procol Harum
14. Smoke on The water - Deep Purple
15. Aerosmith – I don't want to miss a think
16. The Final Countdown – Europe
17. Imagine – The Beatles
18. She Loves You – The Beatles
19. Let it be – The Beatles
20. All You Need Is Love - The Beatles
21. The long And winding road - The Beatles
22. Bring me to life - Evanescence
23. Highway To Heel - AC/DC
24. Black Night - Deep Purple
25. Zoombie - The cranberries
26. Shallow - Lady Gaga
27. We will rock You – Queen
28. Love of my Love – Queen
29. We Are The Champions – Queen
30. Radio Gaga - Queen
31. Show must go on –Queen
32. Its my Life - Bon Jovi
33. Sailing - Rod Stewart
______________________
Kalendarz wydarzeń odbywających się w Bydgoszczy miej zawsze pod ręką dzięki aplikacji mobilnej (Android i iOS).
______________________
Informacje o wydarzeniach przesyłajcie na adres wydarzenia@visitbydgoszcz.pl
______________________
Bydgoskie Centrum Informacji nie ponosi odpowiedzialności za jakiekolwiek zmiany miejsc, godzin i dat wydarzeń.