"POd Fryzjerką" w bydgoskiej Światłowni
Gdzie?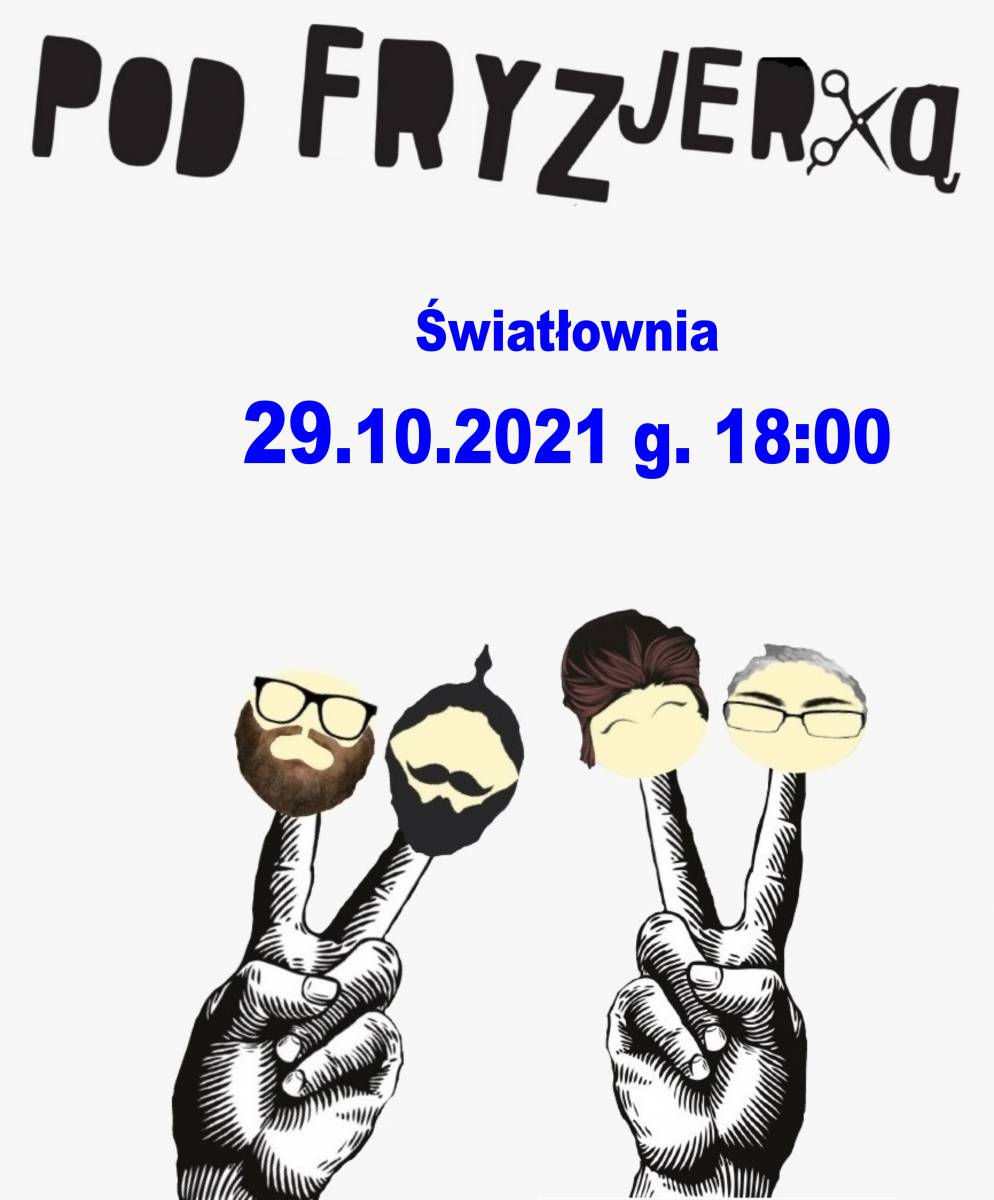 Skład: Magdalena Jabłońska – wokal,teksty, melodie
Wojtek Bogdan – akordeon
Łukasz Milewski – gitara basowa
Paweł Jabłoński – instrumenty perkusyjne
Zespół narodził się w maju 2014r. Magda (która pisze sobie różne rzeczy, bo łatwiej jej pisać, niż mówić) siedziała przy ognisku z mężem Pawłem (który, z kolei, ma fioła na punkcie rytmu, tempa, pałeczek i talerzy…). Tak powstała piosenka WWW… Z ognia, bębenka, głosu i myśli.
Potem poszło szybko. Wojtek (Tato-teść) przytulił akordeon, Łukasz zadbał o basowe tony.
Wygląda to tak… Magda przychodzi na próbę z tekstem i melodią. Chłopcy przez jakiś czas burzliwie dyskutują o tonacjach, aberracjach, deklinacjach, kwintach, funtach, tonikach z ginem lub bez. A potem ciach.I tak już ponad 60 utworów… I ponad 80 koncertów (od 3.01.2015r.)…
I próby, próby, próby. A właśnie! Próby! Nie byłoby prób, gdyby nie Beatka.Naszym azylem była piwnica pod zakładem fryzjerskim naszej "Mamo-żono-teściowej".
– A grajcie sobie. – powiedziała, swoim pięknym altem…
No to gramy… obecnie w domku, gdyż pandemia zakład zamknęła…
Śpiewała z nami Anna Bogdan, na gitarach grali Mariusz Długołęcki i Wiesław Szczechowicz. Nasze drogi się rozeszły -na szczęście w zgodzie.
Na koncie mamy: 2 płyty – "Antymianownik" – studyjną oraz "Niepoliczalnik" – live z Leśniczówki Rock'n'Roll w Chorzowie Wielkopolskim -wydane własnym sumptem, bez udziału wytwórni (a teraz marzy nam się trzecia – "Ulotnik"…)
Nagrody: 50 Ogólnopolska Turystyczna Giełda Piosenki Studenckiej 2017 – Szklarska Poręba: * Nagroda im. Wojtka Bellona * Wyróżnienie za piosenkę "Drzwi" * Nominacja na Festiwal "Danielka 2017" * Nagroda Publiczności ♥
Festiwal Danielka 2017 – Ujsoły: * III miejsce w kategorii WYKONAWCA * II miejsce w kategorii PIOSENKA za utwór "WWW" * Nagroda Radia Rzeszów – audycja MIKROKLIMAT * Nominacja na Festiwal "Przy Kominku" – Kielce 2017 * Nominacja na Markowe Granie w Leśniczówce Rock'n'Roll w Chorzowie
Festiwal Piotra Skrzyneckiego – 17.11.2017 – Mińsk Mazowiecki: *Wyróżnienie ♥
"Przy Kominku" – VI Ogólnopolski Festiwal Piosenki Poetyckiej i Turystycznej – Kielce: I Miejsce…
"Sukces artystyczny 2017" – 13.01.2017 – statuetka Powiatowego Centrum Kultury i Sztuki w Ciechanowie
Festiwal "Południca" w Chorzowie 2018 III miejsce za autorski utwór "Bzdury" III miejsce za utwór Grześkowiaka "Wiedźm"
https://www.youtube.com/watch?v=QzkIJWifdf4
Wstęp 20 zł (ulgowy 18 zł)


______________________
Kalendarz wydarzeń odbywających się w Bydgoszczy miej zawsze pod ręką dzięki aplikacji mobilnej (Android i iOS).
______________________
Informacje o wydarzeniach przesyłajcie na adres wydarzenia@visitbydgoszcz.pl
______________________
Bydgoskie Centrum Informacji nie ponosi odpowiedzialności za jakiekolwiek zmiany miejsc, godzin i dat wydarzeń.