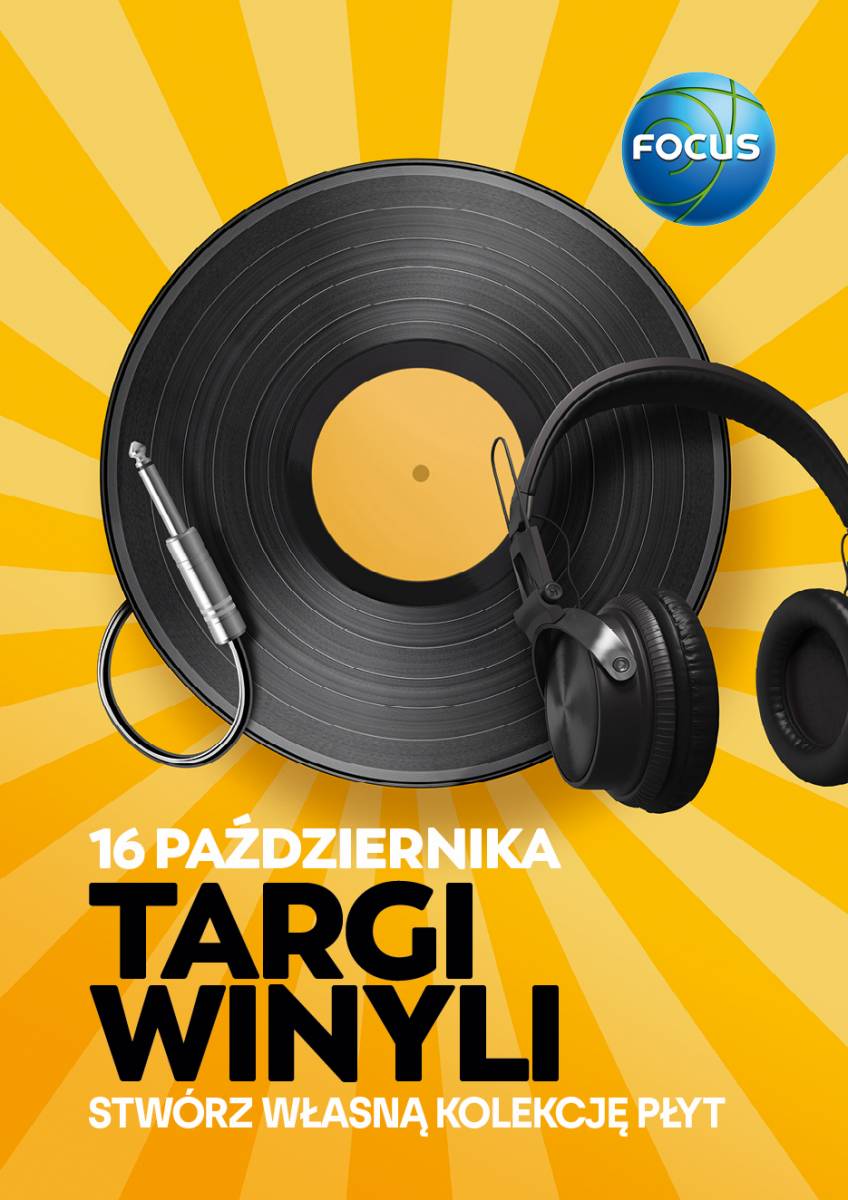 Tysiące czarnych krążków z najrozmaitszymi gatunkami muzycznymi w jednym miejscu! Po raz kolejny w CH Focus kolekcjonerzy i wystawcy płyt analogowych z całej Polski zaprezentują winyle z muzycznymi hitami – od jazzu, bluesa, poprzez rock, pop, po muzykę polską czy filmową. Targi Płyt Winylowych zagoszczą w bydgoskim centrum już w sobotę, 16 października br.
Od kilku lat panuje moda na winyle, które przebojem wkraczają do naszych czterech ścian, zajmując honorowe miejsce na regale. Kolekcjonowanie czarnych krążków i odtwarzanie ich na wiekowych bądź nowoczesnych gramofonach staje się nowym hobby. Pasjonatów starych płyt co roku przybywa, a spotkać ich można na kiermaszach winylowych, cieszących się coraz większą popularnością.
Targi winyli to druga edycja wydarzenia, która po raz pierwszy w bydgoskim centrum miała miejsce na początku roku i cieszyła się dużym zainteresowaniem. Najbliższe spotkanie miłośników muzyki spod igły i czarnych krążków odbędzie się już w sobotę 16 października, w godzinach od 9:00 do 21:00. Stoiska wystawowe rozlokowane zostaną na parterze galerii, tuż obok sklepu Smyk.
Podczas Targów Winyli na odwiedzających czekać będą tysiące nowych i używanych płyt, które zjadą do Bydgoszczy z różnych stron kraju. Wystawcy zaprezentują albumy z muzycznymi hitami – od jazzu, bluesa, poprzez rock, disco, punk, folk, pop, po muzykę polską, filmową czy klasyczną. Wśród nich znajdą się wielkie hity, bestsellery i perełki kolekcjonerskie. Przez cały dzień każdy będzie mógł zakupić, sprzedać lub wymienić się swoimi zbiorami. Każdej z płyt będzie można posłuchać na specjalnie przygotowanym do tego stanowisku odsłuchowym. Wydarzenie odbędzie się z zachowaniem zasad reżimu sanitarnego.
-Targi Winyli to miejsce, gdzie można znaleźć ulubionego wykonawcę lub wymienić się płytami, zobaczyć zbiory innych wystawców i zaopatrzyć się w muzykę przyjemną dla ucha. Płyta winylowa może stać się także wspaniałym prezentem dla bliskiej osoby – mówi Gregory Pertus, dyrektor CH Focus w Bydgoszczy. - Miłośników czarnych krążków zapraszamy już w najbliższą sobotę na jesienną edycję wystawy winylowej, podczas której będzie można uzupełnić swoją kolekcję bądź posłuchać na miejscu ulubionych nagrań– dodaje Gregory Pertus.
______________________
Kalendarz wydarzeń odbywających się w Bydgoszczy miej zawsze pod ręką dzięki aplikacji mobilnej (Android i iOS).
______________________
Informacje o wydarzeniach przesyłajcie na adres wydarzenia@visitbydgoszcz.pl
______________________
Bydgoskie Centrum Informacji nie ponosi odpowiedzialności za jakiekolwiek zmiany miejsc, godzin i dat wydarzeń.