Szesnasta odsłona Jacka Kaczmarskiego
Gdzie?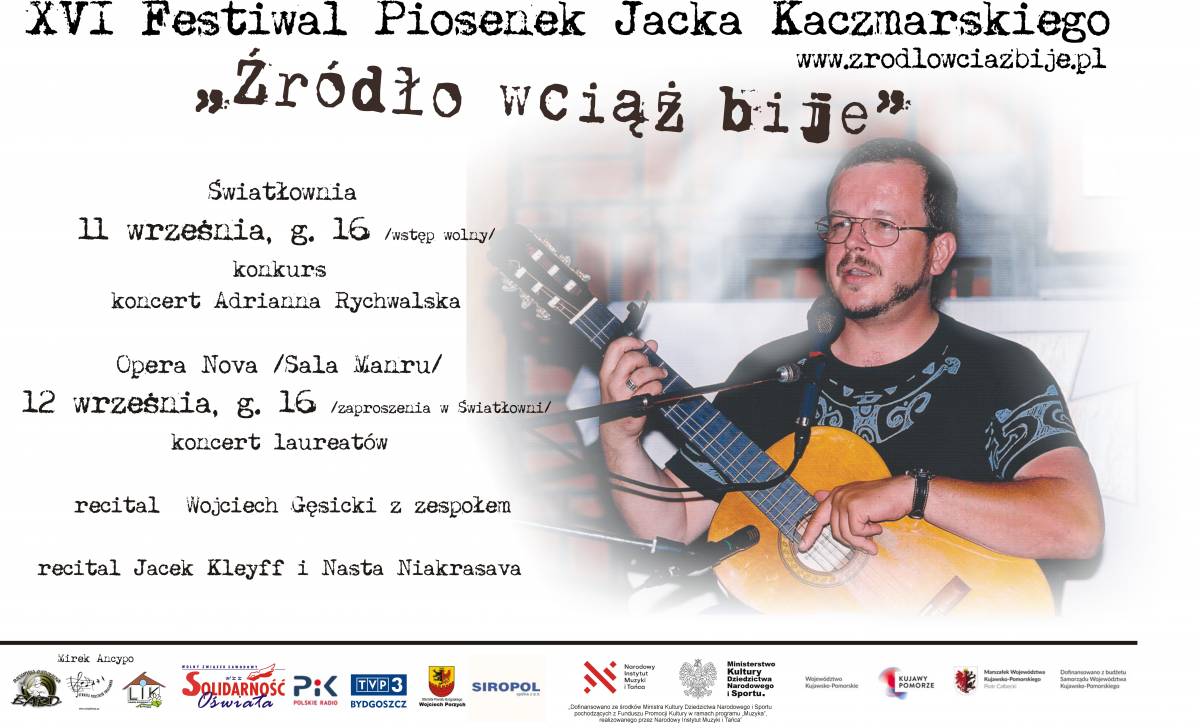 W dniach 11 – 12 września wielbiciele pieśni Jacka Kaczmarskiego już po raz szesnasty spotkają się w Bydgoszczy na Festiwalu piosenek Jacka Kaczmarskiego "Źródło wciąż bije". Zgłoszenia do części konkursowej można przesyłać jeszcze do końca sierpnia. Na festiwalu gościć będzie Wojtek Gęsicki zespołem, Jacek Kleyff I Nasta Niakrasava, która po raz pierwszy w historii bydgoskiego festiwalu zaśpiewa "Mury" po białorusku. Do końca sierpnia mogą zgłaszać się artyści, którzy chcą wystartować w XVI Festiwalu piosenek Jacka Kaczmarskiego "Źródło wciąż bije". Szczegóły zgłoszenia znajdują się na stronie zrodlowciazbije.pl w zakładce dla wykonawców. Pula nagród to aż 10 000 zł. Mamy też niezwykle cenne nagrody rzeczowe, ufundowane przez dawnego wydawcę utworów Jacka, Mirka Ancypo. W tegorocznej edycji festiwalu powracamy do naszych dawnych tradycji – po sobotnim śpiewaniu w Światłowni spotkamy się na wspólnym śpiewaniu piosenek Jacka w klubie Eljazz.
Co roku na nasz festiwal przyjeżdżają wykonawcy z całej Polski. To prawdziwi profesjonaliści, poziom ich wykonań jest niezwykle wysoki. Często wykonują utwory Jacka na swój własny sposób, w stylu daleko odbiegającym od pierwowzoru. Jest to zgodne z idą naszego festiwalu, Dzięki temu pieśni tego genialnego Barda nadal żyją już nowym, niezależnym życiem. Takie świeże spojrzenie na twórczość Jacka Kaczmarskiego pokaże w swoim recitalu laureatka z ubiegłego roku, Adrianna Rychwalska.
Jak co roku na festiwalu pojawi się zaproszona gwiazda. Pierwszą z nich będzie Wojtek Gęsicki z zespołem. Ten mierzący grubo ponad 2 m artysta przedstawia się skromnie jako największy polski bard. Dla tych, którzy słyszeli Wojtka na koncercie nie ulega wątpliwości, że takie określenie nie odnosi się tylko do ilości centymetrów. Jego utwory autorskie tworzą cudowną przestrzeń, do której Wojtek zaprasza tych wszystkich, którzy potrafią słuchać. Na festiwalu pojawi się legendarny Jacek Kleyff ze swoimi utworami autorskimi. Kiedyś mówiło się o trzech panach JK, którzy przy pomocy pieśni walczyli z totalitarnym ustrojem. Byli to: Jacek Kaczmarski, Jan Krzysztof Kelus i właśnie Jacek Kleyff. Z tych trzech dziś można posłuchać już tylko Jacka Kleyffa i to właśnie nastąpi podczas gali festiwalowej w bydgoskiej Operze Nova w Sali Manru. Szczegółowy opis festiwalowych wydarzeń znajdziecie na stronie zrodlowciazbije.pl, swiatlownia.eu i na plakatach. W sobotę 11 września zapraszamy do bydgoskiej Światłowni przy ulicy Świętej Trójcy 15 – wstęp wolny. W niedzielę, 12 września zapraszamy do bydgoskiej Opery Nova do Sali Manru – wstęp z zaproszeniami. Zaproszenia już dziś można rezerwować w Światłowni. Do zaproszeń dołączamy cegiełkę na Światłownię.
______________________
Kalendarz wydarzeń odbywających się w Bydgoszczy miej zawsze pod ręką dzięki aplikacji mobilnej (Android i iOS).
______________________
Informacje o wydarzeniach przesyłajcie na adres wydarzenia@visitbydgoszcz.pl
______________________
Bydgoskie Centrum Informacji nie ponosi odpowiedzialności za jakiekolwiek zmiany miejsc, godzin i dat wydarzeń.