CANCELLED Kwiat Jabłoni akustycznie
Gdzie?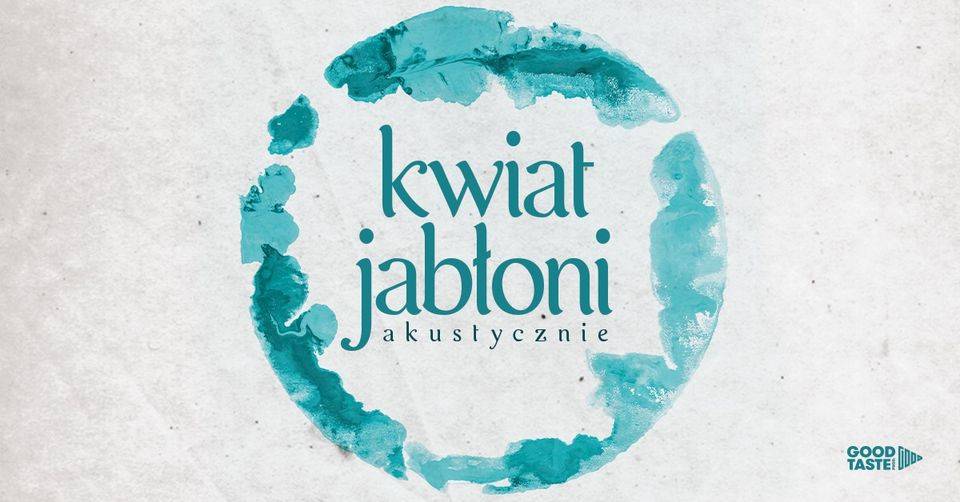 Bilety w cenach: miejsca siedzące – 89 zł (strefa B), 109 (strefa A)
Bilety dostępne na: www.eventim.pl/goodtaste. Bilety są tu dostępne w przedsprzedaży od 25.09.2020 od godz. 12:00.
Uwaga! Zakup biletów poza autoryzowanymi punktami sprzedaży (Facebook, aukcje internetowe itp.) stwarza ryzyko zakupu biletów nieoryginalnych lub nieważnych, które nie umożliwią wejścia na koncert.
Po całkowicie wyprzedanej trasie akustycznej w 2019 roku, zespół Kwiat Jabłoni wraca na scenę w tej samej odsłonie. Pełen młodzieńczego uroku folkowo-popowy duet odwiedzi w grudniu siedem polskich miast. Idzie zima, a zapowiada się paradoksalnie maksymalne ocieplenie klimatu.
O ZESPOLE
Kwiat Jabłoni to rodzeństwo Kasia i Jacek Sienkiewicz. Kilka lat temu dali się poznać szerszej publiczności wydając singiel "Dziś późno pójdę spać", do którego teledysk osiągnął do tej pory w serwisie Youtube ponad 20 milionów wyświetleń. W październiku 2018 r. ukazał się drugi singiel zespołu "Niemożliwe", który cieszył się nie mniejszym powodzeniem. Kilkanaście tygodni później na rynku wydawniczym ukazał się debiutancki album grupy o tym samym tytule. W tym czasie Kwiat Jabłoni zdobył też trzecie miejsce w plebiscycie "Gazety Wyborczej" Sanki 2019, a dziennikarz Jarek Szubrycht napisał wtedy, że jest to zespół, który "(…) może łączyć pokolenia – seniorów, których wzruszały piosenki Naszej Basi Kochanej, i młodzież, która jeździ po mieście na rowerze z Paulą i Karolem w słuchawkach." Wyjątkowość zespołu potwierdziła się w sierpniu 2020 r., kiedy płyta "Niemożliwe" pokryła się platyną. Do dziś jest to jeden z najchętniej kupowanych albumów muzycznych w Polsce. Kwiat Jabłoni odebrał wyróżnienie podczas koncertu w jednej z najbardziej prestiżowych sal koncertowych w Polsce – sopockiej Operze Leśnej. Pamiętny koncert na festiwalowej scenie Pol'and'Rock Festival zapewnił im Złotego Bączka. W 2021 roku wystąpią na festiwalu na Scenie Głównej.
Zespół pracuje obecnie nad drugim albumem, którego premiera zostanie ogłoszona niebawem.
O TRASIE
Pierwsza trasa akustyczna zespołu odbyła się w 2019 roku i towarzyszyła premierze singla "Idzie zima".
Z Jackiem i Kasią występuje na scenie instrumentarium: Dorota Błaszczyńska (skrzypce), Oliwier Andruszczenko (klarnet), Łukasz Biliński (perkusjonalia) i Michał Mościcki (kontrabas). W repertuarze znajdą się najbardziej znane utwory zespołu oraz niegrane dotąd nigdzie utwory-niespodzianki: wszystko to w aranżacjach akustycznych. "Kwiat Jabłoni akustycznie" jest ostatnią trasą koncertową przed wydaniem drugiego albumu zespołu.
______________________
Kalendarz wydarzeń odbywających się w Bydgoszczy miej zawsze pod ręką dzięki aplikacji mobilnej (Android i iOS).
______________________
Informacje o wydarzeniach przesyłajcie na adres wydarzenia@visitbydgoszcz.pl
______________________
Bydgoskie Centrum Informacji nie ponosi odpowiedzialności za jakiekolwiek zmiany miejsc, godzin i dat wydarzeń.