Piotr Matuszek - malarz prawdziwy. Wernisaż wystawy
Gdzie?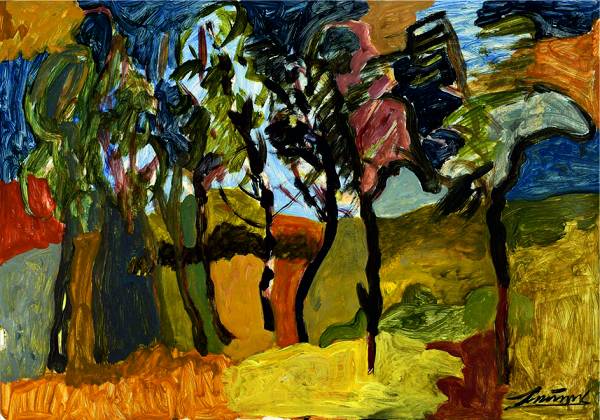 Piotr Matuszek, ur. 1954 w Bydgoszczy. Ukończył Państwowe Liceum Sztuk Plastycznych w Bydgoszczy. Studiował w Akademii Sztuk Pięknych w Krakowie, dyplom z zakresu malarstwa uzyskał w pracowni prof. Jana Szancenbacha. Należy do Związku Polskich Artystów Plastyków. Od 1993 roku korzysta z pracowni Warsztatów Terapii Zajęciowej przy ul. Stawowej w Bydgoszczy. Jest autorem kilku wystaw indywidualnych i uczestnikiem licznych wystawach zbiorowych. Podczas wystawy w Salonie Hoffman KPCK zostaną zaprezentowane jego rysunki i obrazy.
"Jak ten czas zleciał… byłoby to śmieszne, gdyby nie było prawdziwe…
O Piotrze usłyszałem w 1976 od Bernadetty Cieślewicz-Orawiec, wówczas absolwentki krakowskiej ASP. Opowiadała o pracowni Szancenbacha i dwu utalentowanych bydgoszczanach – Grzegorzu Bednarskim i Piotrze Matuszku. Jakie to były charyzmatyczne czasy – malarstwo wypełniało cały budynek Akademii im. Jana Matejki, zapach farb witał od wejścia… Dyplom Piotra został bardzo dobrze oceniony przez Tadeusza Brzozowskiego, docenił walory malarskie cyklu Przekupki na Kleparzu. Po latach w wysłanym do mnie liście prof. Szancenbach pytał o Piotra – jak się czuje, czy maluje. Piotr Matuszek maluje, cały czas, po prostu maluje codziennie od 1993. Przyjeżdża na Stawową, do pracowni WTZ, siada na swoim miejscu przy oknie i maluje. Setki prac rozciągniętych w cykle, poruszających różne zagadnienia formalne, rozpisane jednym charakterem skupienia nad obrazem. Tak, to stara szkoła krakowska, to główne pouczenie Szancenbacha – wytrwale pracować bez oglądania się na nowinki, słyszeć dźwięk swoich obrazów, z których powstają następne. Pracować ze swobodą kolorystyczną, odwagą w określaniu formy, zrozumieć jej pochodzenie z natury… myśleć OKIEM.
Przeglądając prace Piotra Matuszka, odczytuje się kilka podstawowych w malarstwie tematów. Głowa (autoportret, portret, bryła, maska), Postać (persona, obiekt/bryła w kontekście przestrzeni, figuracja zbiorowa), Pejzaż (motyw impresyjny, konstrukcyjny/analityczny, kompozycja abstrakcyjna), Martwa natura – podobnie jak pejzaż… detal. Bogactwo rozwiązań, gest malarski i kolorystyczny – zmusza do zmrużenia oczu aby zobaczyć – obraz, pełną kompozycję, często kryjącą obecność person.
Piotr Matuszek dużo maluje, ale jeszcze więcej rysuje, A4, A5, niepoliczalne metry. Przez tyle lat, różne skupienia i zagadnienia, od impresyjnych do intuicyjnych zapisów, osobne, ale też wykorzystywane w obrazach.
No cóż, twórczość, czas, przemijanie, znikanie… następna kartka. Artyści tłuką się jak ćmy o ściany, spalają się w ułudzie sławy. Na szczęście Piotr Matuszek jest poza tym, wolny od tego zbiorowiska, bełkotu, dymiących fajek. Maluje". Stanisław Stasiulewicz
Wystawa potrwa do 20 marca 2020.
Wstęp wolny
______________________
Kalendarz wydarzeń odbywających się w Bydgoszczy miej zawsze pod ręką dzięki aplikacji mobilnej (Android i iOS).
______________________
Informacje o wydarzeniach przesyłajcie na adres wydarzenia@visitbydgoszcz.pl
______________________
Bydgoskie Centrum Informacji nie ponosi odpowiedzialności za jakiekolwiek zmiany miejsc, godzin i dat wydarzeń.