Konferencja z cyklu "Start-Up Bydgoszcz!"
Gdzie?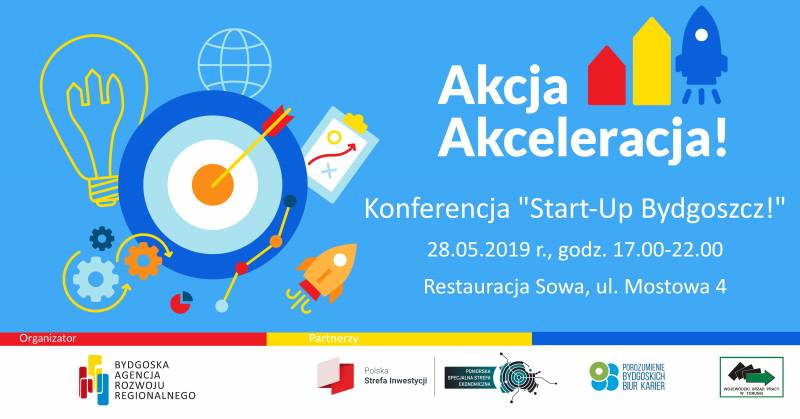 Informacje od Organizatora:
Myślisz o założeniu własnego start-upu? Szukasz inspirujących przykładów rozwoju biznesu? Bydgoska Agencja Rozwoju Regionalnego zaprasza 28 maja w godz. 17.00-22.00 do Restauracji Sowa (Sala Malinowa) na kolejną konferencję z cyklu "Start-Up Bydgoszcz!". Podczas drugiej w tym roku edycji wydarzenia szansę zaprezentowania się dostaną przedstawiciele lokalnych start-upów z szeroko pojętej branży IT. Konferencja realizowana jest w ramach programu "Akcja Akceleracja!"
Zapraszamy zarówno osoby posiadające własne firmy, jak i myślące o założeniu działalności gospodarczej. Po części prezentacyjnej przewidziany jest też czas na indywidualne rozmowy z prelegentami oraz networking.
Program Konferencji:
- 17.00 - powitanie gości
- 17.10 - prezentacja instrumentów wsparcia Bydgoskiej Agencji Rozwoju Regionalnego
- 17.25 - Agnieszka Janus, Mateusz Stefański, Data Architects, Monetyzacja danych w przedsiębiorstwie - jak wykorzystać modele uczenia maszynowego aby zarabiać na danych.
- 18.05 - Mateusz Machulski, Tickeo.pl, Start-up + pasja = ?
- 18.45 - Rafał Bełka, Remi Vision, Jak osiągnąć sukces i rozwinąć swój Start-up? Poznaj tajniki zbudowania dochodowej firmy
- 19.25 - sesja networkingowa
Informacje o prelegentach:
Mateusz Stefański jest absolwentem kierunku Big Data w Szkole Głównej Handlowej oraz słuchaczem studiów podyplomowych na Politechnice Warszawskiej z Przetwarzania dużych zbiorów informacji. W swojej karierze zawodowej budował modele uczenia maszynowego dla instytucji finansowych, firm produkcyjnych oraz branży e-commerce.
Agnieszka Janus jest absolwentką Uniwersytetu Mikołaja Kopernika w Toruniu oraz studiów podyplomowych na kierunku Handel Elektroniczny na Akademii Leona Koźmińskiego w Warszawie. Z e-commerce związana od 2012 roku. Główne obszary działalności to cross-border - ekspansja na rynkach zagranicznych w modelu B2B, B2C, B2B2C oraz wdrożenia e-commerce. Entuzjastka zarządzania opartego na danych oraz potencjału sprzedaży wielokanałowej.
Wspólnie tworzą Data Architects - zespół łączący kompetencje biznesowe z technologiami informacyjnymi oraz metodami zaawansowanej analityki biznesowej. W swoich działaniach kierują się evidence based practice - ideą, u podstaw której znajduje się założenie, że dobra decyzja powinna opierać się na krytycznym myśleniu i najlepszych dostępnych dowodach.
Mateusz Machulski jest założycielem i współwłaścicielem Tickeo.pl - portalu sprzedaży biletów do atrakcji turystycznych. Doświadczenie zdobywał m.in. podczas kierowania biurem podróży oraz realizacji kilkudziesięciu internetowych kampanii reklamowych dla firm z przeróżnych branż. Od 3 lat rozwija bydgoski start-up Tickeo, który powstał z pasji do podróżowania oraz potrzeby, która została podczas tych podróży zauważona.
Rafał Bełka - przedsiębiorca, który traktuje rozwój firmy jako swoją pasję. Posiada dużą motywację wewnętrzną. Stara się praktycznie każdą wolną chwilę poświęcać na rozwój w zakresie prowadzenia i ulepszania działania firmy oraz naukę marketingu. Współwłaściciel firmy Remi Vision, tworzącej gry społecznościowe. W początkowej fazie swojego rozwoju współpracowała z jednym z najlepszych producentów gier mobilnych na świecie - firmą King. Następnym etapem rozwoju było stworzenie dwóch własnych gier, które osiągnęły bardzo dobre rezultaty na rynku gier typu puzzle. Tower Story to aktualnie wciąż najpopularniejsza polska gra pod względem liczby fanów na Facebooku, zgromadziła ich ponad 1,5 mln. Druga gra Dreamland Story, którą polubiło na Facebooku ponad 920 tys. osób na świecie, to aktualnie jedna z najlepszych polskich gier typu puzzle, gra w nią dziennie 70 tys. osób z całego świata.
Udział w Konferencji jest bezpłatny.
Liczba miejsc ograniczona. Decyduje kolejność zgłoszeń.
Partnerami programu "Akcja Akceleracja!" są: Pomorska Specjalna Strefa Ekonomiczna Sp. z.o.o., Porozumienie Bydgoskich Biur Karier i Wojewódzki Urząd Pracy w Toruniu, Centrum Informacji i Planowania Kariery Zawodowej w Bydgoszczy.
____________________
Kalendarz wydarzeń odbywających się w Bydgoszczy miej zawsze pod ręką dzięki aplikacji mobilnej (Android i iOS).
______________________
Informacje o wydarzeniach przesyłajcie na adres wydarzenia@visitbydgoszcz.pl
______________________
Bydgoskie Centrum Informacji nie ponosi odpowiedzialności za jakiekolwiek zmiany miejsc, godzin i dat wydarzeń.