Bydgoszcz JUG - meetup #28
Gdzie?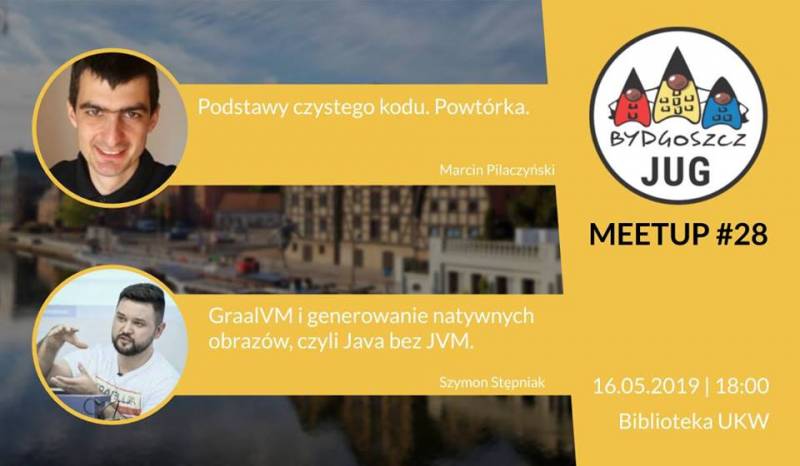 Prowadzącymi będą Marcin Pilaczyński i Szymon Stępniak.
Prelegenci opowiedzą nam o następujących tematach:
Marcin Pilaczyński - "Podstawy czystego kodu. Powtórka."
Na spotkaniu spróbuję przypomnieć czym jest "Czysty Kod" według Uncle Boba oraz zaprezentować najważniejsze (według mnie) podstawowe zasady wytwarzania takiego kodu. Oprócz tego spróbuję rozważyć jakie są zalety, wady i co tak naprawdę daje nam takie podejście, na podstawie doświadczenia własnego oraz innych deweloperów. Jeśli wcześniej nie miałeś styczności z "Clean Code" to prezentacja powinna być ciekawym wstępem do tematu. A jeśli temat znasz to być może będzie to dobra okazja do powtórki.
Bio:
Szeregowy java developer z około 10-letnim stażem. Gorący zwolennik pracy zespołowej i Scruma. W wolnej chwili lubi pobawić się Raspberry Pi programując "domowe projekty" w C. Uzależniony od muzyki i roweru.
Szymon Stępniak - "GraalVM i generowanie natywnych obrazów, czyli Java bez JVM."
Programiści Java przyzwyczaili się do wirtualnej maszyny Java, kompilatora JIT, konieczności "rozgrzewania" aplikacji w celu poprawienia wydajności, czy też dość powolnego startu programów uruchamianych na JVM. GraalVM wywraca ten świat do góry nogami. Kompilację just-in-time zastępuje kompilacją ahead-of-time, powodując jednocześnie, że "rozgrzewanie" aplikacji przestaje być potrzebne. Standardowego Java HotSpot VM zastępuje mikro maszyną wirtualną, SubstrateVM, która zajmuje się wyłącznie podstawowymi zadaniami, jak zarządzaniem pamięcią czy obsługą wątków. A do tego pozwala skompilować istniejący kod do postaci programu wykonywalnego, zmniejszając jednocześnie czas potrzebny na uruchomienie programu do kilku milisekund. Brzmi niewiarygodnie, prawda? Rzeczywistość nie jest jednak tak różowa. Generowanie natywnych obrazów obarczone jest wieloma ograniczeniami, pułapkami, oraz problemami trudnymi do wyśledzenia. W prezentacji tej podzielę się z Wami wynikami eksperymentów, które przeprowadziłem z GraalVM. Pokażę Wam testy przeprowadzone m.in. na programach wiersza poleceń napisanych w Groovy, czy też web aplikacji napędzanej frameworkiem Netty. Nie wystarczy nam czasu i możliwości, żeby zbadać wszystkie możliwe przypadki, ale z prezentacji tej dowiedzie się:
- jaka jest różnica pomiędzy kompilatorem Graal, a GraalVM,
- jakie są ograniczenia kompilacji ahead-of-time,
- jak rozwiązać problemy z obiektami proxy oraz instancjami tworzonymi przez refleksję,
- oraz czy Wasz kolejny projekt koniecznie musi wykorzystywać możliwości GraalVM.
Będzie też dużo materiałów źródłowych pozwalających pogłębić wiedzę na temat GraalVM i jego możliwości.
Bio:
Na co dzień zajmuję się Continuous Delivery w Upwork Global Inc., gdzie pomagam dziesiątkom zespołów budować w pełni zautomatyzowane procesy budowania i wdrażania aplikacji w świecie mikroserwisów. Prowadzę bloga https://e.printstacktrace.blog za pośrednictwem którego dzielę się moją pasją do programowania i rozwiązywania nietuzinkowych problemów. W wolnych chwilach odpowiadam na pytania na Stack Overflow, gram na gitarze, i cieszę się czasem spędzonym z rodziną.
Wstęp na spotkanie jest wolny. Rejestracja odbywa się przez portal Meetup.
Po spotkaniu zapraszamy na after-party do pubu Kraftodajnia, na którym będziemy mogli się poznać i podyskutować w luźnej atmosferze. Widzimy się tam od godziny 21:00.
Wstęp będzie możliwy już od 17:30.
______________________
Kalendarz wydarzeń odbywających się w Bydgoszczy miej zawsze pod ręką dzięki aplikacji mobilnej (Android i iOS).
______________________
Informacje o wydarzeniach przesyłajcie na adres wydarzenia@visitbydgoszcz.pl
______________________
Bydgoskie Centrum Informacji nie ponosi odpowiedzialności za jakiekolwiek zmiany miejsc, godzin i dat wydarzeń.