Tupot Poetycki #33 | SLAM + Brzoska/Marciniak/Markiewicz
Gdzie?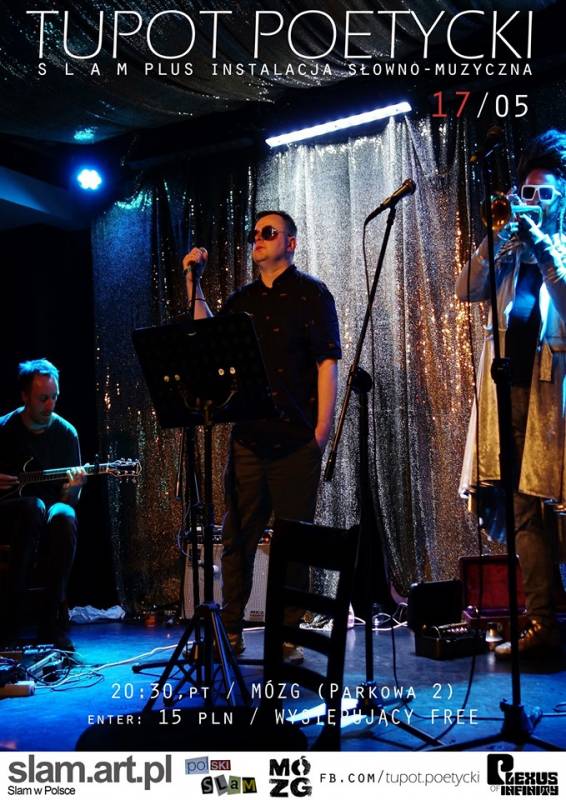 Ostatni turniej slamerski, który zadecyduje o tym, kto wyjedzie do Poznania na Trzecie Ogólnopolskie Mistrzostwa Slamu Poetyckiego, które odbędą się 18.05. na jednym z dziedzińców Centrum Kultury ZAMEK w Poznaniu. W ramach instalacji projekt z Katowic Brzoska/Marciniak/Markiewicz.
| SLAM
śmieszy bawi smuci rozmyśla turniej dla ludzi piszących w którym liczy się interakcja z publicznością to ona stanowi jury przez cały wieczór
Każdy może wystąpić! Wystarczy wysłać mail na vive_memor@vp.pl lub zgłosić się w dniu wydarzenia na bramce.
Zasady? Slamer ma trzy minuty, nie używa rekwizytów, ani muzyki, prezentuje swój własny tekst. Dla finalisty nagroda w wysokości 100 PLN.
Prowadzi: Zuzanna Szmidt
*Uwaga od września 2018 do turnieju poprzedzającego Trzecie Ogólnopolskie Mistrzostwa PL w SLAMie Poetyckim (maj 2019) punkty dla wszystkich: 1pkt za obecność, 2pkt za półfinał, 4pkt za drugie miejsce i 6pkt za pierwsze.
| INSTALACJA SŁOWNO - MUZYCZNA
Trio Brzoska/Marciniak/Markiewicz to muzyczny eksperyment, łączący poezję z gitarą elektryczną i trąbką, w otwartych kompozycjach i improwizacjach.
Poszukiwanie miejsca na współbrzmienie słów i dźwięków w najbardziej optymalnej dla nich formule.
WOJCIECH BRZOSKA (1978) poeta, autor siedmiu książek poetyckich, ostatnio W każdym momencie, na przyjście i odejście (2015). Publikował w większości najważniejszych polskich czasopism literackich i kulturalnych oraz w periodykach zagranicznych, m.in. "Sodobnost" (Słowenia), "Zeichen & Wunder" (Niemcy), "Cordite Poetry Review" (Australia) oraz w licznych antologiach, w kraju i zagranicą. Jego wiersze tłumaczone były na: angielski, niemiecki, czeski, słowacki, słoweński, serbski i hiszpański. Współzałożyciel i wokalista zespołu Brzoska i Gawroński, z którym wydał płyty : Nunatak (2012) oraz Słońce, lupa i mrówki (2015).
ŁUKASZ MARCINIAK (1984) zamieszkujący Katowice, gitarzysta, kompozytor, pasjonat muzyki, współtworzył duo improwizowane Makemake płyty: From the earth to the moon (Złe litery 2016), Something between (Zoharum 2017). Aktualnie działa również w zespole io - trio grającym współczesną muzykę kameralną płyta Waves (Bółt records 2019) W działaniach solo pracuje nad własnym językiem artykulacji (pizzicato, preparacje), w swojej grze wykorzystuje także przestrzeń i oddech, łącząc go z noisem i elektroniką. W duetach występował m.in. z Leną Czerniawską, Kubą Sokołowskim.
MARCIN MARKIEWICZ (1977) trębacz, wokalista, autor tekstów, związany ze sceną reggae. Współzałożyciel i lider zespołu KoNoPiAnS. Animator kultury, fotograf.
Zespół występował w klubokawiarniach na terenie całej Polski oraz na znaczących festiwalach muzycznych i literackich min.
Festiwal Bruno Schulza we Wrocławiu, Festiwal Conrada - Kraków , Festiwal Silesius, JazzArt Festiwal - Katowice, Ars Cameralis i wielu innych.
11 kwietnia 2019 premierę miała druga płyta zespołu "Wpław".
______________________
Kalendarz wydarzeń odbywających się w Bydgoszczy miej zawsze pod ręką dzięki aplikacji mobilnej (Android i iOS).
______________________
Informacje o wydarzeniach przesyłajcie na adres wydarzenia@visitbydgoszcz.pl
______________________
Bydgoskie Centrum Informacji nie ponosi odpowiedzialności za jakiekolwiek zmiany miejsc, godzin i dat wydarzeń.