MILLENNIUM DOCS AGAINST GRAVITY: I młodzi pozostaną
Gdzie?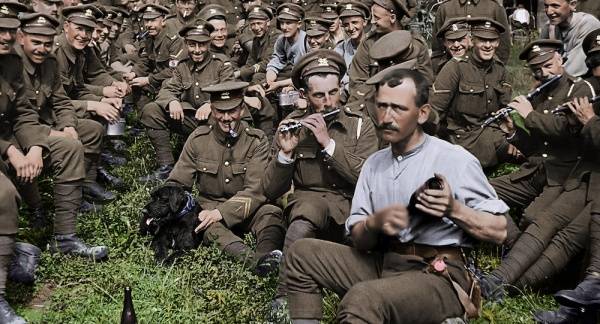 Laureat Oscarów® Peter Jackson (trylogie "Władca Pierścieni" i "Hobbit") w swoim pierwszym filmie dokumentalnym zgłębia mroczną historię pierwszej wojny światowej. To stworzony z oryginalnych odrestaurowanych materiałów ze zbiorów londyńskiego Imperial War Museum, z wykorzystaniem przetworzonego dźwięku z archiwum BBC oraz wywiadów z żołnierzami niezwykły obraz, ożywiający rzeczywistość wojny na linii frontu za pomocą nowoczesnych technik produkcji, wyostrzenia i barwienia archiwalnej taśmy filmowej. To jeden z najdroższych filmów eksperymentalnych kina dokumentalnego ostatnich lat.
Film prezentuje niezwykłe spojrzenie na żołnierzy i wydarzenia I wojny światowej przedstawione na ekranie w sposób, jakiego dotąd nikt nie widział. Patrzymy jak żołnierze jedli, spali i przyjaźnili się, a także jak wyglądało ich życie z dala od okopów. Obrazy sprzed wieku wyglądają tak, jakby zostały zrobione wczoraj, a przerobienie zdjęć z czarno-białego formatu na kolorowy ukazuje niewidzialne dotąd szczegóły. Dzięki temu film oferuje mocne, porywające i niezwykle przejmujące przeżycie wojny. Stara się przywrócić głos wojennym weteranom i przypomnieć obraz pokolenia zmienionego raz na zawsze przez globalną wojnę. Film powstał z okazji 100-lecia zakończenia I wojny światowej. Jackson zadedykował go swojemu dziadkowi, który walczył na wojnie.
Reżyseria : Peter Jackson
Wybrane festiwale i nagrody: 2018 – FF Londyn, 2019 – MFF Rotterdam, 2019 – Zagrebdox Zagrzeb
Film bierze udział w konkursie głównym Festiwalu.
Organizator Bydgoskiego Aneksu: Fundacja ART-HOUSE
Współorganizator: MCK w Bydgoszczy
Współfinansowanie Bydgoskiego Aneksu: Miasto Bydgoszcz, Województwo Kujawsko-Pomorskie
Lokalny Partner Festiwalu: Katedra Przemysłów Kreatywnych/Wyższa Szkoła Gospodarki w Bydgoszczy
Partner: Stowarzyszenie Koloroffon
Ceny biletów i karnetów:
bilet na pojedynczy seans – 10,- zł
karnet na 10 wybranych seansów – 60,- zł
karnet na cały festiwal (31 seansów) – 120,- zł
______________________
Kalendarz wydarzeń odbywających się w Bydgoszczy miej zawsze pod ręką dzięki aplikacji mobilnej (Android i iOS).
______________________
Informacje o wydarzeniach przesyłajcie na adres wydarzenia@visitbydgoszcz.pl
______________________
Bydgoskie Centrum Informacji nie ponosi odpowiedzialności za jakiekolwiek zmiany miejsc, godzin i dat wydarzeń.