Tydzień Bibliotek 2019 - Noc w Bibliotece
Gdzie?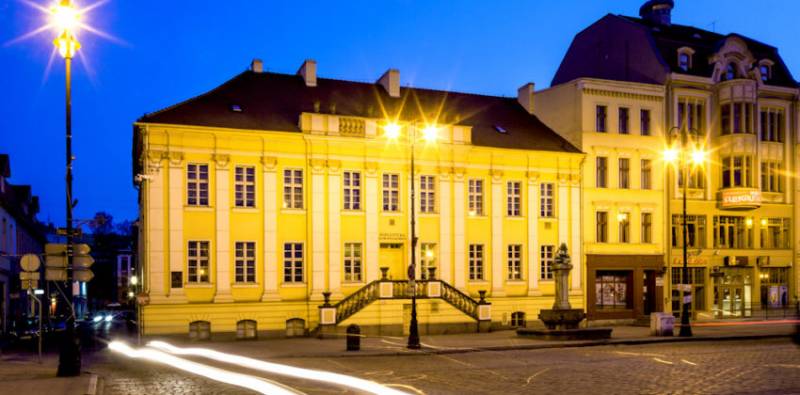 W tym roku Ogólnopolski Tydzień Bibliotek odbędzie się pod hasłem "#biblioteka". Z tej okazji Stowarzyszenie Bibliotekarzy Polskich wraz z Wojewódzką i Miejską Biblioteką Publiczną im. dr. Witolda Bełzy w Bydgoszczy zapraszają Czytelników na szereg atrakcji. Poprzez różne formy działań – spotkania, koncerty, kiermasz książek, warsztaty – organizatorzy Tygodnia Bibliotek chcą ukazać bibliotekę jako istotny ośrodek informacji, zapewniający swobodny dostęp do wiedzy, a także przestrzeń zabaw, rozrywki. Biblioteka może być miejscem interesujących spotkań, imprez kulturalnych i naukowych, inspirujących przedsięwzięć. Tydzień Bibliotek rozpoczyna Noc w Bibliotece, podczas której Czytelnicy będą mieli okazję wziąć udział w rozmaitych, atrakcyjnych wydarzeniach.
10.05.2019 r. Noc w Bibliotece:
– 16:00 Kiermasz taniej książki – coroczny kiermasz książek wycofanych z bibliotecznego księgozbioru;
– 17:00 Wernisaż wystawy obrazów Anny Kraszkiewicz "Akwarela wędrowna";
– 18:00 Warsztaty malarskie z Anną Kraszkiewicz – zainteresowani sztukami plastycznymi dowiedzą się, jak rozpocząć swoją przygodę z akwarelą. Artystka zaprezentuje sposoby poznawania i zgłębiania tajników akwareli, a także zachęci uczestników spotkania do podjęcia pierwszych prób twórczości;
– 18:00 Warsztaty filcowania – filcowanie na mokro to jedna z metod pracy z wełną. Wyczarujemy bajecznie kolorową biżuterię;
– 19:00 Emil Witt – spotkanie autorskie z podróżnikiem, miłośnikiem dzikiej przyrody oraz ekstremalnych wrażeń;
– 19:00 Warsztaty decoupage – technika ozdabiania przedmiotów za pomocą serwetki lub wzoru z papieru, który przykleić można na każdą powierzchnię. W ten sposób stworzone zostaną niepowtarzalne przedmioty, którym nadamy nowe życie;
– 21:00 Koncert na Strychu – w tym roku na urokliwej scenie na poddaszu Biblioteki Głównej zagra Peter J. Birch, za którego pseudonimem kryje się Piotr Jan Brzeziński. To twórca muzyki, aranżer i tekściarz. Jego twórczości można przypisać kilka gatunków, ale te najbardziej słyszalne to m.in. folk rock, americana, alt-country czy blues.
______________________
Kalendarz wydarzeń odbywających się w Bydgoszczy miej zawsze pod ręką dzięki aplikacji mobilnej (Android i iOS).
______________________
Informacje o wydarzeniach przesyłajcie na adres wydarzenia@visitbydgoszcz.pl
______________________
Bydgoskie Centrum Informacji nie ponosi odpowiedzialności za jakiekolwiek zmiany miejsc, godzin i dat wydarzeń.