Leszek Kułakowski Quintet feat. Andy Middleton
Gdzie?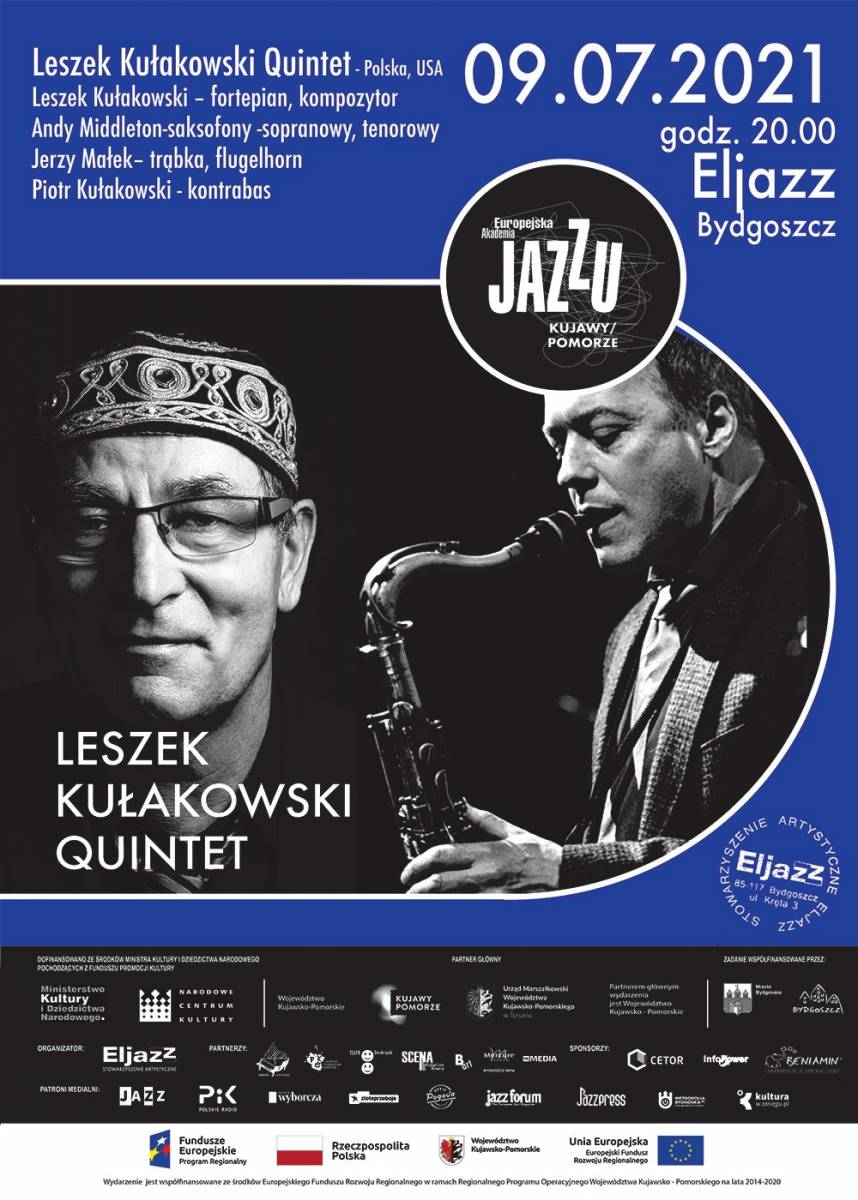 STOWARZYSZENIE ARTYSTYCZNE ELJAZZ zaprasza na koncert realizowany w ramach dziewiątej edycji Europejskiej Akademii Jazzu. Przed bydgoską publicznością wystąpi zespół:
Leszek Kułakowski Quartet w premierowym programie pt. " COPY & INSERT" feat. Andy Middleton
w składzie:
- Leszek Kułakowski – fortepian, kompozytor
-Andy middleton-saksofony -sopranowy, tenorowy
- Jerzy Małek– trąbka, flugelhorn
- Piotr Kułakowski - kontrabas
- Tomasz Sowiński – perkususja
Bilety w cenie 30 zł do nabycia w Eljazzie.
Premierowy projekt Leszek Kułakowski Quartet "Copy & Insert"proponuje szeroki stylistycznie program od "groove'owych" utworów, po wysublimowaną poetykę i zabawę brzmieniem. Kułakowski powraca do hard-bopowego, nasycownego intensywnym rytmem grania, to świadomy ukłon w stronę jazzowej tradycji. Naczelną ideą kompozycji jest kontrast, szukanie nowych barw pomiędzy instrumentami melodycznymi: fortepianem i instrumentami dętymi. W tej "melodycznej dyskusji" uczestniczą również kontrabas i perkusja. Kompozycje są nasycone osobnością L.Kułakowskiego i posiadają "jazzowy drive".Kwintet Leszka Kułakowskiego wykona repertuar z najnowszego albumu ."Copy & Insert" – muzykę pełną kolorów, szerokich planów melodycznych, liryzmu, nawiązującą stylistycznie do hard-bopu i tradycji jazzu europejskiego.
"Copy & Insert" to bardzo atrakcyjny materiał, z którym powinien zapoznać się każdy szanujący się miłośnik wspołczesnego jazzu. Ciekawe kompozycje obfitują w całe mnóstwo wciagających solówek, w których prym wiodą te kreowane przez Andy'ego Middletona i Jerzego Małka. Udział tak znakomitych muzyków niewątpliwie dodaje muzyce Kułakowskiego blichtru i splendoru, a jednak siłą tej płyty są przede wszystkim znakomite kompozycje, doskonale definiujące artystę jako jedno z najważniejszych zjawisk rodzimej sceny jazzowej. Sam lider również nie szczędzi nam wciągających klimatem improwizowanych solówek ujawniających nie tylko znakomity warsztat i precyzję, ale też perfekcyjne wyczucie klimatu.
Partnerem wydarzenia jest Województwo Kujawsko - Pomorskie
Dofinansowano ze środków Ministra Kultury i Dziedzictwa Narodowego pochodzących z Funduszu Promocji Kultury, uzyskanych z dopłat ustanowionych w grach objętych monopolem państwa, zgodnie z art. 80 ust. 1 ustawy z dnia 19 listopada 2009 r. o grach hazardowych"
Wydarzenie jest współfinansowane ze środków Europejskiego Funduszu Rozwoju Regionalnego w ramach Regionalnego programu Operacyjnego Województwa Kujawsko - Pomorskiego na lata 2014-2020.
Zadanie współfinansowane przez Miasto Bydgoszcz.
______________________
Kalendarz wydarzeń odbywających się w Bydgoszczy miej zawsze pod ręką dzięki aplikacji mobilnej (Android i iOS).
______________________
Informacje o wydarzeniach przesyłajcie na adres wydarzenia@visitbydgoszcz.pl
______________________
Bydgoskie Centrum Informacji nie ponosi odpowiedzialności za jakiekolwiek zmiany miejsc, godzin i dat wydarzeń.