Bluesowe Szlaki - koncert BUSKIN JACK & COMPANY
Gdzie?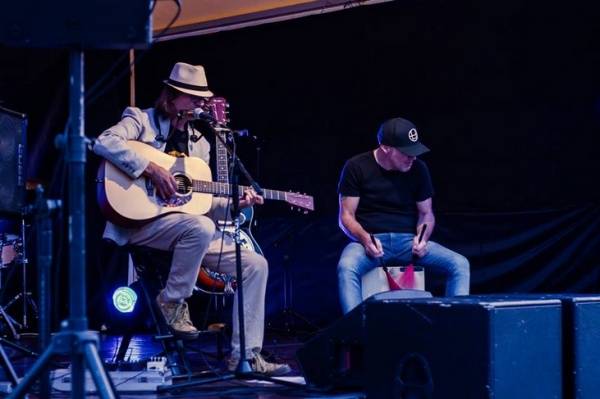 Bluesowe Szlaki - koncert BUSKIN' JACK & COMPANY
Koncert bydgoskich bluesmanów to kontynuacja cyklu edukacyjno-muzycznego pt. "Bluesowe Szlaki". Sławny bluesowy artysta Willie Dixon mawiał: Blues to korzenie, a cała reszta muzyki to owoce. Projekt "Bluesowe Szlaki" jest próbą przywrócenia należnego miejsca muzyce bluesowej pośród innych gatunków muzycznych oraz propagowania właściwej definicji bluesa zgodnej z jego tradycyjnym idiomem i wartościami. Razem z muzykami duetu Buskin' Jack & Company wybierzemy się w muzyczną podróż do magicznych czasów narodzin bluesa, by odkrywać źródła tej muzyki. Odwiedzimy charakterystyczne dla bluesa miejsca, takie jak Delta Mississippi czy Chicago, poznamy sylwetki największych twórców tego gatunku.
Jacek Herzberg - bydgoski bluesman, założyciel i lider kilku formacji muzycznych doskonale znanych bluesowej publiczności. W ciągu ponad 20 lat muzycznej aktywności ze swoimi zespołami - Green Grass, Doktor Blues, Double Six - wielokrotnie występował na najważniejszych festiwalach bluesowych w Polsce (Rawa Blues-Katowice, Bluesada-Szczecin, Olsztyńskie Noce Bluesowe, Toruń Blues Meeting, Blues & Jazz Meeting-Katowice, Blues Express - Zakrzewo, Jimiway - Ostrów Wlkp, Folk Fest - Krotoszyn, Muzyczny Camping - Brodnica, Suwałki Blues Festival, i in.), dużych imprezach plenerowych (np. "Przystanek Woodstock", "Przystanek Olecko"), a także w klubach bluesowych na terenie Polski i poza granicami.
Jego dorobek fonograficzny stanowią kilkanaście autorskich płyt.
Jarosław Koźbiał - perkusista. Założyciel thrashowego zespołu Wy'Rock (później znany jako Morgoth), który obok m.in. Vadera i Quo Vadis był jednym z pionierów ekstremalnej sceny w Polsce. Na co dzień związany z zespołami Nihil Quest i Czarna Wołga. Przez wiele lat współtworzył bydgoską formację bluesową Green Grass i do dziś okazjonalnie współpracuje z jej liderem Jackiem Herzbergiem.
Jacek Herzberg – gitara akustyczna i rezofoniczna, harmonijka, śpiew
Jarosław Koźbiał – instrumenty perkusyjne
Wstęp 15/10 PLN
______________________
Kalendarz wydarzeń odbywających się w Bydgoszczy miej zawsze pod ręką dzięki aplikacji mobilnej (Android i iOS).
______________________
Informacje o wydarzeniach przesyłajcie na adres wydarzenia@visitbydgoszcz.pl
______________________
Bydgoskie Centrum Informacji nie ponosi odpowiedzialności za jakiekolwiek zmiany miejsc, godzin i dat wydarzeń.