Tupot Poetycki #27 | SLAM + Mateusz Franczak
Gdzie?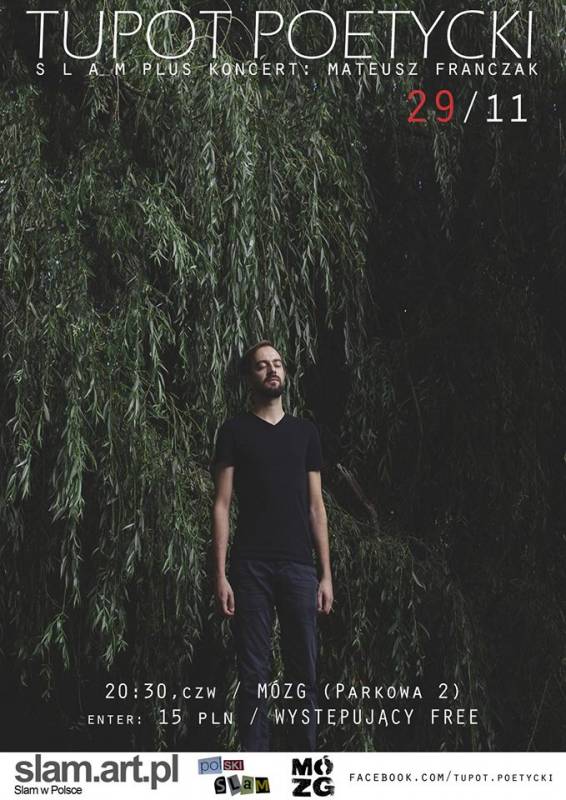 Wiecie co to oznacza? Widzimy się po raz kolejny, a dokładnie dwudziesty siódmy. Przed nami SLAM Poetycki, a po nim koncert promujący nowy materiał Mateusza Franczaka pod tytułem "Night-Night". Po szczegóły zapraszam na doł :)
SLAM
śmieszy bawi smuci rozmyśla
turniej dla ludzi piszących
w którym liczy się interakcja z publicznością
to ona stanowi jury przez cały wieczór
Każdy może wystąpić - nie istnieją granice wiekowe ani inne. Wystarczy wysłać mail na vive_memor@vp.pl lub zgłosić się w dniu wydarzenia na bramce.
Zasady? Slamer ma trzy minuty, nie używa rekwizytów, ani muzyki, prezentuje swój własny tekst. Dla finalisty 100 PLN
Prowadzi: Zuzanna Szmidt
Uwaga od września 2018 do turnieju poprzedzającego Trzecie Ogólnopolskie Mistrzostwa PL w SLAMie Poetyckim punkty dla wszystkich: 1pkt za obecność, 2pkt za półfinał, 4pkt za drugie miejsce i 6pkt za pierwsze.
KONCERT: Mateusz Franczak
Multiinstrumentalista, wokalista, improwizator, związany z zespołami Giorgio Fazer, HOW HOW, Daktari.
Współpracował m.in. z takimi muzykami jak: Hugo Race, Piotr Kurek, Patryk Zakrocki, Paweł Szamburski, Hubert Zemler i Resina.
Współtwórca i uczestnik wielu interdyscyplinarnych projektów artystycznych oraz warsztatów (m. in. SIM - The School for Improvisational Music, NY, USA).
Występował na ważnych festiwalach muzycznych i artystycznych w Polsce i za granicą, m. in.: Eurosonic Noorderslag , OFF Festival, Spring Break, Zandari Festa (잔다리페스타), Jazzfest Berlin, c/o pop Festival, Open'er Festival, Nowa Tradycja - Festiwal Folkowy Polskiego Radia, Festiwal Nowa Muzyka Żydowska.
W 2016 r. poszerzył swoje działania o współpracę z artystami wizualnymi, między innymi Weroniką Ławniczak i Polą Dwurnik.
NOWE, CZYLI O PŁYCIE
Po doskonale przyjętym debiucie "long story short" - wraca z nowym materiałem "Night-night". Album ukazał się w kwietniu 2018 nakładem wytwórni too many fireworks records.
Płyta - zawierająca minimalistyczne w formie, osobiste piosenki i utwory instrumentalne została nagrana w Teatr Syrena w Warszawie, co miało ogromny wpływ naproces powstawania albumu. Teatralna atmosfera i eksperymenty na poziomie wykonawczym zainspirowały performatywne podejście do nagrywania głosu.
Krótko po premierze album został płytą tygodnia w Programie Alternatywnym Polskiego Radia Trójka oraz jedną z płyt tygodnia w Gazecie Wyborczej - Co Jest Grane. Gościnnie na płycie wystąpili: Adam Podniesiński (elektronika), Paweł Szamburski (klarnet), Patryk Zakrocki (altówka, mbira) i Hubert Zemler (perkusja). Za realizację, miks i mastering płyty odpowiada Marcin Bociński, znany ze współpracy z takimi artystami, jak m.in. Wacław Zimpel, Kuba Ziołek, Jacaszek i Mikołaj Trzaska.
wjazd: 15 pln / wystęujący free
______________________
Kalendarz wydarzeń odbywających się w Bydgoszczy miej zawsze pod ręką dzięki aplikacji mobilnej (Android i iOS).
______________________
Informacje o wydarzeniach przesyłajcie na adres wydarzenia@visitbydgoszcz.pl
______________________
Bydgoskie Centrum Informacji nie ponosi odpowiedzialności za jakiekolwiek zmiany miejsc, godzin i dat wydarzeń.