Regionalna Wystawa Gołębi Rasowych i Drobiu Ozdobnego
Gdzie?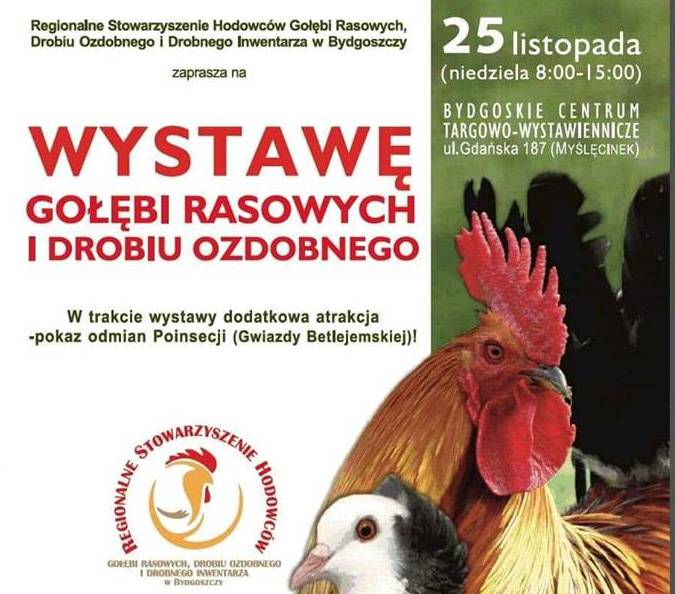 W imieniu Regionalnego Stowarzyszenia Hodowców Gołębi Rasowych, Drobiu Ozdobnego i Drobnego inwentarza zapraszamy na Wystawę Gołębi Rasowych i Drobiu Ozdobnego w Bydgoszczy.

Będzie to niepowtarzalna okazja, aby zobaczyć piękne, fantazyjne, ozdobne ptaki. Dodatkową atrakcją Wystawy będzie pokaz odmian Poinsecji (Gwiazdy Betlejemskiej).

Podczas Wystawy odbędzie się również KONKURS, podczas którego będziecie mieli okazję WYGRAĆ TABLET.

To wszystko już w niedzielę w BCTW. Do zobaczenia :)

Jesteś hodowcą? W czasie wystawy odbywać się będzie giełda, będziesz miał zatem okazję zakupić coś do swojej hodowli.

~Informacje dla osób wystawiających zwierzęta.

1. Osadzenie eksponatów nastąpi w 23.11.2018 od godziny 18:00 do 24.11.2018 do godziny 9:00

2. Ocena eksponatów nastąpi w dniu 24.11.2018 od godziny 10:00

3. Otwarcie wystawy nastąpi 25.11.2018 od godziny 10:00

4. Uroczyste zakończenie wystawy i wręczenie nagród nastąpi dnia 25 11.2018 o godzinie 12:00

5. Zamknięcie wystawy i wydawanie eksponatów nastąpi 25.11.2018 o godzinie 15:00
______________________
Kalendarz wydarzeń odbywających się w Bydgoszczy miej zawsze pod ręką dzięki aplikacji mobilnej (Android i iOS).
______________________
Informacje o wydarzeniach przesyłajcie na adres wydarzenia@visitbydgoszcz.pl
______________________
Bydgoskie Centrum Informacji nie ponosi odpowiedzialności za jakiekolwiek zmiany miejsc, godzin i dat wydarzeń.