Tomek Olesiński i Mateusz Ulczok
Gdzie?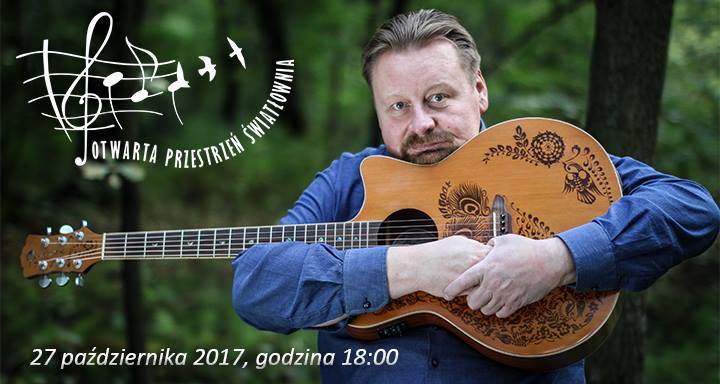 Wystąpią dla Was: Tomek Olesiński - gitara, śpiew, Mateusz Ulczok - akordeon. Zaprezentujemy program najnowszej płyty "Wszystko się zmienia". Są tacy, którym mnie nie trzeba przedstawiać i tutaj chciałbym wyrazić Im swoją wdzięczność, za to, że są przy mnie, wspierają i chcą słuchać tego, co piszę i próbuję śpiewać od ponad trzydziestu lat. Ale przedstawiam się tym z Was, którzy nie mają pojęcia, kim jestem i nigdy o mnie nie słyszeli. Dziękuję, że chcecie poświęcić swój cenny czas na czytanie tego tekstu. Być może zechcecie przyjść i posłuchać mnie na żywo. Żeby tak się stało, postaram się powiedzieć o tym, co śpiewam i o czym śpiewam.Od wielu lat rozmyślałem, że warto nagrać i wydać moje piosenki, choćby po to, żeby ocalić je od zapomnienia. Choćby po to, żeby, gdy już mnie nie będzie, rodzina i znajomi mogli sobie przypomnieć, co im próbowałem przez całe życie przekazać. Nie miałem jednak pomysłu, jak zbudować z piosenek spójną opowieść...
I nagle, ni stąd, ni zowąd przyszła mi do głowy taka myśl, że mimo, iż nowe utwory wciąż powstają w mojej głowie, ciągle śpiewam piosenki, które napisałem gdy miałem 15 lat i mimo, że nieuchronnie zbliżam się do pięćdziesiątki, one są wciąż aktualne. Od tego czasu zmieniło się wokół niemal wszystko. Z chłopca stałem się dojrzałym facetem, zmienił się ustrój, gospodarka, miasta i wsie, zniknęły granice, a to, co wtedy napisałem jest wciąż aktualne. Jakim cudem? A no takim, że piszę o wartościach, o ludzkich zachowaniach, o miłości, samotności, o emocjach. O tym, że ludzie piją alkohol, biorą narkotyki, bo nie radzą sobie z otaczającą rzeczywistością. To niezmiennie aktualne tematy. Może właśnie dlatego postanowiłem zatytułować płytę "Wszystko się zmienia". Trochę przekornie, bo skoro wszystko się zmienia, to czemu moje stare piosenki są wciąż aktualne? Mam nadzieję, że razem dobrze spędzimy ten wieczór! Po koncercie zapraszam do wspólego śpiewania przy dźwiękach instrumentów, które koniecznie zabierzcie ze sobą :).
Wstęp-cegiełka na Światłownię - 10 zł, niepełnosprawni, emeryci, studenci - 8 zł.