Bydgoska Scena Off-owa: monodramy Manisha Mitry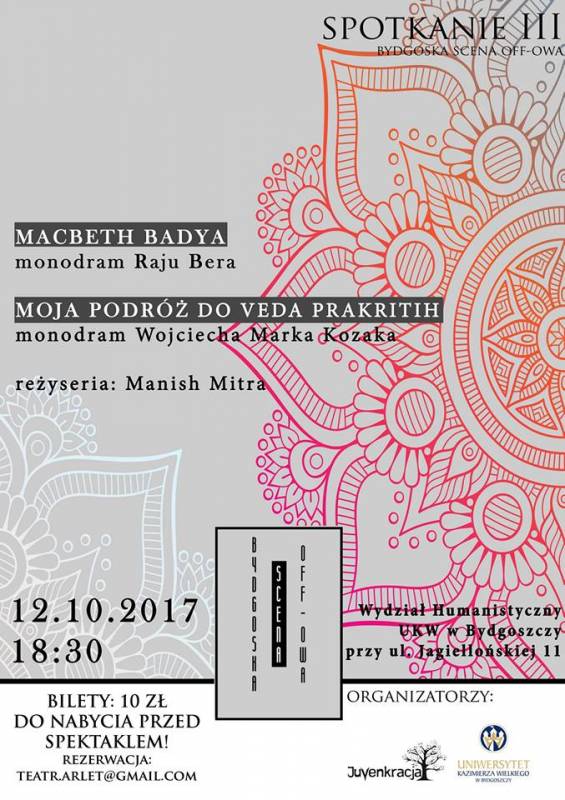 Macbeth Badya
Macbeth Badya to muzyczny rezonans i poezja ruchu tragedii Makbeta. Słynny dramat, gdziekolwiek był rekonstruowany – w filmie czy w teatrze – w różnych czasach, w różnych krajach, zawsze rodził kulturowy znak tegoż kraju. Któż nie pamięta "Tronu we krwi" Kurosawy czy Macbetha Krzysztofa Warlikowskiego. Dlatego też, kiedy w Indiach próbujemy przedstawić tragiczny przebieg Makbeta, musi to zachować rytm Indii, a odgrywający to aktor poprzez swoje Hinduskie ciało użyć wszystkich Indyjskich, tradycyjnych ruchów.
Koncepcja i reżyseria: Manish Mitra
Występuje: Raju Bera
Muzyka: Harekrishna Halder, Jaydeep Sinha, Ayan Mukherjee, Anok Hajra, G.J. Mary Acharya, Chandramouli Bagchi
Kostium: Sima Ghosh
Światła: Tapas Chatterjee
Moja podróż do Veda Prakritih to spektakl powstały na styku dwóch kultur: polskiej i indyjskiej. Odwołuje się do wciąż żywych znaków wedyjskich obecnych w Indiach w kontraście do środkowoeuropejskiego stylu życia. Soczewką wokół, której skupia się opowieść jest muzyka indyjska i plastyka ciała. Pełna emocji i różnorodnych wrażeń wędrówka odmienia młodego człowieka, który zaczyna dostrzegać wielopłaszczyznowość otaczającej go rzeczywistości. Sytuacje, których doświadcza główny bohater podczas tytułowej podróży są pretekstem do rewizji europejskich przyzwyczajeń i redefinicji obowiązującego na zachodzie habitusu kulturowego.
Reżyseria: Manish Mitra and Wojciech Marek Kozak
Muzyka: Jaydeep Sinha, Pokhraj Chakraborty
Występuje: Wojciech Marek Kozak
18:30 "Macbeth Badya" oraz "Moja podróż do Beda Prakritih"
(między monodramami zapraszamy państwa na spotkanie z reżyserem)
gdzie: Wydział Humanistyczny UKW, ul. Jagiellońska 11, sala 1
BILETY W CENIE 10 zł DO ZAKUPU PRZED POKAZEM. REZERWACJA POD ADRESEM: teatr.arlet@gmail.com
ORGANIZATOR: Stowarzyszenie Teatralne "Juvenkracja"