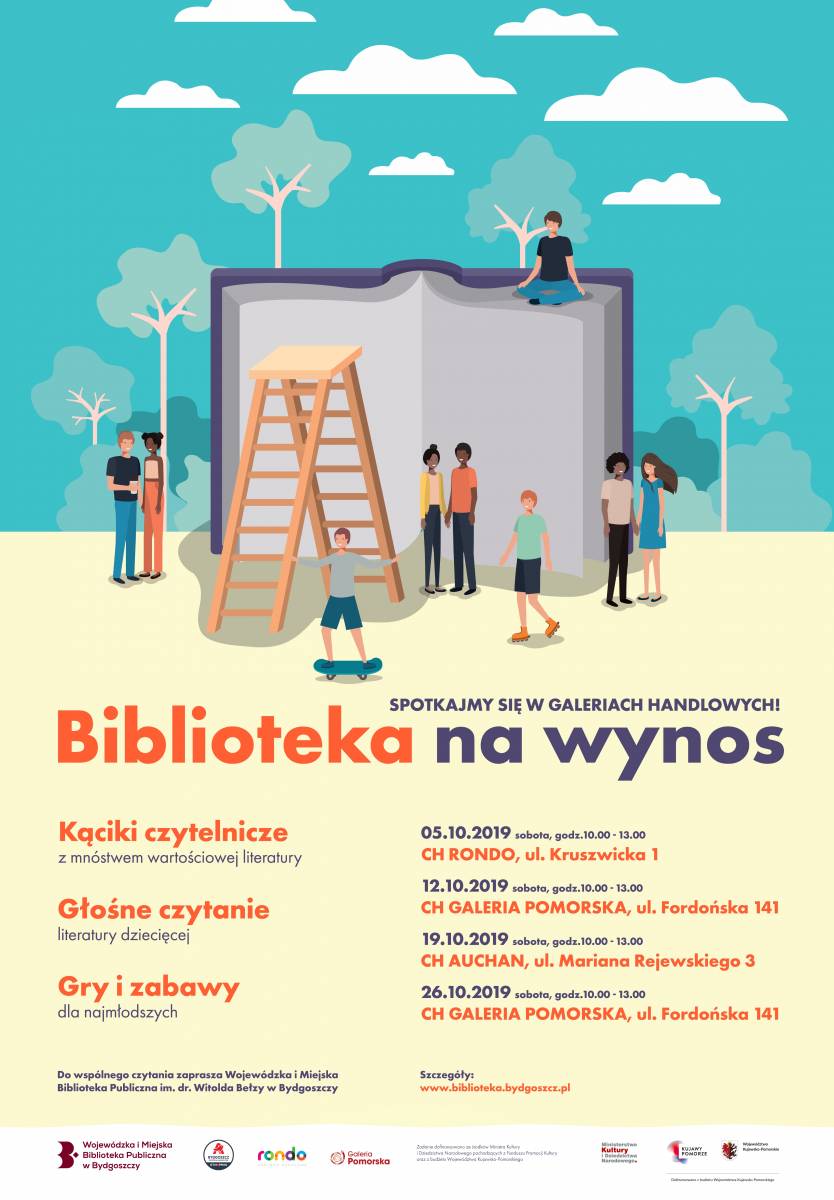 Wojewódzka i Miejska Biblioteka Publiczna im. dr Witolda Bełzy w Bydgoszczy zaprasza na spotkania z kulturą w niestandardowych miejscach.
Kupowanie, wybieranie, przymierzanie, spożywanie, smakowanie, poszukiwanie najlepszych towarów, najniższych cen, najkorzystniejszych rozwiązań. Wszystkie te czynności mogą powodować lekką nerwowość i zmęczenie.
"Biblioteka na wynos" jest po to, aby temu zaradzić. Szczypta kultury w centrum handlowym pozwoli rodzicom i dzieciom złapać oddech, odpocząć, oddać się niezobowiązującej rozrywce, zrelaksować się przy dobrej lekturze. O tym, że weekendowe zakupy można połączyć z niebanalna zabawą, będzie można przekonać się już niebawem.
"Biblioteka na wynos" to nowy sposób na kontakt z kulturą. Zajęcia animacyjne dla dzieci, gry i zabawy, kącik czytelniczy z wygodnymi fotelami, głośne czytanie i wiele innych atrakcji czeka na klientów. Zaprezentujemy ofertę biblioteczną m.in. gogle VR, krótkie gry planszowe, pokaz photonów. Dzieci będą miały możliwość samodzielnego wykonania przypinek. Wszystkich zapraszamy do zapisania się do biblioteki.
"Biblioteka na wynos" odwiedzi również wybrane bydgoskie szkoły. Chcemy zaprezentować szeroką działalność animacyjną, jaką zajmuje się biblioteka. Na uczniów czekać będą spotkania autorskie, warsztaty plastyczne, koncerty, przedstawienia teatralne, a także seans filmowy. Chcemy przyciągnąć najmłodszych czytelników pokazując, co w bibliotece najlepsze. Biblioteka to książki, ale mamy też inne atrakcje.
Zadanie dofinansowano ze środków Ministerstwa Kultury i Dziedzictwa Narodowego z pochodzących z Funduszu Promocji Kultury oraz z budżetu Województwa Kujawsko-Pomorskiego.
______________________
Kalendarz wydarzeń odbywających się w Bydgoszczy miej zawsze pod ręką dzięki aplikacji mobilnej (Android i iOS).
______________________
Informacje o wydarzeniach przesyłajcie na adres wydarzenia@visitbydgoszcz.pl
______________________
Bydgoskie Centrum Informacji nie ponosi odpowiedzialności za jakiekolwiek zmiany miejsc, godzin i dat wydarzeń.