Fale Loki Koki Dance Festival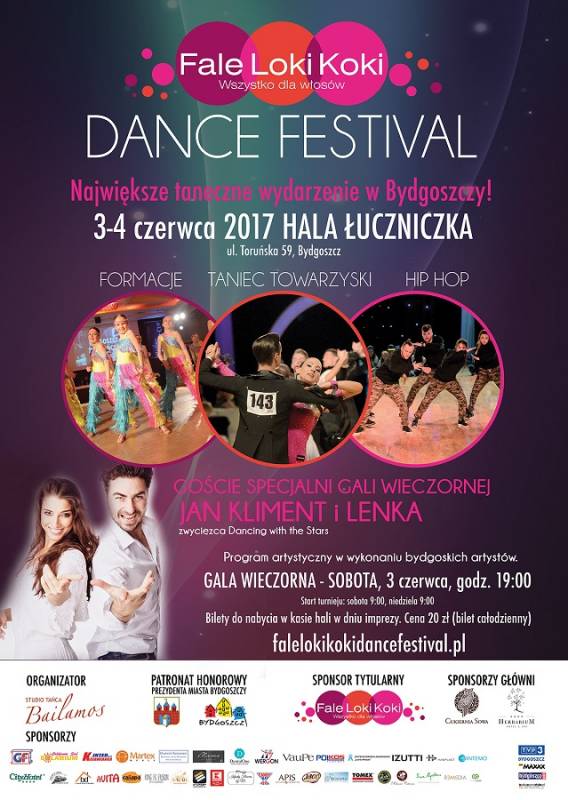 Najlepsze pary tańca towarzyskiego, formacje taneczne z całej Polski, tancerze hip hop - przed nami kolejna edycja jednego z największych tanecznych wydarzeń w Polsce - Fale Loki Koki Dance Festival w Bydgoszczy.
W tym roku odbędzie się w dniach 3-4 czerwca w hali Łuczniczka. - Festiwal z roku na rok jest coraz większy. Organizatorzy spodziewają się w tym roku blisko 3000 tancerzy z całego kraju!
Pierwszego dnia rywalizować będą pary w turnieju tańca towarzyskiego. Najważniejszym punktem programu będzie gala wieczorna o godz. 19. Podczas niej zaprezentują się pary w Grand Prix Polski, będziemy mogli zobaczyć najlepszych tancerzy w kategorii juniorów i dorosłych. Oprócz tego, nie zabraknie programu artystycznego. Gościem specjalnym będzie zwycięzca ostatniej edycji Dancing with the Stars - Taniec z Gwiazdami - Jan Kliment z żoną Lenką.
Organizatorzy zapraszają na trybuny. Bilety będzie można kupić w hali w dniu turnieju (kasa nr 2). Koszt wejściówki na cały dzień, łącznie z galą wieczorną to 20 zł.
Drugi dzień to tradycyjnie przegląd przedszkolaków oraz formacji tanecznych w różnych stylach.