Ice Swimming Bydgoszcz Festival
Gdzie?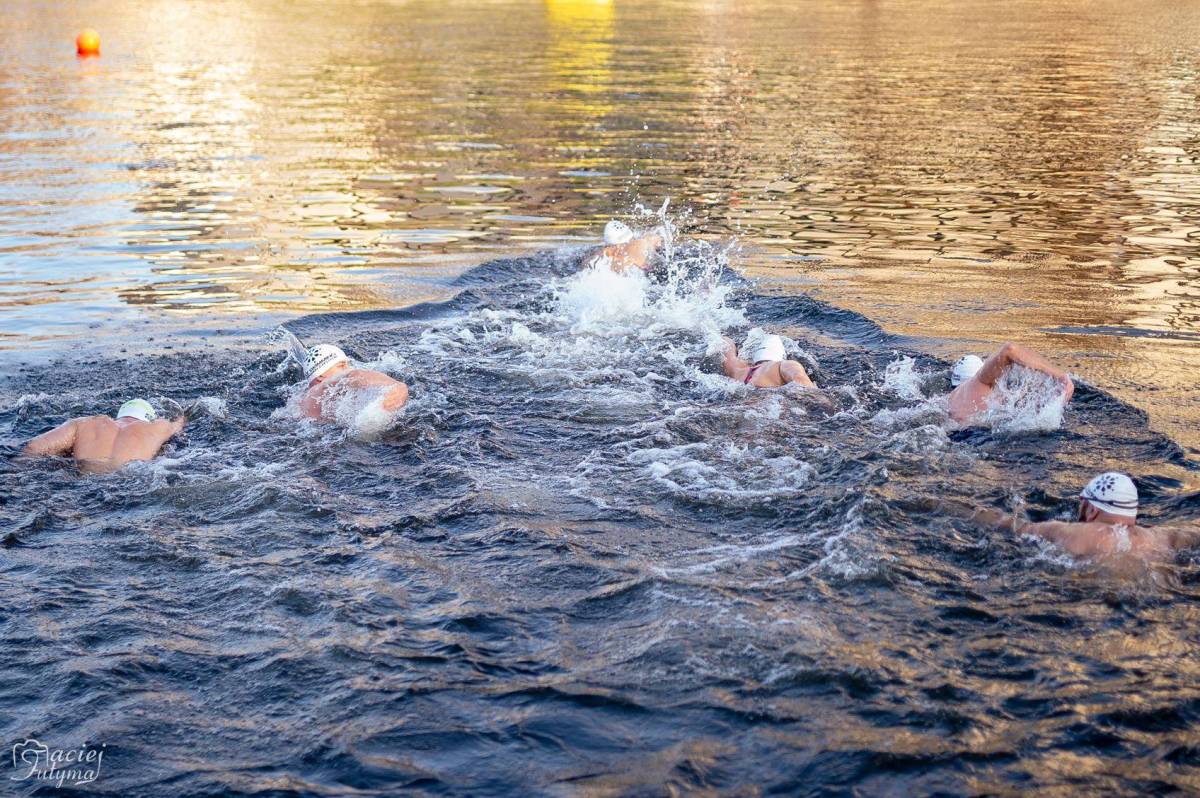 Zimowe pływanie po raz kolejny w Bydgoszczy!
W sobotę, 27 listopada podczas Ice Swimming Bydgoszcz Festival zmierzy się około 300 zawodników. Imprezę niezmiennie od lat wspiera miasto Bydgoszcz. W tym roku do grona kluczowych partnerów dołączyło Centrum Handlowe Focus. Zawody w zimowej odmianie pływania odbywają się przy Wyspie Młyńskiej od 2018 roku. Z roku na rok impreza zyskuje coraz większe grono zwolenników, którzy docierają do Bydgoszczy z – dosłownie – terenu całej Polski. Nie inaczej ma być w tym roku – na listach startowych znajduje się już ponad 240 uczestników, a to nie koniec, bo pod adresem www.iceswimming.pl nadal prowadzone są zapisy.
W tym roku organizatorzy przygotowali dla uczestników pięć wymagających dystansów indywidualnych oraz – ponownie – zaplanowali rywalizację sztafet. Najkrótszy, sprinterski dystans to 100 metrów, a kolejne to 250, 450, 750 (to nowość) oraz królewski dystans 1000 metrów. Sztafety będą rywalizowały w czteroosobowych zespołach. Każdy z jej członków będzie miał do przepłynięcia wspomniane już 100 metrów. Wszystkie wyścigi będą odbywały się w Brdzie na
wysokości Wyspy Młyńskiej – od mostu Jana Kiepury do mostów Solidarności. Od pierwszej edycji zawodów ich ambasadorką była eksportowa bydgoska pływaczka lodowa Hanna Bakuniak. 25-letnia obecnie zawodniczka nie miała sobie równych na najdłuższym dystansie zarówno w 2018, jak i 2019 roku (w 2020 r. zawody zostały odwołane z powodu stanu epidemii).
W tym roku zadebiutuje w nowej roli – będzie współorganizatorką imprezy, która jest zimową odpowiedzią na cieszącą się w mieście dużą popularnością Wodę Bydgoską. Zimową rywalizację w Brdzie od początku wspiera miasto Bydgoszcz, które jest sponsorem głównym Ice Swimming Bydgoszcz Festival. Obecnie zawody pełnią funkcję Ambasadora Marki Aktywna Bydgoszcz. Kilka tygodni temu do grona partnerów dołączyło Centrum Handlowe Focus, które w tym roku zostało sponsorem tytularnym imprezy, która nosi obecnie nazwę Focus Ice Swimming Bydgoszcz Festival.
Dzięki współpracy z CH Focus w tym roku pakiety startowe będzie można odbierać – właśnie w galerii przy ulicy Jagiellońskiej – już dzień przed zawodami, a więc w piątek, 26 listopada. A już dzień później śmiałkowie z całego kraju będą rywalizowali między innymi o nagrody ufundowane właśnie przez CH Focus.
Początek zmagań zaplanowano na godzinę 8:30, zakończenie imprezy – na 15:30. Biuro zawodów czynne będzie 27 listopada już od godziny 7:00. Nad przebiegiem wydarzenia będzie czuwała grupa wyspecjalizowanych sędziów, a nad bezpieczeństwem uczestników – ratownicy medyczni zarówno
na lądzie, jak i na wodzie.
Kibice będą mogli obserwować rywalizację z nabrzeży Brdy. Wyjątkiem będzie specjalnie wydzielona strefa zawodów, gdzie będzie ulokowany start oraz meta.
HARMONOGRAM FOCUS ICE SWIMMING BYDGOSZCZ FESTIVAL 2021
(sobota, 27 listopada)
7:00 – otwarcie biura zawodów
8:30 – początek rywalizacji na 100 metrów
10:45 – początek rywalizacji na 250 metrów
11:55 – początek rywalizacji na 4 x 100 metrów
12:35 – początek rywalizacji na 450 metrów
13:35 – początek rywalizacji na 750 metrów
14:30 – początek rywalizacji na 1000 metrów
______________________
Kalendarz wydarzeń odbywających się w Bydgoszczy miej zawsze pod ręką dzięki aplikacji mobilnej (Android i iOS).
______________________
Informacje o wydarzeniach przesyłajcie na adres wydarzenia@visitbydgoszcz.pl
______________________
Bydgoskie Centrum Informacji nie ponosi odpowiedzialności za jakiekolwiek zmiany miejsc, godzin i dat wydarzeń.