Goło i Wesoło - spektakl
Gdzie?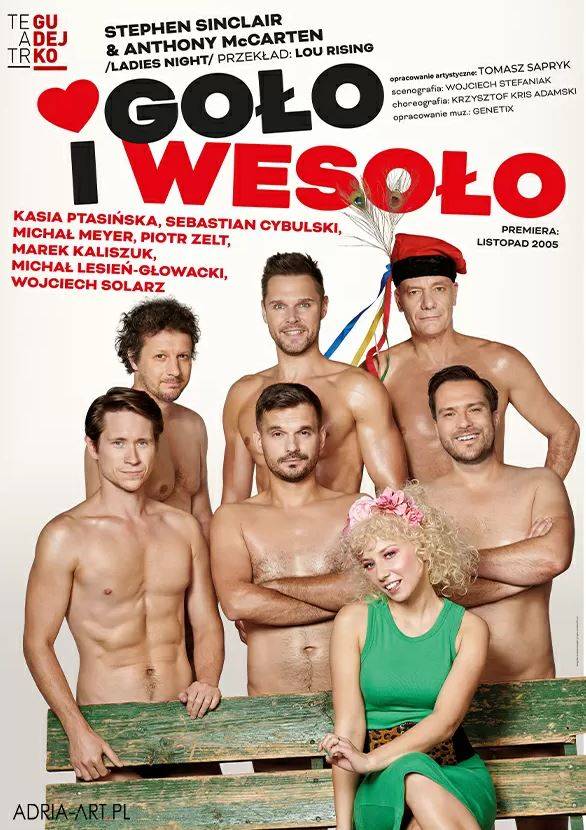 Informacje od Organizatora:
Komedia "Goło i wesoło" autorstwa Stephena Sinclaire'a i Anthony'ego McCartena zawojowała już cały świat. Nie schodzi z afisza od prapremiery w Mercury Theatre w Auckland w Nowej Zelandii, która miała miejsce w 1987 r. To mówi samo za siebie! Spektakl wystawiany był m.in. w USA, Kanadzie, Anglii czy Francji. Wszędzie przyjmowany jest z entuzjazmem – zarówno przez publiczność, jak i krytyków teatralnych.
"Goło i wesoło" to historia kilku bezrobotnych z Tomaszowa Mazowieckiego, którzy wpadają na pomysł, by założyć grupę striptizerów. Pod nazwą "Napalone Nosorożce" planują zrealizować marzenie o wielkiej karierze, która przerwałaby pasmo życiowych porażek. Będziemy więc towarzyszyć im w tym zuchwałym przedsięwzięciu, obserwując, jak pobierają pierwsze, nieudolne lekcje tańca, starają się o występ w klubie Eden (jedynym w mieście) czy wreszcie – po wielu godzinach ćwiczeń – dają swój premierowy, niezapomniany występ.
"Goło i wesoło" to zaskakująca i przezabawna komedia. Za reżyserię spektaklu odpowiada Tomasz Sapryk, a na scenie będziemy mogli zobaczyć m.in. Katarzynę Ptasińską, Sebastiana Cybulskiego, Michała Lesienia-Głowackiego i Piotra Zelta.
Przed nami gorący wieczór w towarzystwie "Napalonych Nosorożców". Jesteście gotowi?
Obsada:
Katarzyna Ptasińska
Sebastian Cybulski / Maciej Mikołajczyk
Wojciech Solarz / Maciej Mikołajczyk
Michał Lesień-Głowacki / Maciej Mikołajczyk
Michał Meyer / Maciej Mikołajczyk / Krzysztof Piątkowski
Marek Kaliszuk
Piotr Zelt / Maciej Mikołajczyk
Autor: Stephen Sinclair & Anthony McCarten
Przekład: Lou Rising
Reżyseria: Tomasz Sapryk
Scenografia: Wojciech Stefaniak
Choreografia: Krzysztof Adamski
Produkcja: Teatr Gudejko
Spektakl tylko dla dorosłych!
______________________
Kalendarz wydarzeń odbywających się w Bydgoszczy miej zawsze pod ręką dzięki aplikacji mobilnej (Android i iOS).
______________________
Informacje o wydarzeniach przesyłajcie na adres wydarzenia@visitbydgoszcz.pl
______________________
Bydgoskie Centrum Informacji nie ponosi odpowiedzialności za jakiekolwiek zmiany miejsc, godzin i dat wydarzeń.