Fordońska Masa Krytyczna
Gdzie?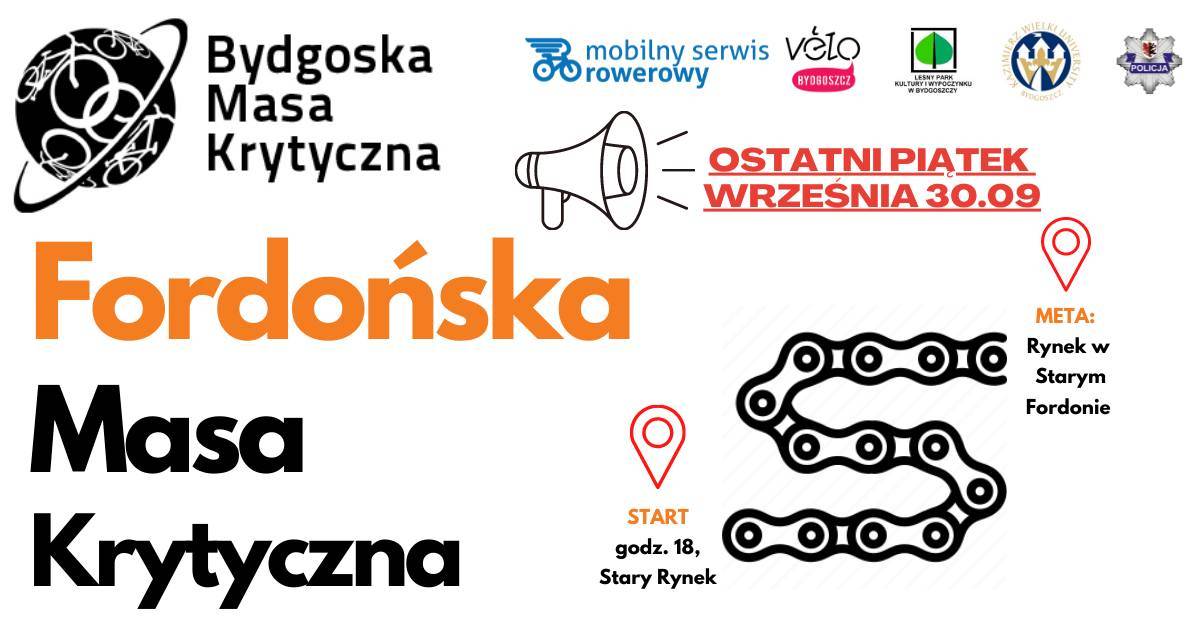 Informacje od Organizatora:
Bydgoska Masa Krytyczna zawita tym razem do Fordonu. 30 września zapraszamy na przejazd do największej dzielnicy Bydgoszczy.
Każda trasa Bydgoskiej Masy Krytycznej jest inna niż poprzednia i zazwyczaj staramy się nawiązać jej kształtem do tematu danego przejazdu. W ostatni piątek września wyruszymy ze Starego Rynku o godz. 18:00 i przez centrum Bydgoszczy pojedziemy w kierunku Fordonu. Tam zaznaczymy swoją obecność przejeżdżając przez największe blokowiska i BMK zakończymy na rynku w Starym Fordonie.
Od wielu lat podkreślamy, że najważniejszym połączeniem centrum Bydgoszczy z Fordonem jest ulica Fordońska i to wokół niej powinna koncertować się infrastruktura rowerowa. Nasza presja społeczna przyniosła skutek, bo został już wyremontowany odcinek drogi rowerowej, począwszy od ul. Kaplicznej. Poruszając się nią w stronę Fordonu napotykamy jednak na przeszkodę, jaką jest przedostanie się przez kładkę przy ul. Sochaczewskiej. Sytuacja będzie jednak rozwiązana, ponieważ zostanie ona przebudowana pod kątem lepszej dostępności dla rowerzystów. Obecnie trwają koncepcyjne.
Kolejnym miejscem, gdzie należy załatać infrastrukturalną "dziurę" jest ulica Sudecka, łącząca Fordon z drogą rowerową w Jarużynie. W październiku zostanie rozstrzygnięty przetarg na koncepcję infrastruktury rowerowej w tym miejscu, a to już dobra droga do faktycznego zbudowania infrastruktury rowerowej w tym miejscu.
Kończą się natomiast już prace na odcinku łączącym przy ul. Andersa (od ul. Palińskiego do GOPR). Powstaje także ul. Promenada w Starym Fordonie, która będzie przystosowana do potrzeb mieszkańców poruszających się na rowerach.
Mocno kibicujemy też inwestycjom realizowanym w ramach Bydgoskiego Budżetu Obywatelskiego. W przygotowaniu do przetargu na roboty budowlane jest odcinek infrastruktury na ul. Andersa - od Kasztelańskiej do Duboisa. W każdej edycji wiele głosów zdobywają również inwestycje związane z Wielką Pętlą Fordonu. Również w tegorocznej edycji BBO pojawia się sporo projektów związanych z fordońską infrastrukturą, ale głosowanie jest jeszcze przed nami.
Te inwestycje nie zrealizują oczywiście pełni potrzeb mieszkańców Fordonu, ale trzymamy rękę na pulsie i staramy poszerzać się tę listę. O tych planach będziemy rozmawiać podczas Fordońskiej BMK. Przypominamy o obowiązkowym oświetleniu rowerów. Przejazd jest zabezpieczany przez Policję, nie obowiązują zapisy. Do zobaczenia!
______________________
Kalendarz wydarzeń odbywających się w Bydgoszczy miej zawsze pod ręką dzięki aplikacji mobilnej (Android i iOS).
______________________
Informacje o wydarzeniach przesyłajcie na adres wydarzenia@visitbydgoszcz.pl
______________________
Bydgoskie Centrum Informacji nie ponosi odpowiedzialności za jakiekolwiek zmiany miejsc, godzin i dat wydarzeń.