VI Magiczny Festiwal Świata Baśni i Bajek 'Pozytywka'
Gdzie?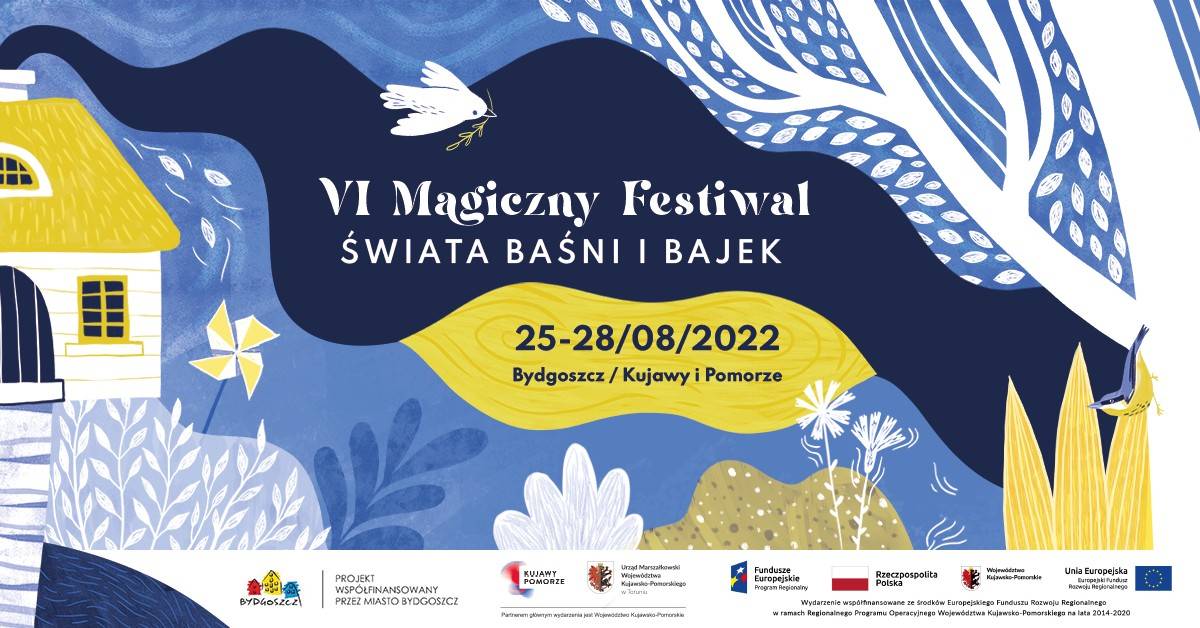 Informacja od Organizatora:
Spotkania z artystami, spektakularne widowiska, warsztaty plenerowe, muzyka i wiele innych atrakcji. Tegoroczna Pozytywka zapowiada się imponująco. Szósta edycja festiwalu czarów i magii odbędzie się w Bydgoszczy w dniach 25-28 sierpnia br.
To już szósta edycja festiwalu, podczas którego miasto opanowują czary i magia, dzieci puszczają wodze fantazji, a dorośli pozwalają sobie na więcej luzu i powrót do czasów, kiedy nic nie ograniczało ich wyobraźni. Tradycyjnie już 'Pozytywka' będzie obfitowała w wydarzenia kulturalne z najwyższej półki, w tym międzynarodowe spotkania z artystami z Litwy, Słowacji i Niemiec; którzy odwiedzą Bydgoszcz ze swoimi zaskakującymi, spektakularnymi widowiskami. Nie zabraknie również muzyki, którą w najlepszym wydaniu dla najmłodszych zaprezentuje nam prawdziwa gwiazda…'Pozytywka' to także Miasteczko Festiwalowe w Parku Kochanowskiego, a w nim Cyrkowy zakątek, atrakcje nie z tej ziemi i warsztaty plenerowe, które zaangażują festiwalową publikę na tysiąc różnych sposobów!
Organizatorzy podkreślają, że szczególnie cieszą się z rozpoczętej w tym sezonie współpracy z Teatrem Kameralnym, którego wyjątkowe wnętrza staną się sceną dla pozytywkowych wydarzeń przyciągających miłośników teatru, nowego cyrku i muzyki.
Tegoroczna odsłona 'Pozytywki' to także wielka niespodzianka, którą organizatorzy szykują w otwartej przestrzeni miejskiej. - Baśnie i bajki już nie mogą się doczekać, kiedy sekretnym przejściem wyjdą Wam na spotkanie, dlatego bądźcie czujni, bo już wkrótce zdradzimy Wam więcej! – zapowiadają.
Bilety dostępne będą od 12 sierpnia br.
'Pozytywka' współfinansowana jest ze środków Miasta Bydgoszczy. Patronat Honorowy nad imprezą ma Prezydent Miasta Bydgoszczy Rafał Bruski.
Program dostępny na stronie: https://pozytywkafestiwal.pl/harmonogram-2022/
______________________
Kalendarz wydarzeń odbywających się w Bydgoszczy miej zawsze pod ręką dzięki aplikacji mobilnej (Android i iOS).
______________________
Informacje o wydarzeniach przesyłajcie na adres wydarzenia@visitbydgoszcz.pl
______________________
Bydgoskie Centrum Informacji nie ponosi odpowiedzialności za jakiekolwiek zmiany miejsc, godzin i dat wydarzeń.