Zostań turystą w swoim mieście - Bydgoskie ślady Mariana Rejewskiego
Gdzie?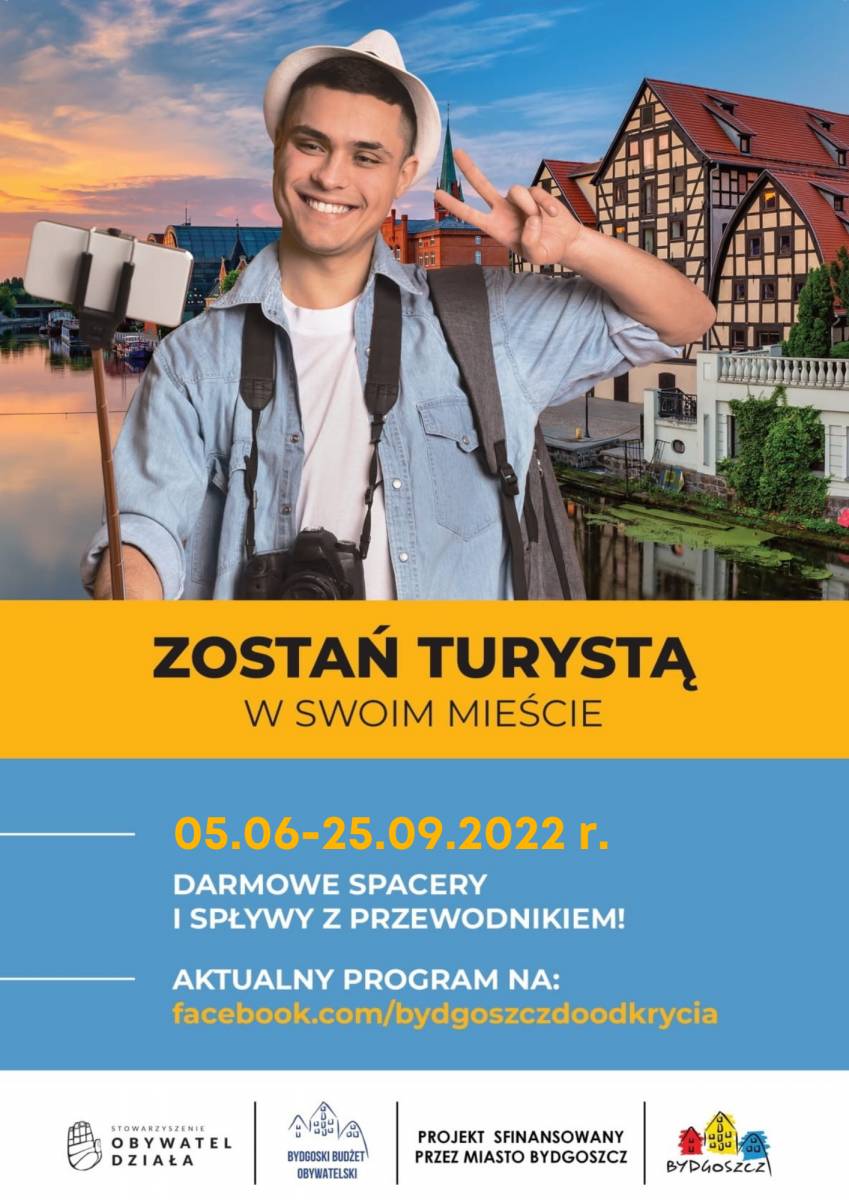 Informacje od Organizatora:
W te wakacje zostań turystą w swoim mieście! Wspólne poznawanie historii miasta, zwiedzanie zabytkowych obiektów, muzeów i spływy kajakowe - wszystko to czekać będzie na chętnych, którzy zdecydują się wziąć udział w akcji "Zostań turystą w swoim mieście". Program 25 wydarzeń organizowanych pomiędzy 5 czerwca a 24. września jest całkowicie darmowy dla uczestników, dzięki wsparciu Bydgoskiego Budżetu Obywatelskiego. Odkrywanie historii i atrakcji własnego miasta staje się coraz bardziej popularne - również w naszym mieście. Organizatorzy akcji wyszli na przeciw temu zapotrzebowaniu i dzięki wsparciu Bydgoskiego Budżetu Obywatelskiego przygotowują w te wakacje serię wydarzeń dla miłośników naszego miasta. Spacery z przewodnikiem odbywać się będą w każdą niedzielę w okresie od czerwca do 24. Września. W ich trakcie mieszkańcy będą mogli zwiedzić zabytkowe obiekty (m.in. Młyny Rothera, Wieża Ciśnień, ZPP Ostromecko) ale i poznawać historię miasta. Wszystko to oczywiście w towarzystwie wyjątkowych przewodników. Zwiedzać będziemy nie tylko centrum miasta ale i poszczególne dzielnice. Fordon, Bartodzieje, Leśne czy Wzgórze Wolności to również cześć historii naszej małej ojczyzny. Poza spacerami organizator przygotowuje również spływy kajakowe z przewodnikiem. Będzie to świetna okazja do poznawania wodnego oblicza naszego miasta. Spływy organizowane będą w co drugą sobotę miesiąca - pierwszy już 11 czerwca. Organizator przygotował trzy trasy natomiast wszystkie kończyą się wspólnym ogniskiem na przystani Zimne Wody. Zapisy na poszczególne spływy będą prowadzone za pomocą specjalnego formularza, który znajdować się będzie na stronie www.kanalbydgoski.pl. Zapisy na spływy będą ruszać na 14 dni przed datą wydarzenia. Pełen i aktualny program można znaleźć na facebook.com na profilu organizatora - Bydgoszcz do odkrycia. Wszystkie wydarzenia są darmowe natomiast na niektóre należy zapisać się wcześniej. Projekt w całości jest organizowany z funduszy Bydgoskiego Budżetu Obywatelskiego.
Bydgoskie ślady Mariana Rejewskiego
Przewodnik: Krzysztof Drozdowski
Start: Stary Rynek
______________________
Kalendarz wydarzeń odbywających się w Bydgoszczy miej zawsze pod ręką dzięki aplikacji mobilnej (Android i iOS).
______________________
Informacje o wydarzeniach przesyłajcie na adres wydarzenia@visitbydgoszcz.pl
______________________
Bydgoskie Centrum Informacji nie ponosi odpowiedzialności za jakiekolwiek zmiany miejsc, godzin i dat wydarzeń.