Rzeka Muzyki - Tribute to Wodecki
Gdzie?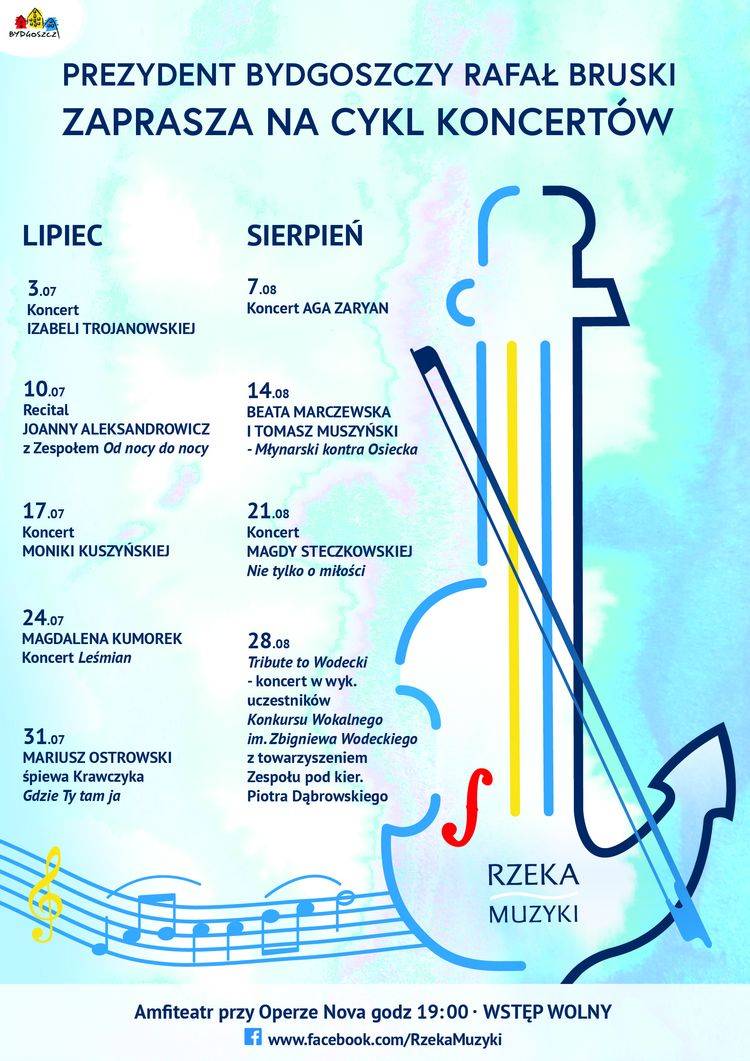 W wakacje powraca Rzeka Muzyki, czyli cykl koncertów na wodzie! W każdą niedzielę lipca i sierpnia rozmaici artyści będą gromadzić publiczność w amfiteatrze przy Operze Nova. Wszystkie koncerty są ogólnodostępne i darmowe. W tym roku wystąpią m.in. Izabela Trojanowska, Magda Steczkowska i Monika Kuszyńska.
Muzyczna uczta nad wodą w samym centrum miasta? Tak! Zapraszamy ponownie na Rzekę Muzyki! W muzyczny rejs zabiorą nas rozmaici artyści. Posłuchamy różnorodnego repertuaru, będą występy autorskie i koncerty w stylu tribute to.
Co dokładnie czeka nas w tym roku? Różnorodna muzyka, wspaniali artyści, piękny anturaż i niepowtarzalny klimat, który przyciąga tłumy bydgoszczan i odwiedzających nasze miasto. W tym roku wystąpią m.in. Izabela Trojanowska, Monika Kuszyńska czy Magda Steczkowska. Posłuchamy przebojów Krawczyka i Wodeckiego w wykonaniu zdolnych artystów. Będzie recital i poezja śpiewana, nie zabraknie też piosenek o miłości.
A to wszystko już za chwilę! Koncerty będą się odbywać w każdą niedzielę lipca i sierpnia o godz. 19:00 w amfiteatrze przy Operze Nova. Pierwszy występ już 3 lipca. Wstęp na każde wydarzenie jest bezpłatny.
Program:
Lipiec 2022
3.07 Koncert Izabeli Trojanowskiej
10.07 Recital Joanny Aleksandrowicz z zespołem Od nocy do nocy
17.07 Koncert Moniki Kuszyńskiej
24.07 Magdalena Kumorek - koncert Leśmian
31.07 Mariusz Ostrowski śpiewa Krawczyka "Gdzie Ty tam ja"
Sierpień 2022
7.08 Koncert Aga Zaryan
14.08 Beata Marczewska i Tomasz Muszyński - Młynarski kontra Osiecka
21.08 Koncert Magdy Steczkowskiej "Nie tylko o miłości"
28.08 Tribute to Wodecki - koncert w wykonaniu uczestników Konkursu Wokalnego im. Zbigniewa Wodeckiego z towarzyszeniem Zespołu pod kierownictwem Piotra Dąbrowskiego.
______________________
Kalendarz wydarzeń odbywających się w Bydgoszczy miej zawsze pod ręką dzięki aplikacji mobilnej (Android i iOS).
______________________
Informacje o wydarzeniach przesyłajcie na adres wydarzenia@visitbydgoszcz.pl
______________________
Bydgoskie Centrum Informacji nie ponosi odpowiedzialności za jakiekolwiek zmiany miejsc, godzin i dat wydarzeń.