KINO JEREMI - Nieustające wakacje
Gdzie?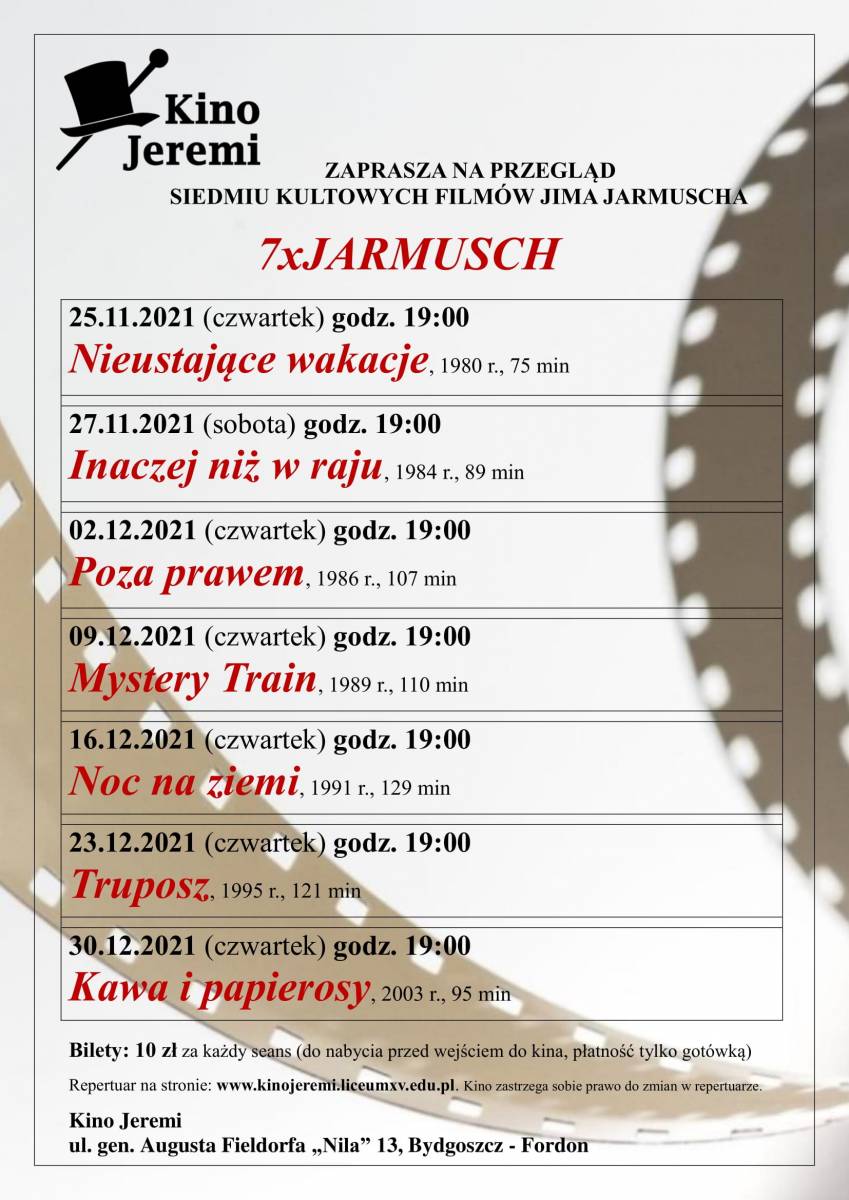 Informacje od Organizatora:
Amerykański buntownik o europejskiej wrażliwości, egzystencjalista, poeta, kinofil, muzyk rozkochany w jazzie i rocku, twórca obdarzony abstrakcyjnym poczuciem humoru – Jim Jarmusch to król kina niezależnego.
W ramach przeglądu 7xJarmusch Kino Jeremi zaprezentuje siedem wczesnych odnowionych cyfrowo filmów amerykańskiego mistrza.
Bilety na każdy z seansów w ramach przeglądu w cenie 10 zł. Płatność tylko gotówką przed wejściem do kina. Istnieje możliwość rezerwacji miejsc (najpóźniej do godz. 15:00 w dniu seansu) na stronie: http://kinojeremi.liceumxv.edu.pl/?s=rep
Lakonicznie, chropowate, o szczątkowej fabule i ascetycznych środkach artystycznych, zanurzone w cierpkim poczuciu humoru – wczesne kino Jima Jarmuscha jest tak odrębne, że mogłoby stanowić osobny gatunek. Czerpiąc inspirację z dzieł twórców francuskiej Nowej Fali, jak Jean-Luc Godard i Jean-Pierre Melville, minimalistyczny styl Jarmuscha przedkłada nastrój nad strukturę narracyjną i łączy amerykańską tradycję filmową z wpływami europejskimi oraz japońskimi. Jego długie, leniwe ujęcia tworzą bardziej przestrzeń dla przypadkowych spotkań, małych gestów i ulotnych aktów intymności niż dla sztywnych ograniczeń fabuły.
To, co interesuje Jarmuscha to ludzie żyjący na marginesie Ameryki – pozbawieni korzeni outsiderzy, niezsynchronizowani ze współczesnym światem. Tacy są bohaterowie debiutanckich "Nieustających wakacji" i przełomowego w karierze reżysera "Inaczej niż w raju" – zagubieni, młodzi ludzie wędrujący po ulicach i miejskich zaułkach bez konkretnego celu. Własnymi ścieżkami chadzają trzej pechowi więźniowie z "Poza prawem", jak i japońscy turyści szukający ducha Elvisa Presleya w filmie "Mystery Train". Zagubieni w czasie i przestrzeni zdają się także pasażerowie i kierowcy taksówek w "Nocy na ziemi", jak i całe pokolenie "Kawy i papierosów". Wreszcie William Blake, tytułowy "Truposz", to synonim artysty osobnego.
Przeglądowi 7x Jarmusch towarzyszy wyjątkowa oprawa graficzna. Całość przeglądu promuje artystyczny plakat autorstwa wybitnego grafika Andrzeja Klimowskiego, jednego z czołowych przedstawicieli polskiej szkoły plakatu. Ponadto wznowiony został nakład stworzonych przez Klimowskiego w latach 90. pięciu oryginalnych plakatów do wczesnych filmów Jarmuscha, a do filmów "Truposz" i "Kawa i papierosy" artysta wykonał całkowicie nowe plakaty, dopełniające cykl. Limitowana edycja plakatów jest dostępna w sprzedaży w sklepie internetowym Gutek Film – dystrybutora przeglądu.
______________________
Kalendarz wydarzeń odbywających się w Bydgoszczy miej zawsze pod ręką dzięki aplikacji mobilnej (Android i iOS).
______________________
Informacje o wydarzeniach przesyłajcie na adres wydarzenia@visitbydgoszcz.pl
______________________
Bydgoskie Centrum Informacji nie ponosi odpowiedzialności za jakiekolwiek zmiany miejsc, godzin i dat wydarzeń.