Najpiękniejsze Arcydzieła Baletowe
Gdzie?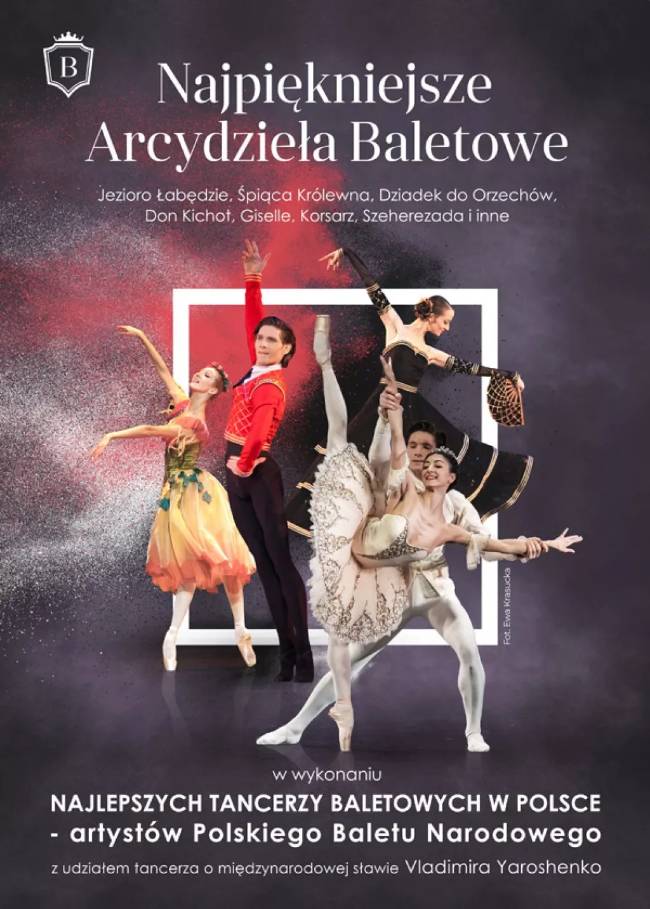 Zmysłowe duety i wariacje solowe, a to wszystko w wykonaniu najwybitniejszych tancerzy w Polsce. Zapraszamy na niezwykłą galę wypełnioną arcydziełami, takimi jak: "Jezioro łabędzie", "Śpiąca królewna" czy "Dziadek do orzechów".

Światowy balet na najwyższym poziomie zaprezentują tancerze Polskiego Baletu Narodowego na czele z międzynarodowymi sławami, m.in. z Vladimirem Jaroshenko. To rosyjsko-polski tancerz baletowy typu danseur noble (tancerz szlachetny). Od września 2007 r. jest na stałe związany z Polską i Teatrem Wielkim – Operą Narodową, w której występuje w roli pierwszego tancerza. Na scenie towarzyszyć mu będzie kilkunastu utalentowanych tancerzy światowej klasy, którzy wcielą się w kultowe postacie baletowe.

Bogaty program, piękne aranżacje taneczne na najwyższym artystycznym poziomie oraz muzyka wielkich kompozytorów zamienią ten wieczór w niezapomnianą ucztę! To widowisko nie tylko dla koneserów baletu, lecz również dla tych, którzy dopiero poznają piękno tanecznego świata. Zapraszamy Państwa na pełną emocji podróż do roztańczonego i magicznego świata baśni i tańca.

Obsada:
Vladimir Yaroshenko Yuka Ebihara Patryk Walczak Irina Wasilewska Anna Kipshidze Gregor Giselbrecht Olga Yaroshenko Vadzim Kezik Jaeeun Jung Aoi Choji Svetlana Ovsyankina Lubow Chmielewska Natalia Kamińska Nika Afonina
Choreografia: Marius Petipa, Michaił Fokin, Jean Coralli, Jules Perrot, Lew Iwanow, Lorenzo Alberti, Eduard Bablidze, Antonio Lanzo Opracowanie choreograficzne: Lorenzo Alberti
Opracowanie scenograficzne: Tomasz Fabiański Opracowanie światła i dźwięku: Eligiusz Baranowski
Reżyseria: Jarosław Sidorkiewicz
Produkcja: Jarosław Sidorkiewicz oraz Adria Art
Czas trwania gali: 2,5 godziny z 1 przerwą
___________________
Kalendarz wydarzeń odbywających się w Bydgoszczy miej zawsze pod ręką dzięki aplikacji mobilnej (Android i iOS).
______________________
Informacje o wydarzeniach przesyłajcie na adres wydarzenia@visitbydgoszcz.pl
______________________
Bydgoskie Centrum Informacji nie ponosi odpowiedzialności za jakiekolwiek zmiany miejsc, godzin i dat wydarzeń.