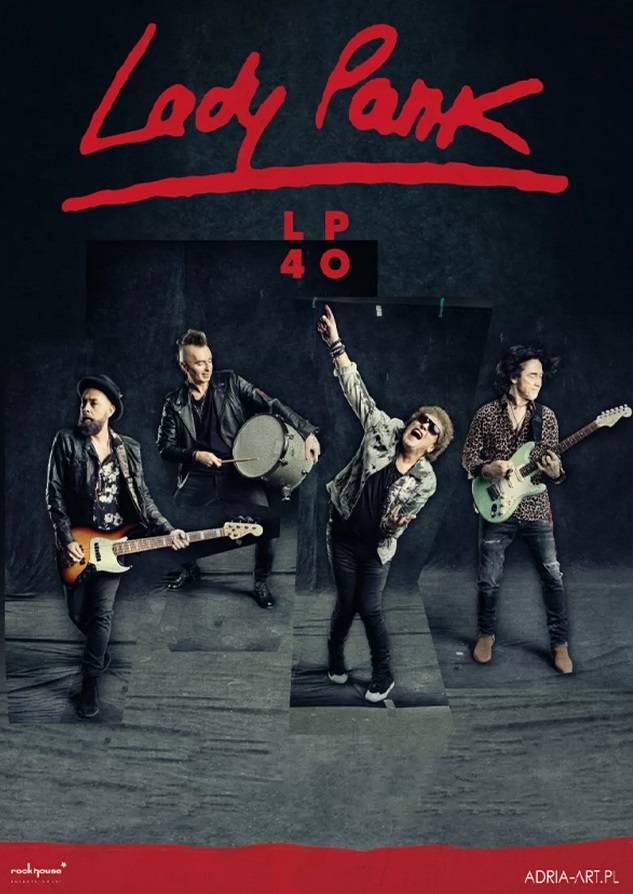 Koncerty Lady Pank w ramach urodzinowej trasy LP40 to prawdziwa gratka dla wszystkich fanów zespołu. Będzie okazja, by poszaleć przy największych hitach legendarnej grupy!
Lady Pank to bez dwóch zdań jeden z najważniejszych zespołów w historii polskiej muzyki. W tym roku muzycy obchodzą jubileusz 40-lecia działalności.
Okrągłe urodziny Lady Pank nie mogą odbyć się bez premiery płyty i trasy koncertowej! W końcu to właśnie ze spektakularnych, wypełnionych największymi przebojami koncertów słynie zespół Jana Borysewicza i Janusza Panasewicza.
Od premiery ostatniego albumu Lady Pank – "Miłość i władza" – minęło pięć lat. Świat w tym czasie stanął na głowie. Dziś nic, co jeszcze niedawno wydawało nam się normalne, nie jest oczywiste. Wyjście do klubu czy na koncert stało się luksusem – i właśnie tego luksusowego towaru Lady Pank chce dostarczyć fanom jak najwięcej!
Trasa koncertowa – nazwana tak samo jak nowy album, czyli "LP40" – startuje latem 2021 roku i potrwa do końca roku 2022.
Koncerty Lady Pank – emocje gwarantowane
Muzycy Lady Pank są w świetnej formie, co udowodnili podczas letniej trasy koncertowej "Strach się bać" oraz w trakcie jubileuszu wydania swojej pierwszej płyty – "LP1". Fani grupy wiedzą, że na koncertach mogą się spodziewać największych muzycznych emocji. Na swoje 40. urodziny zespół przygotował mnóstwo niespodzianek, którymi zaskoczą nawet swoich najwierniejszych słuchaczy.
Nie zabraknie największych przebojów z czterech dekad działalności ani utworów z najnowszej płyty, w niespotykanej dotąd oprawie. Będzie hucznie, przebojowo, ale i sentymentalnie. W końcu na muzyce Lady Pank wychowały się już trzy pokolenia słuchaczy. I co najważniejsze – będzie bezpiecznie!
____________________
Kalendarz wydarzeń odbywających się w Bydgoszczy miej zawsze pod ręką dzięki aplikacji mobilnej (Android i iOS).
______________________
Informacje o wydarzeniach przesyłajcie na adres wydarzenia@visitbydgoszcz.pl
______________________
Bydgoskie Centrum Informacji nie ponosi odpowiedzialności za jakiekolwiek zmiany miejsc, godzin i dat wydarzeń.