Wernisaż: obrazy Anny Drejas pt. "Autoportret"
Gdzie?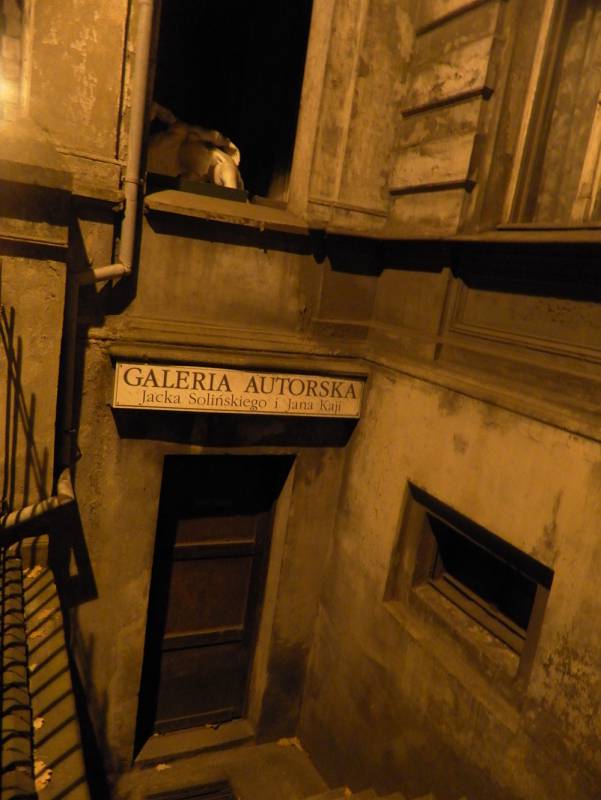 Anna Drejas, ur. 1967 w Bydgoszczy. W 1993 ukończyła studia na Wydziale Sztuk Pięknych UMK w Toruniu, specjalizacja - malarstwo, dyplom u prof. Janusza Kaczmarskiego. Należy do ZPAP. Zajmuje się edukacją młodzieży, uczy rysunku i malarstwa w Państwowy Zespół Szkół Plastycznych im. L. Wyczółkowskiego w Bydgoszczy. Miała 21 wystaw indywidualnych, w tym sześć wystawy w Galerii Autorskiej (w latach: 1998, 1999, 2000, 2003, 2005, 2010). Brała udział w 47 wystawach zbiorowych w Bydgoszczy i wystawach ogólnopolskich.
Sytuacje. O sztuce Anny Drejas
Jest to malarstwo formalnie oszczędne, racjonalne, wolne od zbędnych efektów. Proporcje postaci, ich linearne zarysy, obecność poziomych i pionowych podziałów, kolorystyczna powściągliwość - wszystkie te konsekwentnie stosowane plastyczne rozwiązania skutkują wypracowaniem formy uproszczonej, syntetycznej, będącej konkretyzacją ładu, organizacji, dyscypliny.
Jest to malarstwo, które nie imituje rzeczywistości, wprost przeciwnie ostentacyjnie akcentuje swoją malarskość. Postać jest tu bardziej formą postaci niż żywym ciałem, układy, gesty, pozycje - bardziej wystudiowanymi pozami modelki niż elementami pozamalarskiego życia. Nawet jeśli przedstawienie sugeruje tu jakiś "życiowy" kontekst, obrazujący codzienne domowe rytuały - jak np. w realizacjach "W kąpieli", "Przy stole", "Skłon"- to nie po to, by ukazać tzw. realizm sytuacji, raczej, by sprawdzić funkcjonalność komponentów formalnych, sens znaków plastycznych, logikę całego malarskiego instrumentarium.
Oczywiście, gdy przychodzi do opisu sztuki tematycznie jednorodnej, rodzi się pokusa, by poprzestać na lekturze jej wymiaru plastycznego, zwłaszcza, że obrazy te, mające charakter analitycznych studiów nad postacią - do takiego właśnie postępowania zapraszają. Trudno jednak oprzeć się wrażeniu, że ograniczając się jedynie do kwestii formalnych, a rezygnując z "planu treści", zatraciłoby się tu coś niezmiernie istotnego. Prace te bowiem skupiają w sobie również określony potencjał emocjonalny, a ich oszczędny język ujawnia głębszy wymiar codziennego doświadczenia: komunikuje refleksję nad czasem, ukazuje kondycję współczesnego człowieka, osamotnionego i zamkniętego w swym świecie, formułuje pytania o cel i sens egzystencji.
Piotr Siemaszko
(...) Gdyby jednym słowem określić malarstwo Anny Drejas, to jego wyznacznikiem jest stałość. Uparte ogniskowanie uwagi na jednym temacie i pozbawianie obrazu cech - zdaniem autorki - nieistotnych. Widoczna na pierwszy rzut oka niezmienność stylu polega na tym, że jej nieco suche i konstrukcyjne malarstwo zmienia się małymi, ale stanowczymi krokami. Autorka przechodzi od stereometrii i rysunku perspektywicznego do planimetrii. Coraz mocniej "czyści" wizerunek postaci z elementów przestrzennych, konstruowanych trójwymiarowo. (...)
Ewa Urbańska
(...) Najczęściej przedstawiany melancholijny wizerunek młodej dziewczyny, której zarysowana kobiecość
sugeruje emocjonalne napięcie, jest jednocześnie motywem strzeżonej samotności. Wszyscy "mieszkańcy"
wnętrza malarskich poszukiwań Anny zdają się podzielać owe upodobanie do samotności, w której artystka
wydaje się czuć najbardziej sobą.
Jacek Soliński