Testosteron - kultowa komedia w teatralnej odsłonie
Gdzie?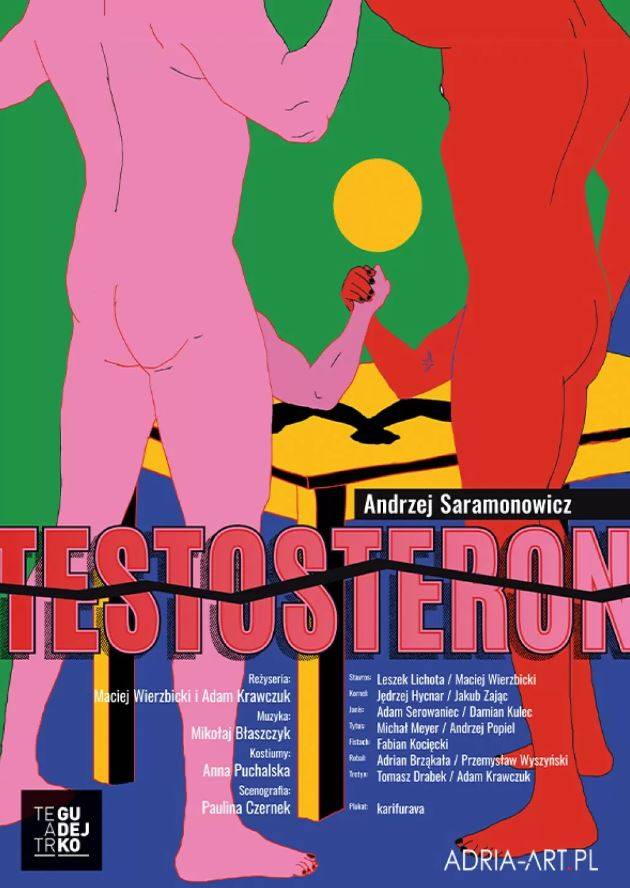 Informacje od Organizatora:
20 lat od premiery sztuki Andrzeja Saramonowicza i 15 lat po premierze filmu "Testosteron" powraca w nowym wydaniu, by raz jeszcze opowiedzieć historię o kondycji współczesnego mężczyzny.
Grupa mężczyzn zbiera się po niedoszłym ślubie, gdzie jeden z nich usłyszał przed ołtarzem sakramentalne "nie". Tragikomiczna okoliczność, obsceniczne żarty i opary alkoholu sprowokują bohaterów do tzw. "męskich przemyśleń" o kobietach i własnej naturze.
Kultowa satyra o odwiecznym, damsko męskim konflikcie, to pełna humoru konfrontacja z problemami dzisiejszego świata. Jak zapanować nad swoimi hormonami, nie dać się wykorzystać kobietom, a przede wszystkim – jak być mężczyzną we współczesnym świecie? "Testosteron" to komedia, która sięgając po odwieczne pytania, pozostaje aktualna bez względu na czasy.
Po niecichnących głosach, nawoływaniach i naciskach ze strony widzów, twórcy oryginalnego "Testosteronu" – Adam Krawczuk i Maciej Wierzbicki zdecydowali się na nową odsłonę kultowej komedii. Czego możemy się spodziewać? Na pewno czeka nas porządna, męska historia bez retuszu.
Sprawdź nadchodzący repertuar i zarezerwuj bilety na "Testosteron".
Obsada:
Stavros: Leszek Lichota / Maciej Wierzbicki
Kornel: Jędrzej Hycnar / Jakub Zając
Janis: Adam Serowaniec / Damian Kulec
Tytus: Michał Meyer / Andrzej Popiel
Fistach: Fabian Kocięcki
Robal: Adrian Brząkała / Przemysław Wyszyński
Tretyn: Tomasz Drabek / Adam Krawczuk
Reżyseria: Maciej Wierzbicki i Adam Krawczuk
Muzyka: Mikołaj Błaszczyk
Autor: Andrzej Saramonowicz
Przedstawienie tylko dla widzów dorosłych!
______________________
Kalendarz wydarzeń odbywających się w Bydgoszczy miej zawsze pod ręką dzięki aplikacji mobilnej (Android i iOS).
______________________
Informacje o wydarzeniach przesyłajcie na adres wydarzenia@visitbydgoszcz.pl
______________________
Bydgoskie Centrum Informacji nie ponosi odpowiedzialności za jakiekolwiek zmiany miejsc, godzin i dat wydarzeń.